50.4453626;-104.61931720000001;2627 13th Ave, Regina, SK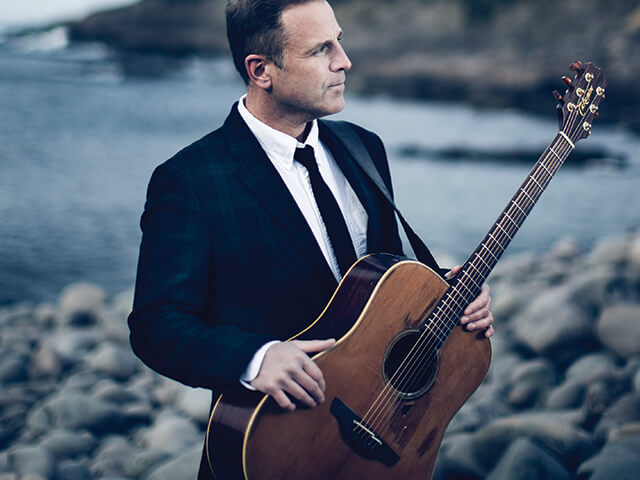 We are absolutely thrilled to welcome Séan McCann to the Artesian stage on Thursday, May 3rd 2018. Traveling with his latest solo album, "There's a Place", this is a wonderful opportunity to see one of Canada's great singer/songwriter's in an intimate and heartfelt setting.
We'll open the Doors and Lounge at 7PM, the Concert will start at 8PM. Tickets are $30 (including all taxes and ticket fees). Saskatchewan's own Kara Golemba will open the show.
Séan McCann bought his first guitar in 1989 which he affectionately calls "Old Brown". Old Brown has been around. He was there for the first song Séan ever wrote. He was there as Séan founded the acclaimed and multi-million selling band that would change his life. He was there to hold Séan up many a night as he struggled with alcoholism, and he has been there to help guide Séan out of the darkness with music as his medicine.
John Lennon once sang "You can live a lie until you die. One thing you can't hide is when you're crippled inside." After exiting the internationally renowned folk group Great Big Sea and publicly admitting a secret past in which he used alcohol to mask the pain of sexual abuse by a priest ; Séan stopped lying to himself and found his truth and his own voice. With the release of his 5th solo album, "There's a Place", he continues his journey as a singer, songwriter, and now a sought after speaker and mental health advocate with Old Brown by his side and a simple message: "You are not alone."
Séan's journey to find his own peace, love, and happiness continues through his new music. "You Know I Love You" is a happy collection of songs sung by a man intent on sharing his joy directly with you.
His 2014 album "Help Your Self" was a battle cry; a line in the sand which announced that he was ready to change and it resonated with people in a way Séan never could have expected. It helped him understand that he wasn't alone and that telling his story could help others as much as it helped him. 2015's "You Know I Love You" was inspired by the love he found in sharing that story and an attempt to find a new and real connection in a world that had turned inward to its smart phones. Now comes "There's a Place" which was produced by Jeremy Fisher, features the beautiful voice of Nova Scotia singer/songwriter Meaghan Smith, and is a collection of songs from a man who is trying to keep his head up when we are tempted to keep them buried in our screens; it's the story of a man no longer crippled by a lie and who has changed his narrative by not letting his history define him and never forgetting……that he is not alone.
Kara Golemba has played SaskTel Saskatchewan Jazz Festival, The Gateway Music Festival, The Craven Country Jamboree, Telemiracle, and appeared in CBC/Creative City Centre's 'Empty Room Series.' She also won the 2016 620 CKRM Proudly Saskatchewan Showcase and her track "Mason Jar of Memories," picked up the 'Spirit of Saskatchewan Songwriting Award.' In the prairie tradition, it's clear that instead of putting on songwriting airs, Kara Golemba uses her unpretentious, rural surroundings to fill her creative well.
---