Old Man Luedecke with guest Charlotte Cornfield
Nov 30, 2019
---
---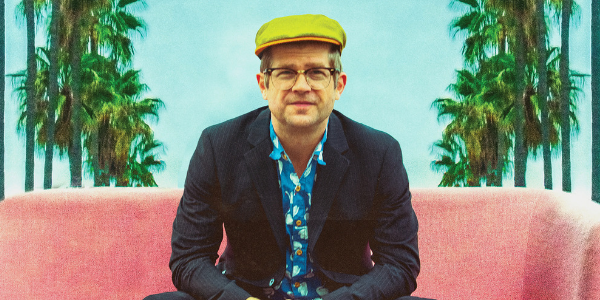 The Artesian is pleased to welcome Old Man Luedecke back to the stage to celebrate the release of his brand new album "Easy Money"! Joining him for this show will be rising Canadian folk music star Charlotte Cornfield.
Show Details:
Old Man Luedecke with Guest Charlotte Cornfield
Date: Saturday, November 30th, 2019
Doors: 7:00 PM
Show: 8:00 PM
Tickets: $20.00 in advance online and at Paper Umbrella- 2724 13th Avenue, $26.00 at the door
The Artesian is wheelchair accessible, all-ages, and a proud supporter of positive spaces initiatives with a zero-tolerance policy towards hate, harassment, and/or discrimination. We reserve the right to remove any patron creating an unsafe environment. The accessible entrance is available via a lift, Please ask staff for help if necessary.
About Old Man Luedecke and his new album "Easy Money":
Old Man Luedecke is the recording and performing name of Christopher Luedecke, 2-time JUNO and multi East Coast Music award-winner, and Polaris Music Prize nominee from Chester, Nova Scotia. Since 2004 he has travelled the world playing festivals, theatres and clubs. He delights his audiences with his heartfelt command of the stage. Plus, his inspired banjo playing and wry storytelling cut to the heart of normal/extraordinary experience itself.


Born and raised in Toronto, Luedecke followed Thoreauvian and romantic notions to Canada's Yukon where he fell in love and started composing folk songs with a banjo. Since 2005, he has lived rurally on the south shore of Nova Scotia in Canada's music-rich Maritime provinces. He has had major appearances at Canadian, Australian and UK festivals and has performed with the likes of Feist, Bahamas, Tim O'Brien, and Rose Cousins. He has built a name and a following that has been uncompromisingly unique and is now firmly established in the top echelon of Canadian folk artists. As the Vancouver Folk Festival says, "He is a musical singularity to be savoured and shared."
Easy Money picks up where Old Man Luedecke's award-winning, and most successful release to date, Domestic Eccentric (2015), leaves off; four years farther down the road, dreaming about his ship coming in, still a parent but now grappling with the newness of middle age, dad jokes, love for an abiding partner, the death of a parent, along with some calypso-feeling local Nova Scotia history thrown in for good measure.

Composition and recording were both begun at the Banff Centre's songwriter-in-residence program. It was there that Luedecke met the album's producer Howard Bilerman of Montreal's famed Hotel2Tango studio where the album was eventually recorded. The ten new original compositions and two covers run a modern storytelling line from the fifties folk and calypso boom into the everyday of tangible middle life. Guest appearances by long-time collaborator and Grammy award-winning Tim O'Brien, Afie Jurvanen of Bahamas, and Fats Kaplin (Jack White, John Prine) add piquant accents to the impeccable playing of Luedecke and a crack Montreal studio band of Mike O'Brien, Joshua Toal, and Jamie Thompson.

Easy Money begins with three upbeat incantations of what is surely the beginnings of a mid-life crisis ("Dad Jokes"? "Wakeup Call", come on!) then moves to 2 songs musing about death; both inspired in part and in different ways, by the passing of Luedecke's father, the passing of Leonard Cohen, and current politics and the death of truth. There are two island-themed numbers that imagine a laid-back life in the local un-tropical paradise of the Canadian Maritimes. Then comes a country song with killer fiddling and harmony singing by Tim O'Brien, a dance number of frightful worry, and then a cover of Nana Mouskouri's French-language cover of Bob Dylan's topical apocalyptic plaint, "Hard Rain's Gonna Fall". This is followed by a traditional sea shanty about a mermaid and a shipwreck. The album closer, "'I Skipped a Stone", is the most beautiful song about hoping your wife will pick up the phone. The song is made all the sweeter by the special appearance of Bahamas' playing and singing, to close out Luedecke's sixth full-length studio album.
About Charlotte Cornfield:
"You free yourself when you take away the script," says Toronto songwriter Charlotte Cornfield. "That's where this record came from, dismantling patterns and embracing the process." Cornfield's third full length, The Shape of Your Name, came out on April 5, 2019 via Outside Music imprint Next Door Records. The critically acclaimed album, which was long listed for the 2019 Polaris Prize, has a more honed studio sound than her scrappier 2016 release Future Snowbird, and for good reason: it was recorded in 5 different sessions over the course of 3 years. The songs are her strongest and most striking to date - contemplative and contemporary, funny and heart-wrenching - and they've got that stuck-in-your-head-for-days quality that Cornfield is known for. The Shape of Your Name features a star-studded cast of collaborators including (but not limited to) Grammy-winning engineer Shawn Everett, Broken Social Scene members Brendan Canning, Kevin Drew and Charles Spearin, and Montreal songwriter Leif Vollebekk.
---