Nuit Raunch (19+) Presented by Gender(disco)phoria and The Artesian
Jun 5, 2022
---
---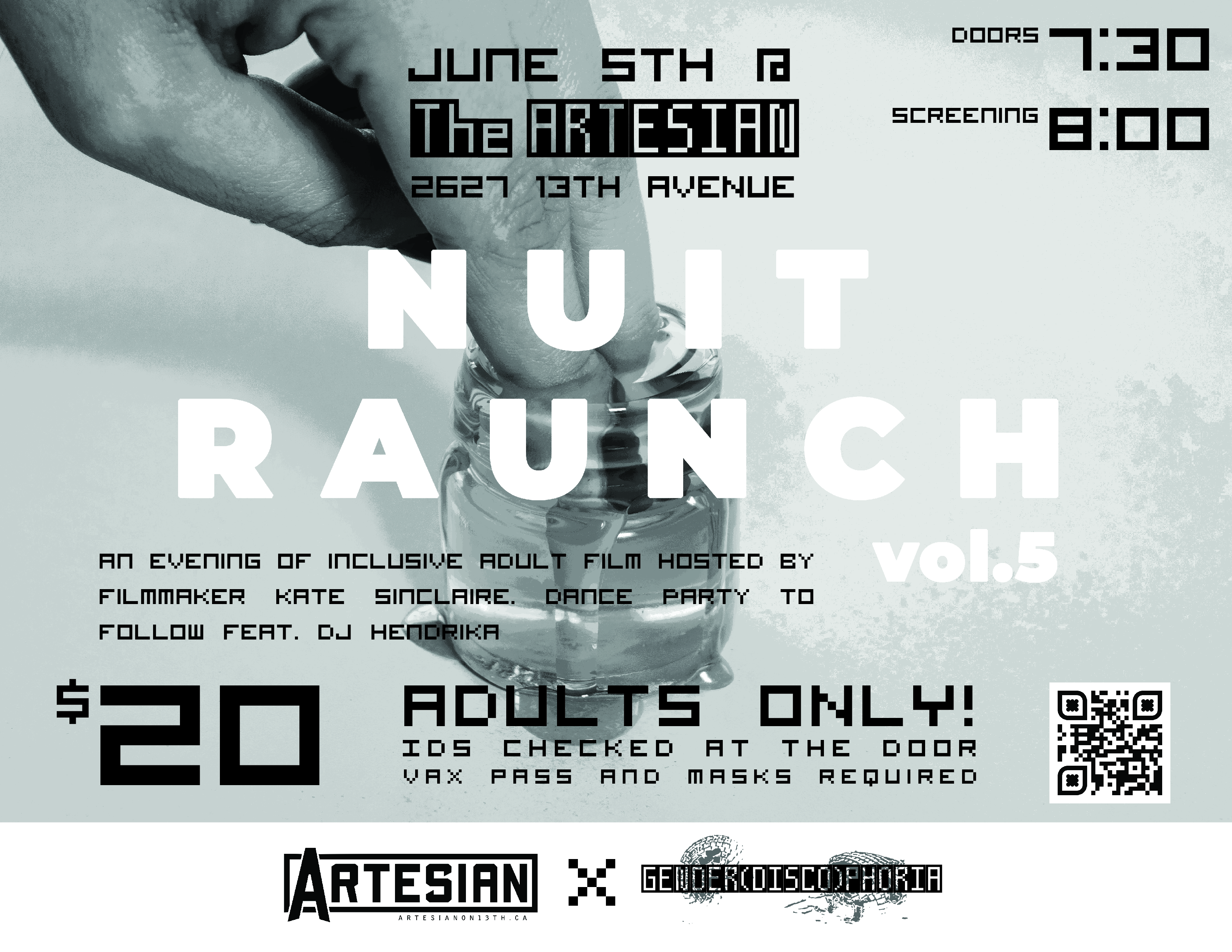 Join us for an evening of curated adult film with Nuit Raunch followed by a dance party featuring DJ Hendrika!
Please be advised that this ticket is subject to our current COVID-19 policies, which are available at www.artesianon13th.ca/pages/covid-safety. The policies on that page are our most up-to-date policies and are in effect regardless of provincial restrictions.
Show Details:
Nuit Raunch
Date: Sunday, June 5th, 2022
Doors: 7:30 PM
Show: 8:00 PM - Dance Party to follow!
Tickets: $20.00 in advance - Adults (19+) only!
Go to www.nuitraunch.com for full tour details.
About Nuit Raunch:
Nuit Raunch is a one-night curated screening of short inclusive adult film from around the world, organized by queer filmmaker Kate Sinclaire (Ciné Sinclaire) and brought to you by wonderful teams of really cool people.
Nuit Raunch has been showing thoughtful, gorgeous, and incredibly fun short films to thousands of attendees in Winnipeg since 2017, AND NOW WE'RE TAKING IT ON THE ROAD!
Nuit Raunch will be taking over The Artesian in Regina on Sunday, June 5th, 2022. Organizer and filmmaker Kate Sinclaire will be on hand for film introductions and a Q+A after the screening.
We typically think of restricted-type adult film as something to be viewed in private, away from conversation and social elements. The team at Nuit Raunch are excited to bring adult film back into the social sphere – normalizing talking about what we're viewing and giving it context in our lives. So many folks feel unrepresented by the genre, and part of our mission is to bring film to the forefront that empowers, represents, and disarms us in all kinds of ways.
NOTES ON ATTENDING:
-Come as you are or dress to impress, whatever feels right for you
-This is not a hookup space. Definitely get some sexy energy out of the night if that's what you're looking for, but we do ask that you respect other patrons and what they consented to in purchasing a ticket.
-Ask questions if you've got them, and try to come from a space of non-judgement!
-Have fun, let yourself learn a thing or two
-No one is required to stay for the entire screening. If you are feeling uncomfortable, you are welcome to get up and leave at any point. We won't be insulted. You've got to look after yourself.
-Respect others' boundaries. PERIOD. Do not assume that anyone is in the room because they want to hook up. Respect people's privacy and boundaries. If you are acting creepy/violating boundaries, you 100% will be asked to leave and will not be issued a refund.

Total runtime: ~110minutes - Dance party with DJ Hendrika to follow!
---