Maude-Kids PD (Performance Development) Day, October 4th
Oct 4, 2019
---
---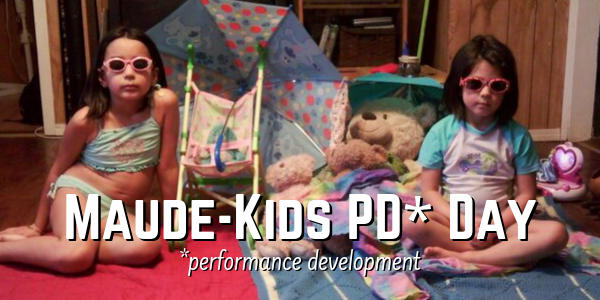 Tickets
Maude-Kids PD (Performance Development) Day, October 4th
9:00 AM - 3:30 PM, Friday October 4th (8:30-9 AM Drop off, 3:30-4PM Pick up)
Please bring a water bottle and a nut-free snack!
$50
More Info
This ticket is no longer on sale!
---
MaudeKids PD (Performance Development) is for theatre-curious kids ages 5-11 who enjoy performing, dancing, singing, bringing stories + other outstanding tricks to stage. For October, the creating will be joyfully dedicated to the spirit of Halloween!
***Any kids who join will be invited to show off their creations at Maudeville's Halloween Spooktacle! on Sun.Oct.27 1:30-2:30***
Cost: $50 per child (for one date)
Please bring a water bottle & nut-free lunch
Friday, Oct. 4th, 9:00 AM - 3:30 PM
(8:30-9:00 AM Drop-off, 3:30-4:)0 PM Pick-up)
---