Maude-Kids Camp of Outstanding Performance Skills
Aug 19, 2019 - Aug 23, 2019
---
---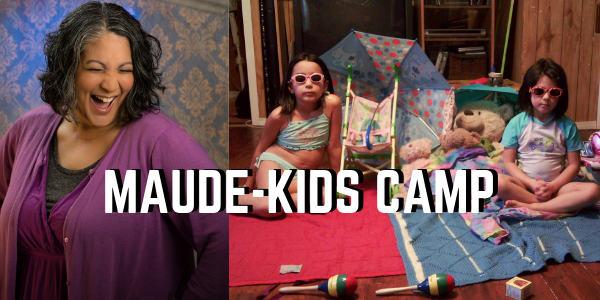 Tickets
Maude-Kids Camp of Outstanding Tricks!
This ticket provides registration to the Maude-Kids Camp of Outstanding Performance Skills - A week long half-day camp with lead teacher Kris Alvarez and her merry band of Maudeville youth!
$200.00
More Info
---
Come along with lead teacher Kris Alvarez + her merry Maudeville band! Calling all young aspiring performer-artistes, ages 3* to 8!
(*Bathroom mastery required.)
Our half-days will be creatively charged & filled by storytelling, song, daydreaming, games & hamming it up.
Dates: Monday Aug.19 to Friday Aug.23**
Times: 9AM - 12PM
(Drop-off 8:30-9 / Pick up 12 Noon-12:30)
Cost: $200.00 includes a daily nut-free snack
** Family! Friends! Fri.Aug.23, 12 Noon, Maude-Kids will share camp highlights. Please join us!
Maudeville is a young people's performance troupe who collaborate with and are directed by Kris Alvarez.
Maudeville's artistic heart is a joyful inspired approach to performance skills training and creative exploration. Kindness and silliness are paramount to our process. We take imagination seriously.
---