Les Fils du Facteur- Spectacle Coup de coeur francophone 2019
---
---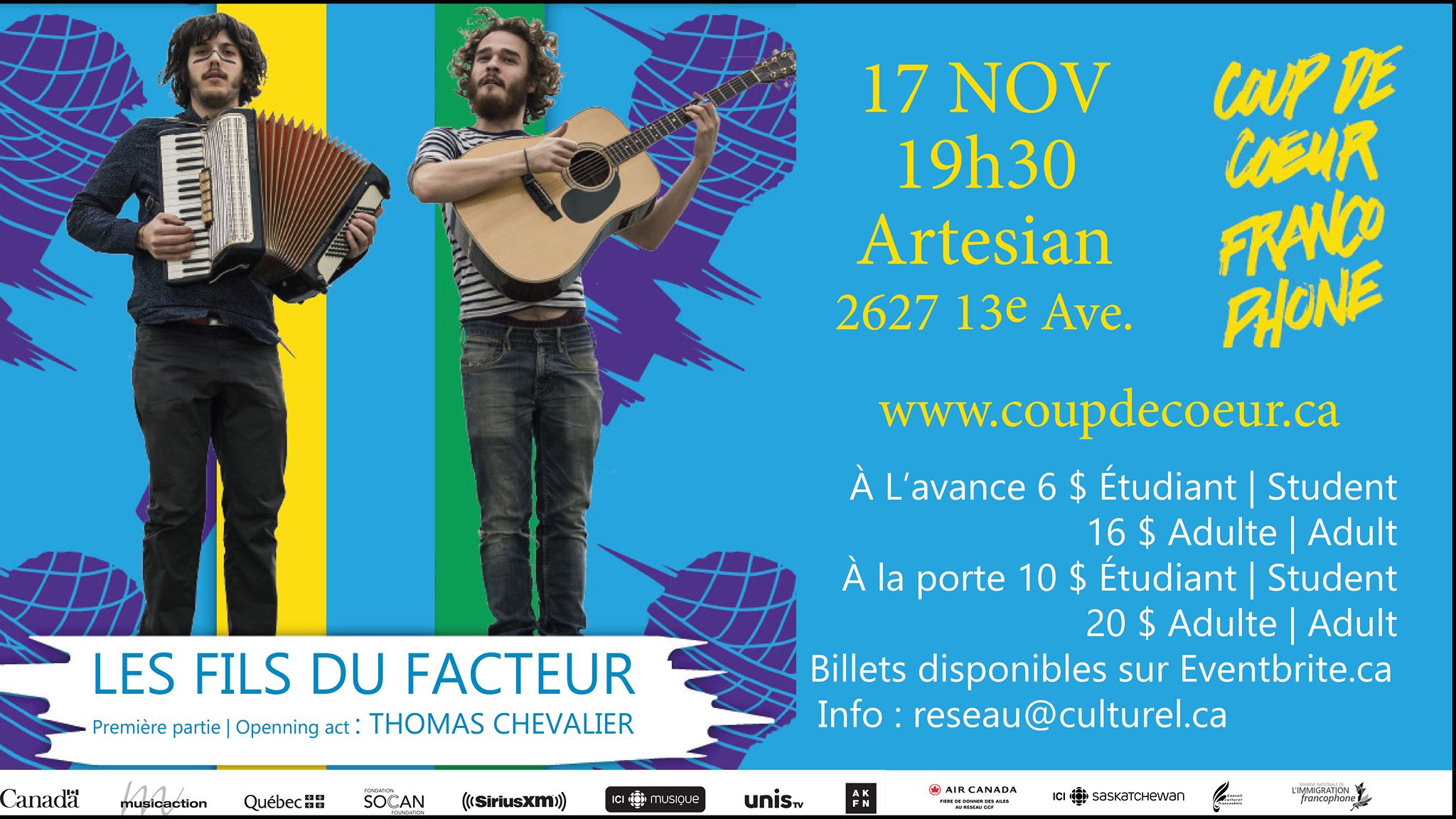 Le groupe européen Les Fils du Facteur sera en performance à Regina le 17 novembre dans le cadre des spectacles Coup de coeur francophones 2019, en collaboration avec le Conseil culturel fransaskois.
Le spectacle aura lieu à 19h30, au Artesian, 2627 13e avenue, Regina.
Brève présentation du groupe :
Depuis plus de 6 ans, ce duo suisse composé de Sacha Maffli et d'Emilien Colin se balade un peu partout. Bars, clubs, rue ou festivals, le lieu importe peu. Les textes racontent, dénoncent, s'amusent ou se questionnent. Chanson souvent drôle et festive, parfois plus mélancolique mais jamais trop sérieuse. Généreux sur scène, Les Fils du Facteur offrent de la fraicheur, de la spontanéité́ et une énergie étonnante !
Pour plus d'info : [email protected]
___________________________________________________
The European music band Les Fils du Facteur will be performing in Regina on November 17 as part of the Coup de Coeur Francophone shows 2019, in collaboration with the Conseil culturel fransaskois.
The show will start at 7:30 pm, at the Artesian, 2627 13th Avenue, Regina.
For 6 years, this romantic song writer and his wild and beautiful fellow accordion player roam the streets, bars, clubs and festivals. Their style could be qualified as "French party chansons with poetic and melancholy notes". These self taught musicians nurtured with eclectic and cosmopolitan influences draw their way with panache flirting with a wide range of sounds to build their universe of sounds. They like to create songs that are catchy and happy, but also moving and sentimental ; they too love to play remakes on their own way.
More info : [email protected]
---