Jordan Klassen with guest Big Day in the Artesian Lounge
Oct 27, 2019
---
---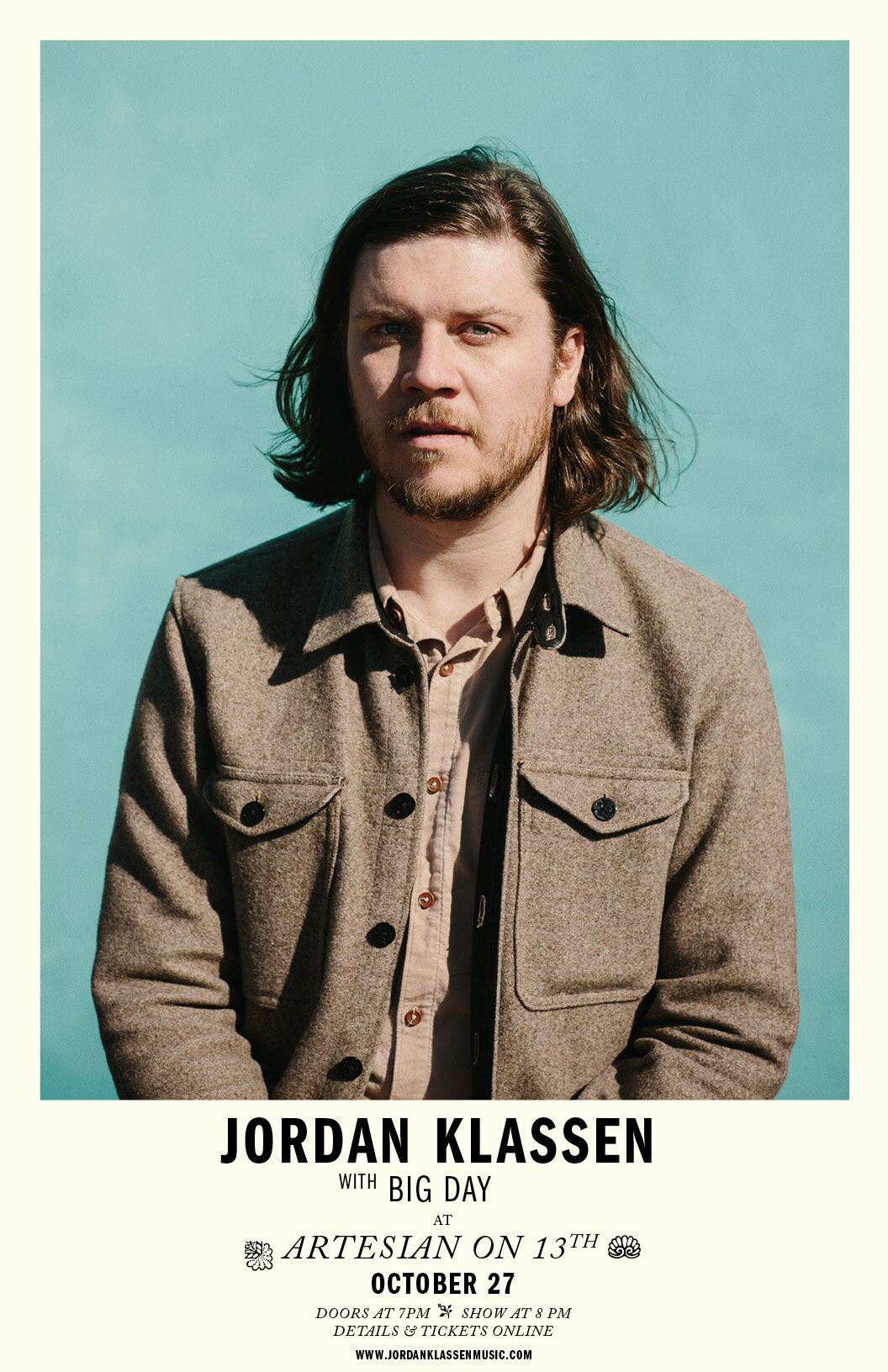 The Artesian is pleased to welcome back Canadian atmospheric folk icon Jordan Klassen for an intimate show in our basement lounge on October 27th with Regina's newest super-group Big Day Opening the show!
Show Details:
Jordan Klassen with guest in the Artesian Lounge
Date: Sunday, October 27th, 2019
Doors: 7:00 PM
Show: 8:00 PM
Tickets: $15.00 in advance
The Artesian is wheelchair accessible, all-ages, and a proud supporter of positive spaces initiatives with a zero-tolerance policy towards hate, harassment, and/or discrimination. We reserve the right to remove any patron creating an unsafe environment. The accessible entrance is available via a lift, Please ask staff for help if necessary.
About Jordan Klassen:
We use an old cliche to sum up birth, death, and ultimately, the renewals of our human experience: "the circle of life". We are perpetually spinning through it, although at times it can feel like we are in a train stuck on the tracks of just one stop of the cycle.
With "Virtuous Circle", internationally acclaimed singer/songwriter Jordan Klassen makes his long-awaited return, commenting on where in this cycle he has been. "I wrote Virtuous Circle at a time in my life where I felt surrounded by a lot of death primarily; a death in my family, broken relationships, personal instability, and a seemingly endless streak of career disappointments. The song is a plea of hope that what feels like a vicious circle could invert into a virtuous one," says Klassen.
Despite having its roots in such a tumultuous season, "Virtuous Circle" isn't despairing. Contemplative, propulsive, and at times sweeping you away, the single brings the strongest cards of Klassen's talents to the forefront once again. Ever-changing piano lines, aching string arrangements, and an anchor in the immediately recognizable calming vocals.
"I wanted the song to have a sense of darkness, contrasted with hopefulness. I want it to feel like running - breaking away from whatever it is that is chasing you," Klassen further added.
Over his decade long career, Jordan Klassen has toured throughout Europe, Australia, Canada, and the United States, becoming widely known for his well-crafted arrangements and nuanced songwriting. To date, he has garnered almost 10 million streams worldwide. Jordan Klassen is currently completing his newest record, scheduled for an early 2020 release.
About Big Day:
---