David Francey presented by Regina Folk Festival
---
---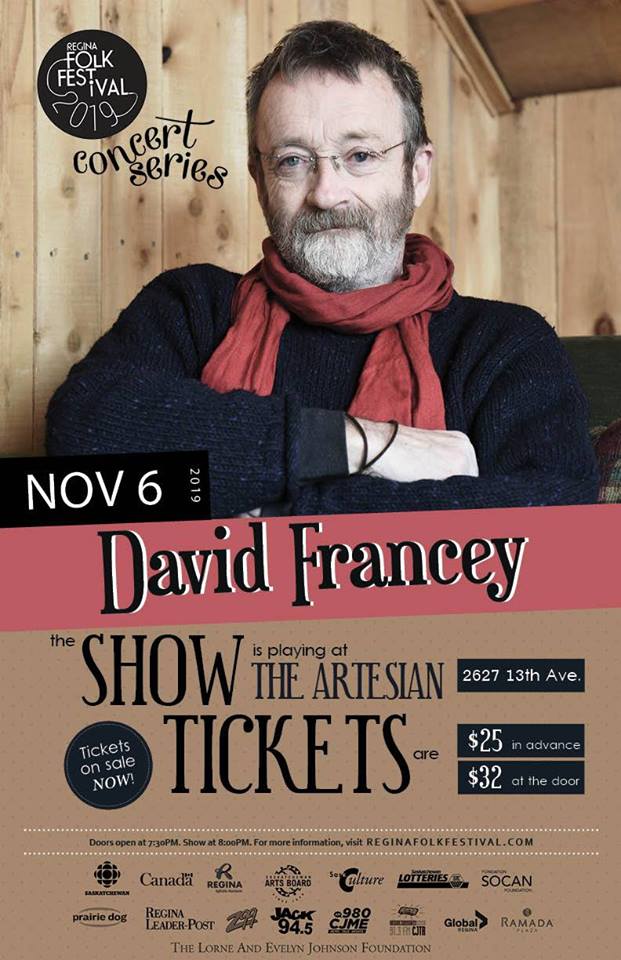 David Francey is a Scottish-born Canadian carpenter-turned-songwriter, who has become known as "one of Canada's most revered folk poets and singers" (Toronto Star). Born in Ayrshire, Scotland to parents who were factory workers, he moved to Canada when he was twelve. For decades, he worked across Canada in rail yards, construction sites, and in the Yukon bush, all the while writing poetry, setting it to melodies in his head and singing it to himself as he worked.
A truly authentic folk singer, Francey is a documentarian of the working person who never imagined earning a living from his music. But when he was in his 40s, his wife, artist Beth Girdler, encouraged him to share his songs and sing in public. The reaction was instant. His first album Torn Screen Door came out in 1999 and was a hit in Canada. Since then, he has released eleven albums, won three Juno Awards and has had his songs covered by such artists as The Del McCoury Band, The Rankin Family, James Keelaghan and Tracy Grammer.
"David's straightforward songs tell honest stories of real people and real places. Poetic perception and a keen eye for the heart of the matter are trademarks of the man and his music. His songs and stories are a direct connection for audiences seeking depth and meaning in the day-to-day." Shelter Valley Folk Festival
In concert David is a singer and a storyteller. His wry humour and astute observations combined with his openhearted singing style have earned him a loyal following.
The Artesian is wheelchair accessible, all-ages, and a proud supporter of positive spaces initiatives with a zero-tolerance policy towards hate, harassment, and/or discrimination. We reserve the right to remove any patron creating an unsafe environment. The accessible entrance is available via a lift, Please ask staff for help if necessary.
Bar opens at 7:00 PM
Doors open at 7:30 PM
Show starts at 8:00 PM
Advance tickets - 25
Tickets at the door - 32
---