Close Talker with special guest POSTDATA
May 2, 2024
---
---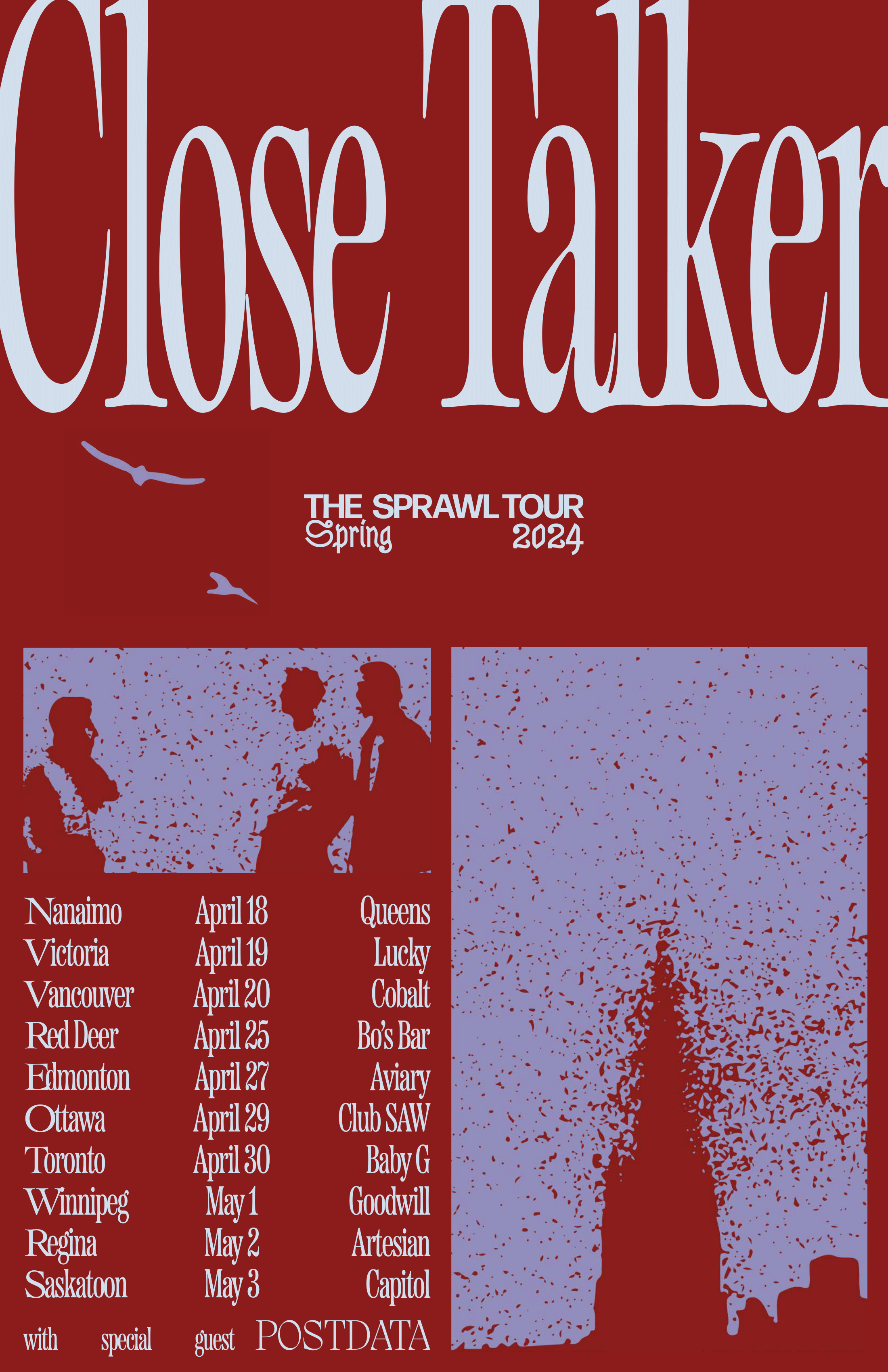 Tickets
Join us for an unforgettable night of indie rock magic as Close Talker and special guest POSTDATA take the stage!
Show Details:
Close Talker with Special Guest POSTDATA
Date: Thursday, May 2nd, 2024
Doors: 7:00PM
Show: 8:00PM
Tickets: $20.00 in advance online or at Paper Umbrella (2724 13th Avenue), $27.00 at the door
*Advance tickets close at 5:00 PM day-of-show. Additional tickets will be available at the door unless it is officially labelled SOLD OUT*
The Artesian is wheelchair accessible, all-ages, and a proud supporter of positive spaces initiatives with a zero-tolerance policy towards hate, harassment, and/or discrimination. We reserve the right to remove any patron creating an unsafe environment. The accessible entrance is available via a lift, Please ask staff for help if necessary.
About Close Talker:
Close Talker is an indie rock band from Saskatoon, Canada. The band has toured throughout North America and Europe, and has gained the attention and praise of notable publications such as NPR, Billboard, Clash, Spin, Q Magazine, and Consequence of Sound. The band works tirelessly on evolving every aspect of their craft, which has led to their strongest and most confident album to date: How Do We Stay Here?
In so many ways How Do We Stay Here? marks a new chapter for the band. The three members leaned into the trust and foundation built over countless years of friendship to pursue a record that would be sustainable and timeless for them. Choosing to self-produce allowed the band to hold this album close to their chest while it developed organically over the course of 2018 at RMS Labs in Regina, SK. Close Talker, now more than ever, is interested in music that is timeless - music that won't force the listener into feeling a certain way. To achieve this, the band approached each song following a code of instincts and honesty, including a list of 10 commandments by which all decisions were filtered through. How Do We Stay Here? is a testament to the band's integrity and a desire to produce music that is original and pure. It is an album the band wrote for themselves, in hopes that the songs would carry the same meaning in 10 years, as they do today.
About POSTDATA:
POSTDATA is the solo project of songwriter, vocalist and producer Paul Murphy, who is also known for his work in the Canadian band Wintersleep. 

Written and recorded in his small hometown of Yarmouth, Nova Scotia, the first record was a gift to his mother that he made with his brother Michael - an intimate offering largely centered around acoustic guitar, and his trademark gravelly tenor, with a light mixture of electronic and acoustic instrumentation & ambience stitching it all together. From there the project has evolved into a more dynamic production that has featured an all-star cast of performers and collaborators including, Simone Pace (Blonde Redhead), Andy Monaghan (Frightened Rabbit), Tony Doogan (Mogwai, Belle & Sebastian), Ali Chant (Perfume Genius, Soccer Mommy), Joe Chiccarelli (White Stripes, The Strokes, Morrissey), Matty Green (Dua Lipa, U2), as well as his friends in Wintersleep. 

Murphy's records have garnered worldwide acclaim and have been described by MOJO as "Proof that inventive, envelope-pushing indie rock hasn't disappeared off the map just yet." 

He has toured extensively in the UK, US, Europe, and Canada, and is known for his powerful live performances. 

The new album 'Run Wild' is available now on Paper Bag Records.
---