Briarpatch's Workers' Party
May 7, 2022
---
---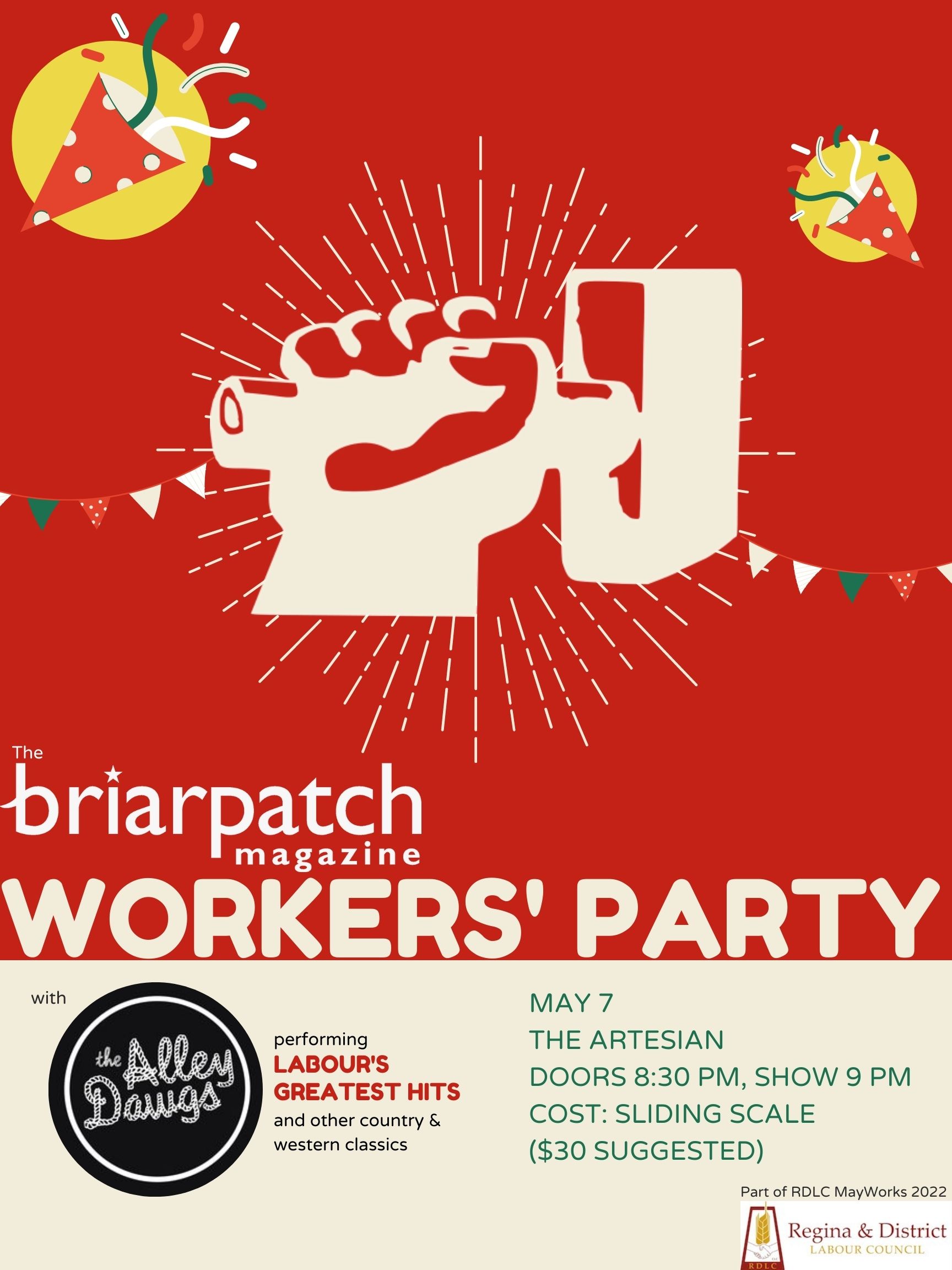 Tickets
Celebrate another MayWorks with Briarpatch's Workers' Party at the Artesian, featuring performances by Regina's foremost country classics cover band, the Alley Dawgs!
Please be advised that admission to this event will require proof of vaccination in accordance with our current COVID-19 policies, which are available at www.artesianon13th.ca/pages/covid-safety. The policies on that page are our most up-to-date policies and are in effect regardless of provincial restrictions.
This event is a fundraiser for Briarpatch and the Sask Dispatch. Launched in 2018, the Sask Dispatch is a Saskatchewan-focused publication produced by Briarpatch Magazine. With stories printed every two months and published online, the Sask Dispatch covers under-reported issues in the province, centring issues that are important to poor folks and the working class, Indigenous communities, and other marginalized groups.
The Sask Dispatch is managed by one (very) part-time editor. Money raised from this event will help make the Dispatch editor a full-time staffer for two months. That way, the Sask Dispatch can produce even more fearless investigative reporting and critical commentary about Saskatchewan from a left perspective. Buy a ticket and help the Sask Dispatch grow!
Show Details:
Briarpatch's Workers' Party
Date: Saturday, May 7th, 2022
Doors: 8:30 PM
Show: 9:00 PM
Tickets: Sliding scale - $15-$30. Any one ticket of any value will provide you access to the event.
The Artesian is wheelchair accessible, all-ages, and a proud supporter of positive spaces initiatives with a zero-tolerance policy towards hate, harassment, and/or discrimination. We reserve the right to remove any patron creating an unsafe environment. The accessible entrance is available via a lift, Please ask staff for help if necessary.
ABOUT THE ALLEY DAWGS
The Alley Dawgs were born in the honky tonk, having cut their teeth working rough & tough crowds all throughout the Saskatchewan dive bar circuit. They play twentieth-century country & western music, and can play it all night with a repertoire of approximately 300 songs (including all the deep cuts, tender ballads, and bone throws you want to hear!). Having played host to a number of special guests over the years – including the legendary Kacy & Clayton, Erroll Kinistino & Josie Whitebear, Ellen Froese, Zachary Lucky, Richard Inman, Brian Sklar, Megan Nash (and many more) – it's safe to say that The Alley Dawgs' Honky Tonk Tuesday is an institution for local and travelling artists!
ABOUT BRIARPATCH MAGAZINE
Briarpatch is an award-winning magazine of politics and culture. Fiercely independent and proudly polemical, Briarpatch offers original reporting, insight, and analysis from a grassroots perspective. As a reader-supported publication, Briarpatch is not just devoted to reporting on social movements — it's committed to building them.
Since 1973, Briarpatch has been publishing committed journalism and critical commentary from its home in Regina, Saskatchewan. Beholden only to its readers, Briarpatch defies the false consensus of the corporate media, adhering, as Avi Lewis says, to "independence and ferocity in equal measure."
---