Artie Balkwill and Lexy Desjarlais live in the Artesian Lounge
Feb 8, 2020
---
---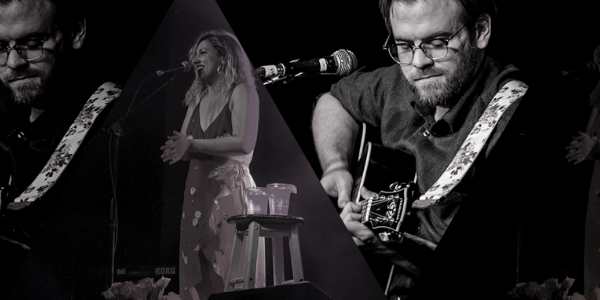 Come get cozy in the Artesian lounge for a night of blues and folk with Regina singer/songwriters Artie Balkwill and Lexy Desjarlais.
Show Details:
Artie Balkwill and Lexy Desjarlais live in the Artesian Lounge
Date: Saturday, February 8th, 2020
Doors: 7:00 PM
Show: 8:00 PM
Tickets: $15 in advance - available online or at Paper Umbrella, $20 at the door.
The Artesian is wheelchair accessible, all-ages, and a proud supporter of positive spaces initiatives with a zero-tolerance policy towards hate, harassment, and/or discrimination. We reserve the right to remove any patron creating an unsafe environment. The accessible entrance is available via a lift, Please ask staff for help if necessary.
About Artie Balkwill:
Currently preparing to record his debut album through the spring of this year, Artie Balkwill delivers a mix of acoustic blues- and folk-music-based around life on the prairies and stories of getting away to travel abroad. Relatively new to the Regina music scene, he starting gigging around town about 2 years ago. While he wasn't busy playing venues in and around Regina, Artie has been performing at events such as Aloha Festival, Vintage Vinyl's 25th Anniversary show, the Global morning news, The Northern Lights Bluegrass and Old Tyme music festival and was recently featured on the Saskatoon-based TV program "Stripped Down Live". If you're a fan of storytelling and heartfelt, honest music, this is the show for you.
About Lexy Desjarlais:
Playing music for most of her life, Lexy Desjarlais has been embraced as a wonderful addition to the creative talent gracing the Saskatchewan music scene. Playing her first-ever live performance in 2016 at The Bushwakker Brewing Company, Lexy's sound possesses a quality and depth beyond her years. Since playing that first gig, she has been crafting and perfecting her sound through a variety of live gigs, as well as other wonderful experiences thanks to relationships she has formed with other local musicians. Bringing to the stage refreshing jazz-folk covers, along with personal songs of her own poeticisms, Lexy Desjarlais is a natural talent not to be missed
---