Wishbook Album Release with Special Guests Carl Johnson and Bryce Lewis
Oct 20, 2023
---
---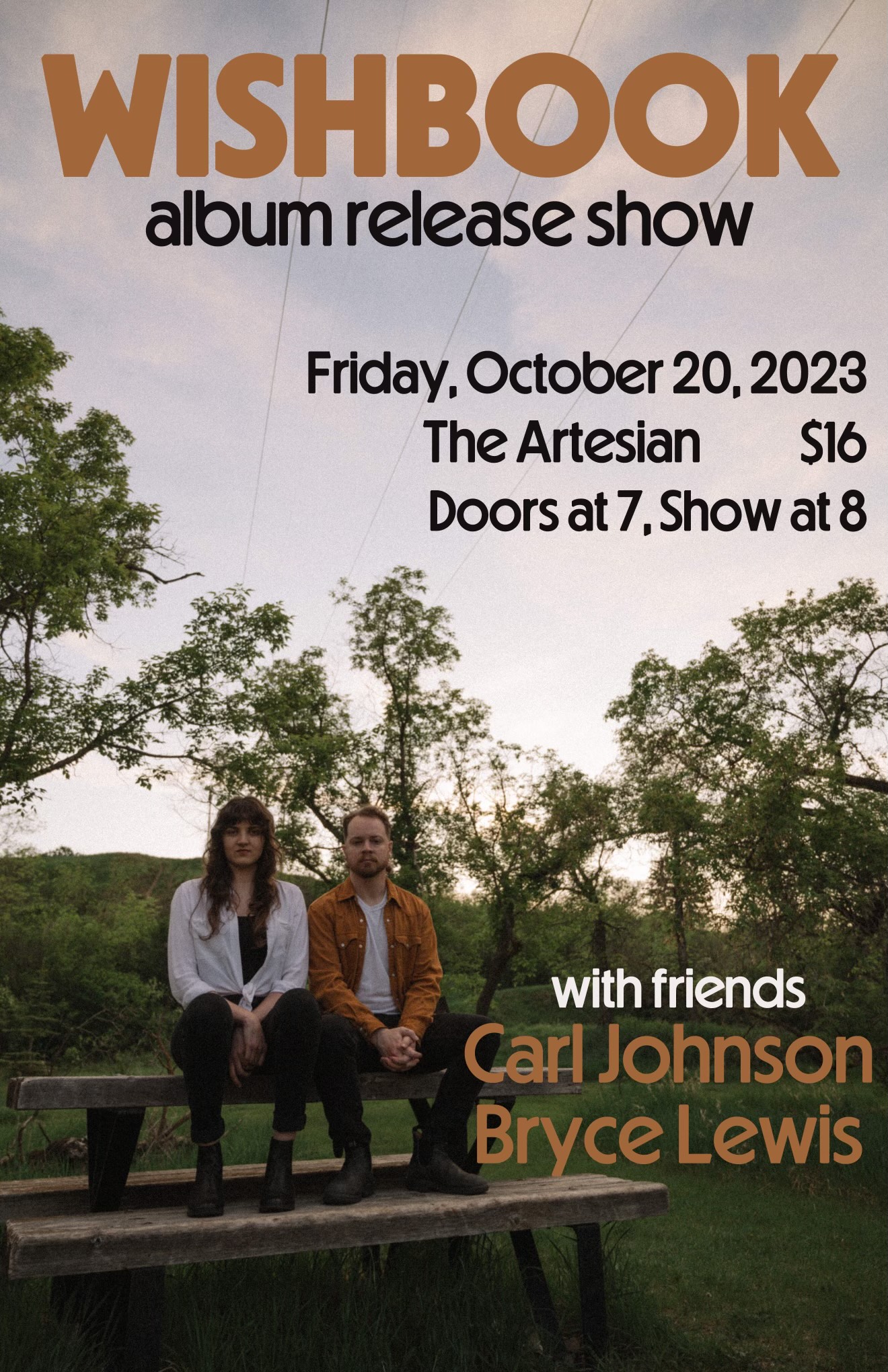 Tickets
Show Details:
Wishbook Album Release with Special Guests Carl Johnson and Bryce Lewis
Date: Friday, October 20th, 2023
Doors: 7:00PM
Show: 8:00PM
Tickets: $16.00 in advance online or in person at Paper Umbrella (2724 13th Avenue)
*Advance tickets close at 5:00 PM day-of-show. Additional tickets will be available at the door unless it is officially labelled SOLD OUT*
The Artesian is wheelchair accessible, all-ages, and a proud supporter of positive spaces initiatives with a zero-tolerance policy towards hate, harassment, and/or discrimination. We reserve the right to remove any patron creating an unsafe environment. The accessible entrance is available via a lift, Please ask staff for help if necessary.
About Wishbook:
When partners Steve Leidal and Zoe Saladana decided to attempt striking out on their own, they quickly realized that trying to do something in the style of their beloved old school metal and prog bands just wasn't an honest take. To stay true to themselves while still creating something new, they started honing a set of dollar-store-synth bedroom demos into a fully arranged and realized sound North Sask Music Zine described as "sad, smart guitar and synth alternative pop that's all about the mood".
Drawing on bits and pieces of their varied tastes, the album combines 60's psych, 70's yacht rock, 80's new wave and of course, early metal and medieval revivalist prog. Using their ability to play a wide variety of instruments they produced, recorded, and mixed the album in the best of ways – completely DIY in their parents' basements.
The style of their nine track debut album has been kindly compared to The War on Drugs, SALES, and Chris Isaak. Personally, they like to think of it as the soundtrack you'd get if Twin Peaks had been filmed in Moose Jaw, Saskatchewan, if Darkness on the Edge of Town was conceived in the glow of a midnight McDonald's parking lot. It's the accompaniment to your innermost thoughts, sounding back at you from the factory tape deck of a dying 2001 PT Cruiser.
'Everything Fades' is a record that strives to sound simultaneously old and new. It doesn't aim to be either modern or classic, but is more on the cutting edge of the obsolete. The songs themselves flow between ideas of dreams and change and the personal realization required to accept reality and live your intentions. It is a wishbook in musical form – a document of your dreams and the action required to achieve them.
About Carl Johnson:
Carl Johnson is a songwriter from Regina who's been writing and recording music for 23 years with a litany of bands including Filmmaker, National Frost, Library Voices, The Florals, The Won'ts and probably a few more. His solo work consists of everything from funny/sad goth jingles to mediocre Hank Williams covers. Even he - the writer of this blurb - isn't sure what his set will sound like on October 20th at the Artesian, but he's honoured to be playing with his good friends and esteemed musical forces in Wishbook and Bryce Lewis.
About Bryce Lewis:
Born to a farming and ranching family in south-west Saskatchewan, Canada, Bryce Lewis was raised on his grandma's accordion playing, Swift Current Old Time Fiddling, Will James books, and Ian Tyson Records.
By the age of two, he was strumming along to Marty Stuart's Hillbilly Rock album on his first guitar (a sheet of plywood cut in the shape of a guitar and strung with fishing line that his dad had made him). By age 11, he joined the Kyle Lutheran Church String Band as rhythm guitarist, where local guitarist Glenn Boyer introduced him to the "boom-chick" patterns of Luther Perkins. Through his teens he learned how to play by ear from his Uncle Pat. He was also introduced to traditional fiddle tunes, Jerry Reed, and Chet Atkins by Freddie Pelletier (Ian Tyson, Prairie Fire) and Clint Pelletier (Barrage, Pelletier Gervais, Brett Kissel).
Moving to Calgary, Alberta, Bryce drove a truck delivering windows to construction sites, studied under Dave Hamilton (The Tommy Hunter Show, Ian Tyson) and applied what he'd learned to any band that would let him sit in (this included the Saturday afternoon jam at Ranchman's, Pat Case's jams in Turner Valley and Black Diamond, and a gig playing bass at the Cecil Hotel before it closed).
Making his way back to Saskatchewan Bryce worked as a ranch hand and mechanic while playing in cabaret bands on the weekends (this included Glenna Switzer's band Blackwater featuring Clayton Linthicum of Kacy and Clayton and The Deep Dark Woods) before joining Blake Berglund as one of the founding members of Blake Berglund and the Vultures. Bryce toured coast to coast in Canada with Blake, joined Belle Plaine's band, and toured through the U.S.A playing guitar for Blake and Belle, as well as driving the van and fixing the gear as needed.
Bryce has been lucky enough to get to sit in for a song or two with Colter Wall and Tyler Childers, as well as get a few lessons from his guitar hero Redd Volkaert.
As of right now, if Bryce isn't picking guitar somewhere, he's fishing with his wife, playing with his son and his dog, or he's working some shutdown, applying 20,000 volts of electricity to some cables or bus-work to see whether or not it will blow up.
---