Warm & Cozy with Whitehorse | Winterruption
---
---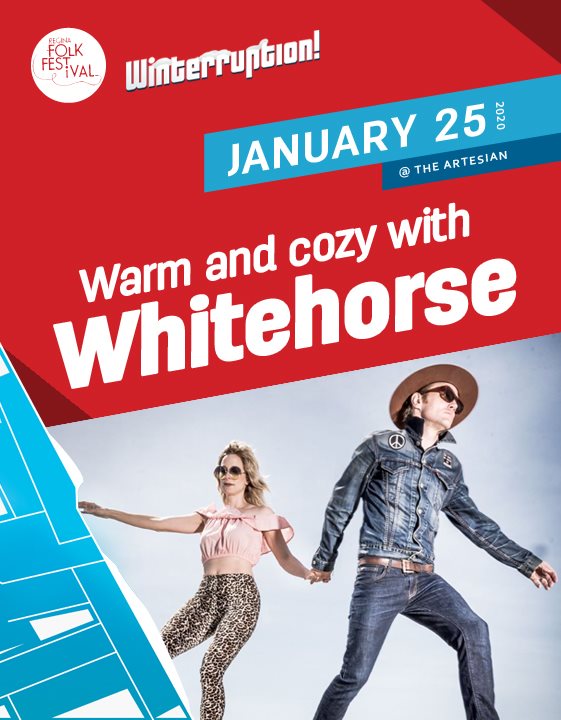 Regina Folk Festival Presents: Winterruption 2020
Get warm and cozy with Whitehorse at this super intimate show.
------------
WHITEHORSE
Glam and sleaze, desert grit and subway rats, scum-bags and fakers, hot messes and cold shoulders: welcome to the world of Whitehorse, a rock n' roll duo from Toronto. Ethereal folk. Space Cowboy twang. Psychedelic spaghetti western. Intergalactic blues grooves. Pop noir. Since their debut in 2011, Whitehorse has evolved from magnetic folk duo to full-blown rock band. In truth, Whitehorse is never fully either one or the other, but an ever-evolving creative partnership that challenges both artists to explore new instrumental and lyrical terrain with each project. Together, Luke Doucet and Melissa McClelland's searing Americana noir sensibility is distinguished by guitar wizardry (and instantly recognizable tone) and magnetic harmonies. Their Warm & Cozy show at Winterruption 2020 will be an intimate one with 2 sets from this incredibly talented duo tied with an informal meet and greet at the end. This is a show for the fans.
------------
Bar @ 7:00 Doors @ 7:30, Show @ 8:00
Advance Tickets $42, Door Tickets $50
This show will offer a mix of seats and standing room.
------------
WE WILL RETURN TO YOUR REGULARLY SCHEDULED WINTER IN JUST A MOMENT
------------
Win-ter-rup-tion /ˈwin(t)ər'rəpSH(ə)n/
1. 45+ artists, 13 groups, 5 super cool days, 6 musical shows, 2 venues
2. stop the continuous progress of the coldest season of the year
3. a frosty good time
In 2020, the magical beast that is Winterruption turns 5! As part of the 2019 RFF Concert Series and with a taste of the summer Festival itself, we at the RFF along with our founding partner The Broadway Theatre in Saskatoon will present 5 wonderful days of musical warmth on some of the coldest days of the year. This year we will be expanding across the prairies partnering with Winterruption YEQ and Big Winter Classic in Calgary. On January 22nd through 26th Regina will get a whole lot cooler thanks to Winterruption. Each year varies from each other in form and content but are always unequivocally beautiful successes and we look forward to sharing great music with Regina audiences once again.
---