The Last Children
Oct 20, 2021 - Oct 30, 2021
---
---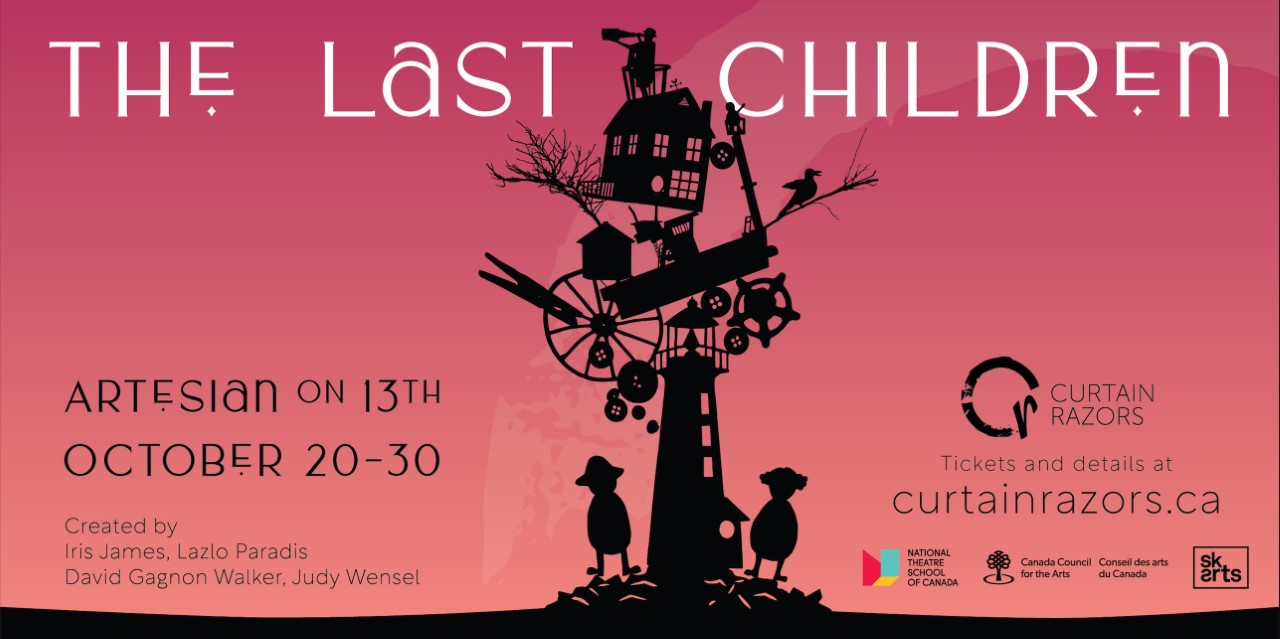 'The Last Children' is a fantastical exploration of the very real climate crisis.
In the not-so-distant future, the oceans have flooded the prairies. An old man and an old woman – played by fourteen-year-olds Lazlo Paradis and Iris James – live together in a lighthouse, surrounded by a sea that was once Saskatchewan. They've been here one hundred years, ever since the flood washed away their homes and families. Twelve kids escaped the destruction in a homemade boat. A century later, only two remain. With nothing but themselves and their memories for company, these two old friends go about their routine and reflect on their remarkable lives, preparing for another great change on the horizon.
The Last Children is a fantastical exploration of the very real climate crisis. This performance at the Artesian mixes theatre and film; reality and fiction; past, present, and future. Created by an ensemble of Regina youth working with award-winning professional artists from across the prairies, the show is a deeply-felt, strangely-dreamed window into how it really feels to be a kid (or an adult) in these exceptionally anxious times.
Director & Co-creator | Judy Wensel
Writer & Co-creator | David Gagnon Walker
Performers & Co-creators | Iris James and Lazlo Paradis
•••
LIVE PERFORMANCE | CREATIVE & PRODUCTION TEAM:
Set & Props Designers: Amber PB & Jeff Meldrum
Composer/Sound Designer: Gilles Zolty
Costume Designer: Matthew Donnelly
Lighting Designer/Technical Director: Devon Bonneau
Projection Designer (Interlude/Epilogue): Ian Campbell
Production Coordinator: Jayden Pfeifer
Stage Manager: Johanna Arnott
Production Assistant:Sarah Bergbusch
Technician: Aren Okemaysim
Technical and Production support: Michael Wanless
•••
SHORT FILM | CREATIVE & PRODUCTION TEAM:
Director of Photography, Editor, Digital Effects: Ian Campbell
Sound Designer/Composer: Gilles Zolty
Art Direction / Shadow Puppet Design: Amber PB
Art Direction / Sound Recording: Jeff Meldrum
Costumes: Amber PB, Jeff Meldrum, Ian Campbell, Matthew Donnelly, Judy Wensel
Additional Sound Recording: David Roman
•••
With creative contributions from Kris Alvarez and Misty Wensel as well as participating young folks: Liv Aitkin-Ochitwa, Olive Crozier, Ray Crozier, Oliver Dunn, Nico Huck Fraser, Rye Huck Fraser, Drake Kujaneck, Azalea Kujaneck, Sabine Manera, Ruby Manera, Aren Okemaysim, Ever Olaechea Payant, Chaz Peppler, Josephine Wensel, Louisa Wensel.
•••
Audio Recording Support and Editing: Orion Paradis
Promo Image: Ian Campbell
Promo Layout: David Carnegie (Plainsview Media)
•••
SPECIAL THANKS TO
SK Arts, Canada Council for the Arts, National Theatre School (Theatre Engaging Communities Fund)
Globe Theatre, Fada Dance, Soul Sound, Failsafe House Lifting, The Artesian on 13th, Dean Renwick Design Studio, Fran Gilboy, Amber Hanover, Mooky Cornish
Fridays For Future Regina (Mac Findlay, Sydney Chadwick, Alex Fleck, Paige Sellinger)
__________________________________________________________
DETAILS

Time
During the run, there are 9 evening performances which begin at 7:30pm (doors to the building will open at 7:00). There are also 3 matinees which begin at 1:30pm (doors to the building will open at 1:00). Please consult the show schedule for dates. Performance is approximately 75 minutes in length.
Location
The Last Children will take place at Artesian on 13th (2627 13th Ave).

Getting there
If driving, biking, or walking: The venue is located on the corner of 13th Avenue and Angus Steet. Entrance to the space is through the main door on Angus Street. There is free on-street parking after 6pm.
If taking transit: The #4, #8, #9 and #10 bus lines all have stops within approximately 1-2 blocks of the space.
Accessibility
The main entrance to the building is at the top of a flight of stairs with handrails. There is a wheelchair/reduced-mobility elevator on the North side of building which can be used to access both the main performance space and the lower lounge. Washrooms are located on both floors of Artesian, and a wheelchair accessible washroom is located in the lobby on the main floor.
Please visit our Accessibility Document for more detailed information.
Lighting & Sound
The show contains some flashing lights during extended sequences in relative darkness. Sound may be loud, sudden, or ongoing during long sequences of action.
__________________________________________________________
CURTAIN RAZORS and the artist-creators of this new work are taking safety seriously as we welcome audiences back into live performance.
Audience size
We are intentionally limiting audience size to assist with overall comfort as we return to live performance gatherings. Maximum audience capacity at each performance will be 30 people.
Venue
The performance space is an intimate space with row seating. Staff will be in place to allow for distancing between individuals or groups. The ceilings are very high and the space is well-ventilated.
Masking and Distancing
For the safety of everyone in the room, and in accordance with current provincial safety guidelines all audience members will be required to wear masks for the duration of the show. Extra masks are available in the lobby if you need one. A 6 foot social distance is encouraged.
Performers will be unmasked during the seventy-five minute performance, but are at a safe distance from the audience.
Please be respectful of the performers and your fellow audience members. Thank you for your cooperation!
Vaccination
We affirm that all performers and staff on site have been fully vaccinated for more than 2 weeks. Both the province and Artesian on 13th have mandatory vaccination policies in place for gatherings of this nature. Please visit eHealth to download your proof of vaccination, and have it printed or available on your phone when you arrive to present to door staff.
Ticket Policy
Guests who experience COVID-19 symptoms, or test positive for COVID-19 within 2 weeks prior to the event, are encouraged to transfer their ticket or request a refund. Please do not attend the event if you are sick or have COVID-19 symptoms.
---