Good Lovelies - We Will Never Be The Same Tour - support TBA
Oct 19, 2023
---
---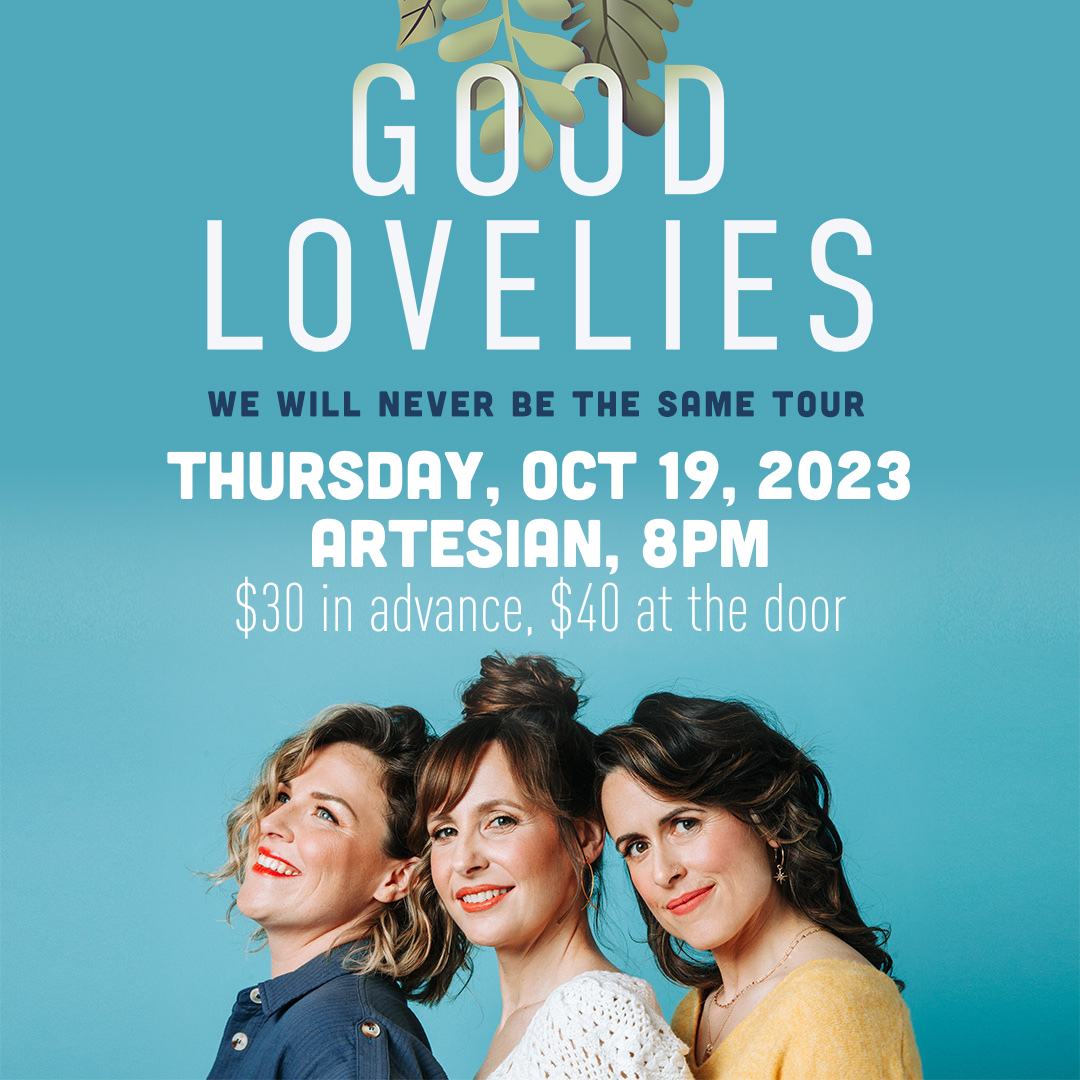 Tickets
Give the Good Lovelies from Toronto a warm Regina welcome on their "We Will Never Be The Same" Tour!
Show Details:
Good Lovelies - We Will Never Be The Same Tour - Support TBA
Date: Thursday, October 19th, 2023
Doors: 7:00PM
Show: 8:00PM
Tickets: $30.00 in advance online or in person at Paper Umbrella (2724 13th Avenue), or $40.00 at the door
*Advance tickets close at 5:00 PM day-of-show. Additional tickets will be available at the door unless it is officially labelled SOLD OUT*
The Artesian is wheelchair accessible, all-ages, and a proud supporter of positive spaces initiatives with a zero-tolerance policy towards hate, harassment, and/or discrimination. We reserve the right to remove any patron creating an unsafe environment. The accessible entrance is available via a lift, Please ask staff for help if necessary.
About Good Lovelies:
Reflecting on the richness of life, and the wide-ranging spectrum of emotions that surface from moment to moment is the spiritual focus of the much-anticipated new album from one of Canada's most accomplished and harmonious trios – Good Lovelies.
Musically, We Will Never Be the Same hearkens back to the Juno Award-winning combo's acoustic, rootsy beginnings 17 years ago. Lyrically, the songs created by the ensemble of Kerri Ough, Sue Passmore and Caroline Marie Brooks are as compelling as the dynamic and engaging vocal harmonies for which the group is known as they mine the complex feelings experienced by women who have come to ponder some of the big questions of life.
The resulting collection of songs strikes a tone of hopefulness, steadfastness, and perseverance, even when enduring moments of tribulation and even despair. Songs such as Young at Heart, Tip to Toe and Keep Moving bring to bear the sometimes-conflicting emotions encountered on each songwriter's personal life journey but expressed in ways that have profound meaning for anyone listening to them.
It is an admirable and desirable addition to their widely acclaimed musical catalogue which already includes four full-length studio albums, two enchanting Christmas releases, three EPs, and a live albumv. We Will Never Be the Same was crafted during a time when the Good Lovelies could not tour, which has been a staple of their careers, bringing them to concert venues throughout Canada and the U.S. as well as to the stages around the globe from the U.K. and Europe to Australia.
Blurry Days is a profound reflection of the difficulties we all, as humans, faced during the difficult times of global lockdown. In an instant, it seemed that our worlds became limited to the four walls around us, with even the most mundane of day-to-day tasks becoming an exercise in frustration and loneliness. In contrast, Not A Lost Cause is a song of affirmation and resilience, it is a call to not just exist, but to thrive.
Much of the writing for We Will Never Be the Same took place during a productive and illuminating retreat in rural Nova Scotia, working closely with the production team of Joshua Van Tassel and Christine Bougie (who also both performed on the album) resulting in one of the most collaborative albums in the band's tenure.
The heaviness of some of the subject matter is more than overshadowed by the exquisite beauty of the compositions and the stellar, powerfully deep and resonant vocal performances that elevate not only the tone, but the hearts and spirits of the listener.
We Will Never Be the Same is both a return to a more elemental, acoustic-based musical platform reaching back to the early days of the Good Lovelies, as well as an immersive emotional experience crafted by three songwriters who bring their own real-life stories in all their dynamism and messy complexity to the fore.
It is a testament not only to their artistry, but also their humanity, and is an album that will continue to endear this beloved group to fans of all ages.
---