Talking Fresh
Mar 1, 2019
---
---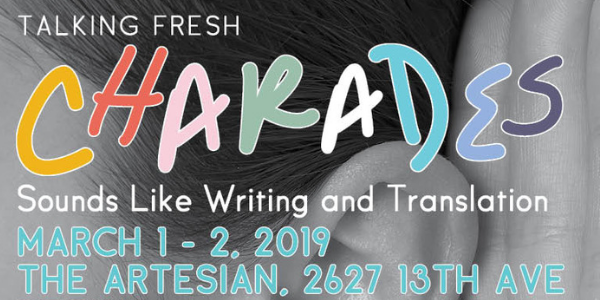 The Artesian is proud to host the Saskatchewan Writers' Guild's annual festival, "Talking Fresh." This year's theme is: Charades: Sounds like Writing and Translation
March 1st from 4:00 PM - 9:00 PM,
March 2nd from 10:00 AM - 3:20 PM
Cost: FREE
About this years' festival:
"Translation (noun): a rendering from one language into another: A change to a different substance, form or appearance" - Merriam-Webster's dictionary
Talking Fresh is a free two-day writing festival for aspiring writers and anyone interested in reading from Regina and surrounding area. Join our Canadian writers Oana Avasilichioaei (poetry), Joan MacLeod (playwriting), Waubgeshig Rice (fiction), and Alexandra Shimo (non-fiction) as they explore how writing can help us translate ideas, voices, and languages.
Talking Fresh begins on Friday, March 1 at 4:00 pm with a panel discussion on the weekend's theme involving all four writers. The evening will feature a catered reception and readings by each writer. On Saturday, March 2, the writers will conduct workshop-style sessions focusing on the craft of writing in their genres. These sessions are intended for writers of all levels and the festival is open to the public.
For more information, visit www.skwriter.com.
---