Sweet Alibi with Special Guest Poor Nameless Boy
Sep 23, 2022
---
---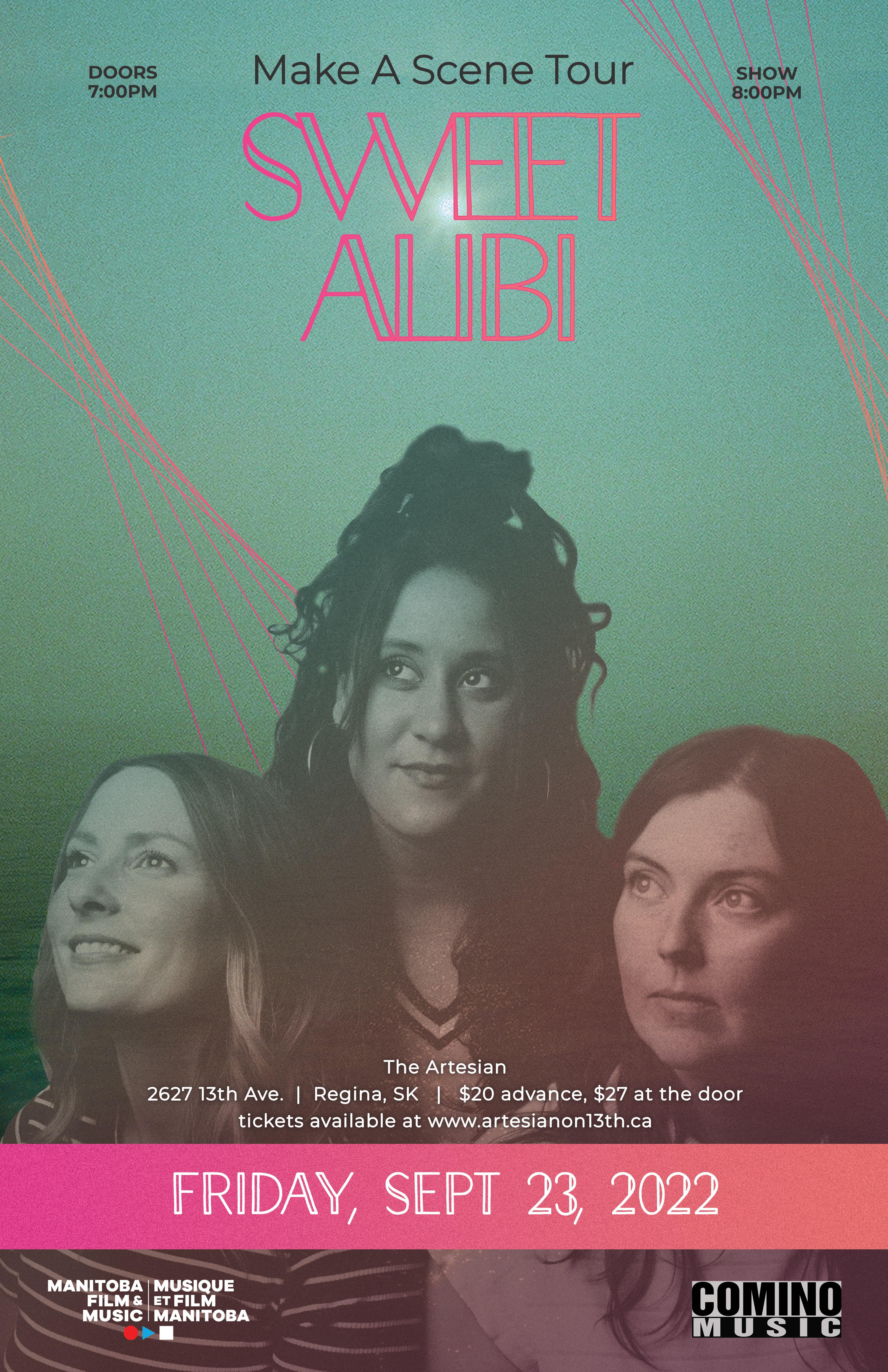 Get ready to welcome Sweet Alibi back to the Artesian stage on their Make A Scene Tour - with a very special opening act - Poor Nameless Boy. This will be a roots music extravaganza!
Please be advised that this event is subject to our current COVID-19 policies, which are available at www.artesianon13th.ca/pages/covid-safety. The policies on that page are our most up-to-date policies and are in effect regardless of provincial restrictions.
Show Details:
Sweet Alibi - Make A Scene Tour with Special Guest Poor Nameless Boy
Date: Friday, September 23rd, 2022
Doors: 7:00 PM
Show: 8:00 PM
Tickets: $20.00 in advance online or at Paper Umbrella - 2724 13th Avenue, $27.00 at the door.
*Advance tickets close at 5:00 PM day-of-show. Additional tickets will be available at the door*
The Artesian is wheelchair accessible, all-ages, and a proud supporter of positive spaces initiatives with a zero-tolerance policy towards hate, harassment, and/or discrimination. We reserve the right to remove any patron creating an unsafe environment. The accessible entrance is available via a lift, Please ask staff for help if necessary.
About Sweet Alibi:
With their dazzling fourth album Make A Scene, Winnipeg combo Sweet Alibi masterfully deliver soulful roots-pop elevated by the luminous vocal harmonies of Jess Rae Ayre, Amber Nielsen, and Michelle Anderson. Produced by Matt Peters and Matt Schellenberg (a.k.a. members of indie-pop squad Royal Canoe who produce under the Deadmen moniker), Make A Scene weds rich lyrical themes to wildly accessible songs such as the propulsive "Confetti," which occupied the Top 20 of CBC Radio 2's national chart for an impressive eight weeks, building on previous airplay Sweet Alibi enjoyed on satellite and terrestrial radio. Bassist Alasdair Dunlop and drummer Sandy Fernandez round out the acclaimed Western Canadian Music Award winners, whose We've Got To album scored 2014's Roots Duo/Group Recording of the Year. Watch for Sweet Alibi on tour in 2022 and beyond.
"The latest drop from this Canadian trio is both luminous and soulful as they combine elements of classic soul and roots pop into a modern brew unlike anything you've heard before." — CHILLFILTR
About Poor Nameless Boy:
Disarming in a moment, his soft, melodic delivery is born from a keen perception of the human condition. This understated authenticity is why you'll find Poor Nameless Boy on the fringes of something much deeper than modern indie-folk. In his quest to retain a certain humbled anonymity, Regina-based Joel Henderson has, in fact, made himself more noticeable than ever.
Though similar to his contemporaries with his wispy, shiver-worthy vocal tones reminiscent of Donovan Woods and Gregory Alan Isakov; Henderson's stark vulnerability sets him apart, coupled with a deep lyrical poignancy. Since the release of Activity Book (2013), and the proceeding, stunningly beautiful and acclaimed Bravery (2016) as well as Wake Up Call (2019), Henderson has seen some notable milestones including AmericanaFest and several successful tours/showcases in Canada and Europe.
Henderson's striking grasp of life's complexities is mirrored by a pure modesty, allowing listeners to immerse themselves into the stories, songs and experiences of Poor Nameless Boy without pretense. With no desire to be seen as a brand or commodity, his humanistic proposition is entirely irresistible, and as a songwriter, effortlessly engaging.
---