Storytellers Night: Voices of the LGBTQ Community
Jun 7, 2019
---
---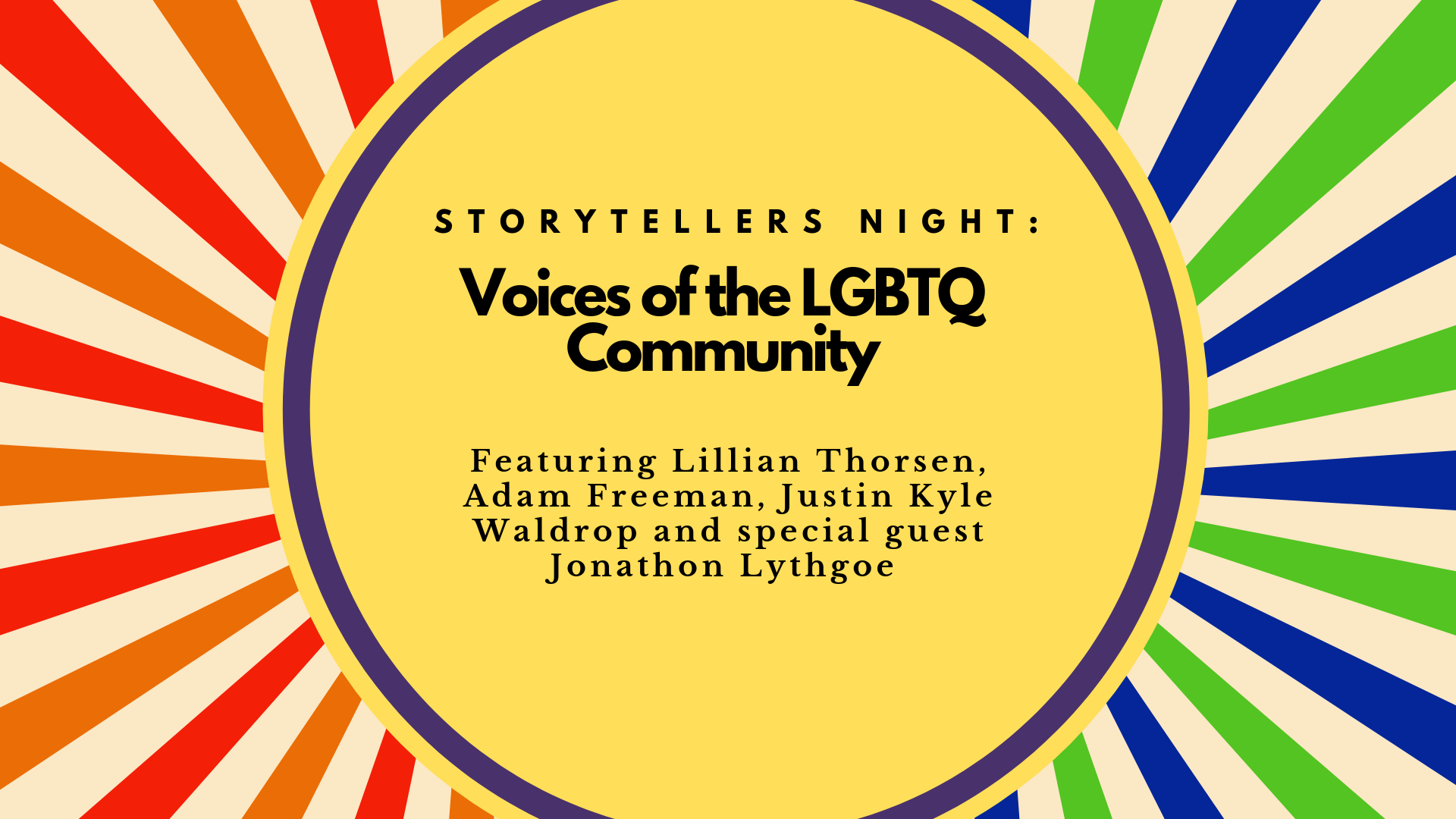 The Artesian is pleased to partner with Storytellers Club to present the next instalment in the 2019 Storytellers Night series - Voices of the LGBTQ Community: A live storytelling event that features stories from members of the LGBTQ community.
Show Details:
Storytellers Night - Voices of the LGBTQ Community
Doors: 6:30 PM
Show: 7:00 PM
Tickets are $35 and allow you to bring one guest with you!
Stories will be shared by Lillian Thorsen, Adam Freeman, Justin Kyle Waldrop with special interview guest Jonathon Lythgoe
A portion of the proceeds will be donated back to Queen City Pride to create more opportunities for voices of the LGBTQ community to be heard.
The Artesian is wheelchair accessible, all-ages, and a proud supporter of positive spaces initiatives with a zero-tolerance policy towards hate, harassment, and/or discrimination. We reserve the right to remove any patron creating an unsafe environment. The accessible entrance is available via a lift, Please ask staff for help if necessary.
About The Storytellers Club :
Storytellers Night is a live storytelling series that brings people together to listen to stories about the human experience. Each night is curated based on a particular theme that explores meaningful conversations about life. For more information about The Storytellers Club, visit www.storytellersclub.ca
About the Presenters:
Lillian Thorsen
I'm a preservice teacher studying at the U of R. I moved to Regina in 2016 and through improv met Jessica Tresek. Together we went on to found PRISM Improv, an improv troupe that raises money for organizations that support the 2LGBTQ+ community.

Adam Freeman
My name is Adam. I'm just a regular teenage boy (I think), just finishing grade 10 except that I have been out as transgender and queer for 3 years. I also play ringette and work in the winter reffing ringette. I've known from a very early age that I was a boy—even if some people don't agree or can't understand, that's who I am. I have 2 siblings and loving parents as well as the best dog that ever lived (this is a fact) and two ridiculous cats. My life is crazy and a mess sometimes but I'm happy to share my story with you.
Justin Kyle Waldrop
Justin is a proud Métis man who has overcome abuse, trauma, growing up in the child welfare system, bipolar disorder, and addictions. His time is spent on recovery, fitness, volunteering, hobbies, friends, family, and work. He enjoys a career in marketing and communications. Justin is a Superman fan, which has become a metaphor for his life.

Jonathon Lythgoe
The answer is love.

Growing up gay in a conservative Christian family in a small(ish) town there were three truths that were imprinted in his mind from an early age: (1) Love God (2) Love your neighbour (3) Reject your self. His story is a 35+ year journey to reconcile these conflicting 'truths', the cost of which was incredibly steep. His message is about the power of love, and the need to suspend judgment to make enough room in the world for one another.
---