Storytellers Night: In The Company of Good Men
Nov 22, 2019
---
---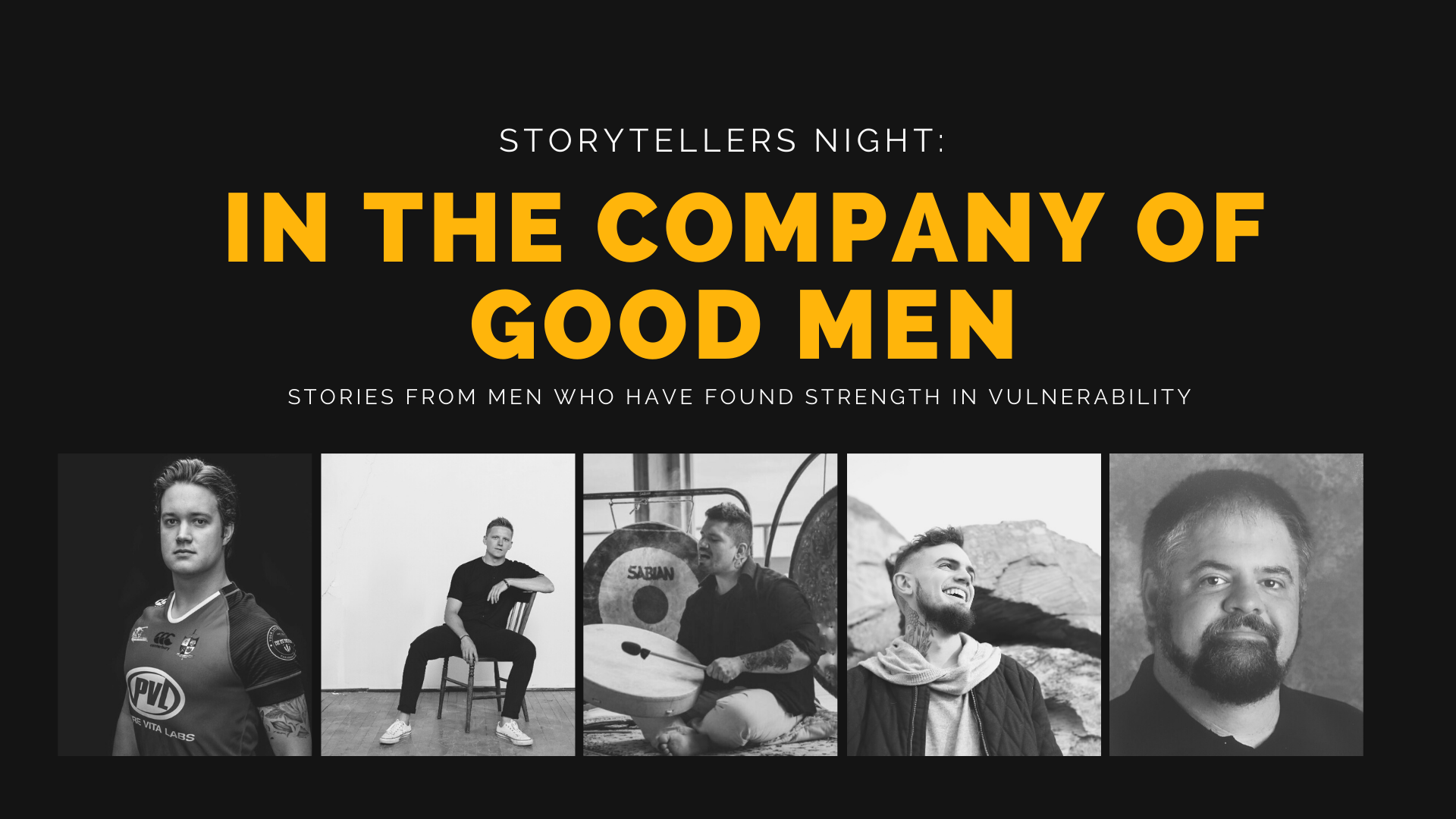 The Artesian is pleased to present the next instalment of Storytellers Night: In the Company of Good Men!
Show Details:
Storytellers Night: In The Company of Good Men
Stories from men who have found strength in vulnerability
Date: Friday, November 22
Lounge: 6:30 pm
Auditorium Doors: 7:00 pm
Event: 7:30 pm
Early bird tickets: $25 until Friday, November 15
Regular tickets: $30 until Friday, November 22
Stories will be shared by Nathan Sgrazzutti, Lee Forsberg, Joachim Smadu with special interview guest Sundance Robson and a live performance by spoken word artist Nono Ryan.
The Artesian is wheelchair accessible, all-ages, and a proud supporter of positive spaces initiatives with a zero-tolerance policy towards hate, harassment, and/or discrimination. We reserve the right to remove any patron creating an unsafe environment. The accessible entrance is available via a lift, Please ask staff for help if necessary.

About The Storytellers Club:
Storytellers Night is a live storytelling series that brings people together to listen to stories about the human experience. Each night is curated based on a particular theme that explores meaningful conversations about life. For more information about The Storytellers Club, visit www.storytellersclub.ca
About the Speakers:
Nathan Sgrazzutti:
Nathan is currently completing his degree in Finance at the University of Regina. During his lengthy tenure there, he has had the opportunity to help found the University of Regina Cougars Rugby Club, take part in the University of Regina's Theatre Program, and spend two terms as President of the University of Regina Student's Union.
A mirror to his university life, when not involved on campus Nathan spends his time working at Earls on Albert Street, volunteering as a coach for teams Regina and Saskatchewan U18 rugby, taking part as both President and player with the Regina Highlanders Rugby Football Club, and performing in various community theatre productions around the city.
Nathan is the proud son of two fathers; Bill Sgrazzutti and Graeme Mitchell, and his mother Susan Powelson. He attributes much of his success in life to the unique and lasting impression each of these three incredible people have made.
Lee Forsberg:
Lee Forsberg is a business owner born and raised in Regina. He is a partner in 3 real estate based companies in Regina and a partner in a Non-Profit called "DIM" that focuses on giving people a platform to tell their story in a DIM setting that welcomes intimate conversation.
Joachin Smadu:
Joachim is a highschool English teacher by day, new husband and dad by night (sometimes all hours of the night), pop culture geek/nerd and musician since I can remember. I use humour to help navigate life and so far haven't been too lost. Life at 40 hasn't been as scary as I've been led to believe, although I've definitely gone a bit greyer.
Sundance Robson:
Sundance Robson is Canadian born spiritual teacher and healer who has been teaching and building his practice since 2016. Experience a unique, relaxing, and invigorating healing session like nothing you have previously experienced. You will be immersed in a therapeutic, reiki-infused sound healing session.
Nono Ryan:
Artist Bio Nono Ryan is a slam poet and rapper with a smooth new wave delivery and deep lyrical connection towards classic hip-hop. He credits his emotional and spiritual awareness to his whirlwind journey of becoming an ordained Theravada Buddhist Monk in the jungles of Northern Thailand, which resonates through his passionate delivery.
After winning slam poetry competitions in Regina, Berlin and Bangkok, as well as finishing as a finalist at the Canadian National Slam Poetry Competition Nono Ryan was selected as an poet in residence at the Banff Centre for Arts and Creativity in 2019. Nono is dedicated to mastering his craft while challenging and inspiring audiences on his journey.
About The Host, Ashley Kilback:
Ashley Kilback is a storyteller, writer, speaker, and human connection advocate.
In 2016, she founded The Storytellers Club, a live storytelling event series that helps people feel seen, heard, and understood. Through The Storytellers Club, Ashley is committed to creating opportunities for people to share their stories in a social environment that is safe, inclusive and supportive.
With a curious mind, a big heart, and a vision for connecting humanity in meaningful ways, Ashley is creating a more connected world, one story at a time.
---