Storytellers Night: A Whole New World
Sep 13, 2019
---
---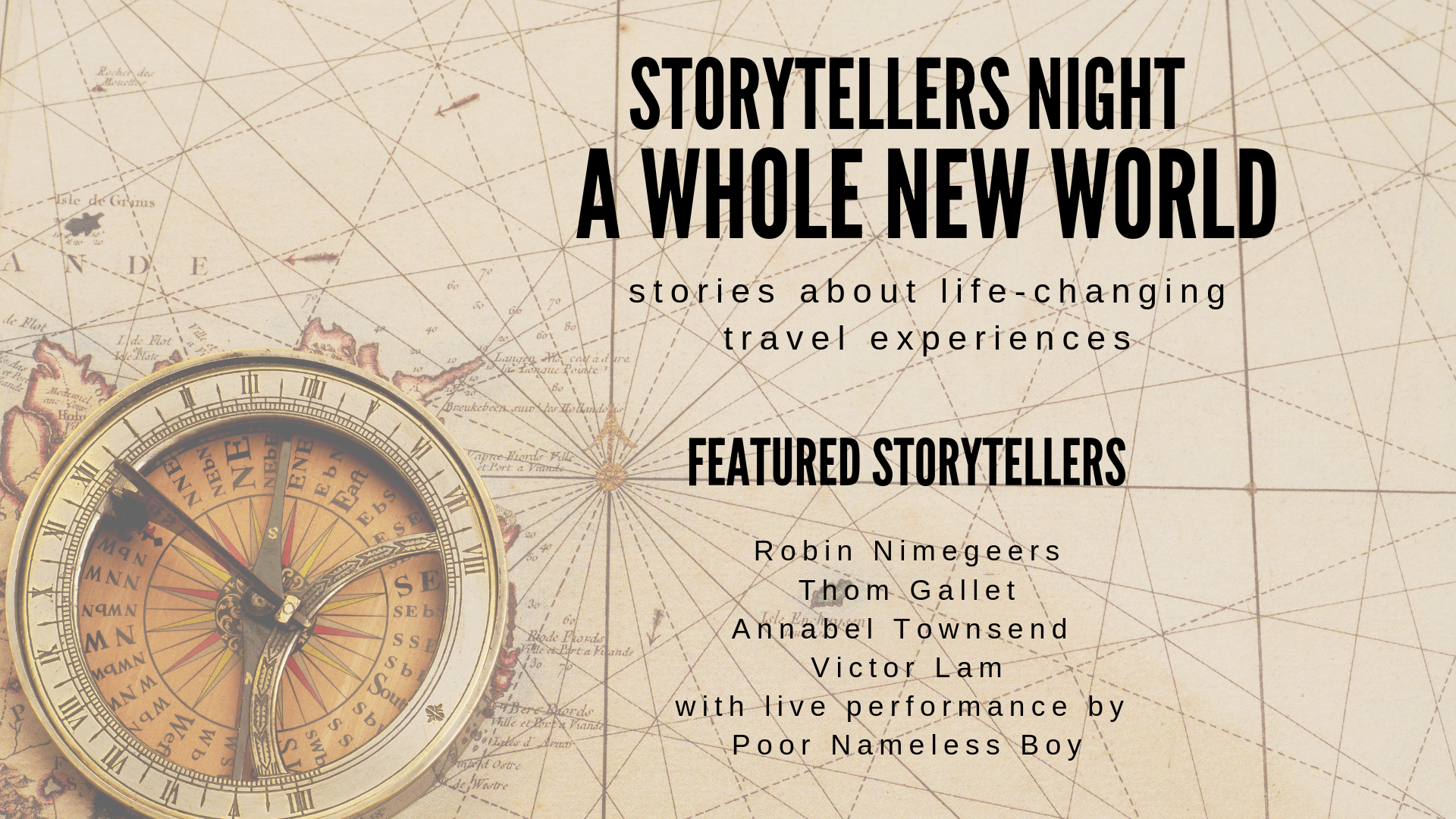 The Artesian is pleased to present the next instalment of Storytellers Night: A Whole New World!
Show Details:
Storytellers Night: A Whole New World
Stories about life-changing travel experiences
Date: Friday, September 13
Lounge: 6:30 pm
Auditorium Doors: 7:00 pm
Event: 7:30 pm
Early bird tickets: $25 until Friday, September 6
Regular tickets: $30 until Friday, September 13
The Artesian is wheelchair accessible, all-ages, and a proud supporter of positive spaces initiatives with a zero-tolerance policy towards hate, harassment, and/or discrimination. We reserve the right to remove any patron creating an unsafe environment. The accessible entrance is available via a lift, Please ask staff for help if necessary.
Stories will be shared by Robin Nimegeers, Thom Gallet, Annabel Townsend, Victor Lam with special guest Poor Nameless Boy
About The Storytellers Club:
Storytellers Night is a live storytelling series that brings people together to listen to stories about the human experience. Each night is curated based on a particular theme that explores meaningful conversations about life. For more information about The Storytellers Club, visit www.storytellersclub.ca
About The Host,
Ashley Kilback
:
Ashley Kilback is a storyteller, writer, speaker, and human connection advocate.
In 2016, she founded The Storytellers Club, a live storytelling event series that helps people feel seen, heard, and understood. Through The Storytellers Club, Ashley is committed to creating opportunities for people to share their stories in a social environment that is safe, inclusive and supportive.
Aside from her work with The Storytellers Club, Ashley is a story strategist and writer who works with community leaders to help them tell stories that empower the people they serve by elevating the way they communicate their brand.
With a curious mind, a big heart, and a vision for connecting humanity in meaningful ways, Ashley is creating a more connected world, one story at a time.
---