**CANCELLED** Spring Songs and Stories with Glenn & Tom
Apr 4, 2023
---
---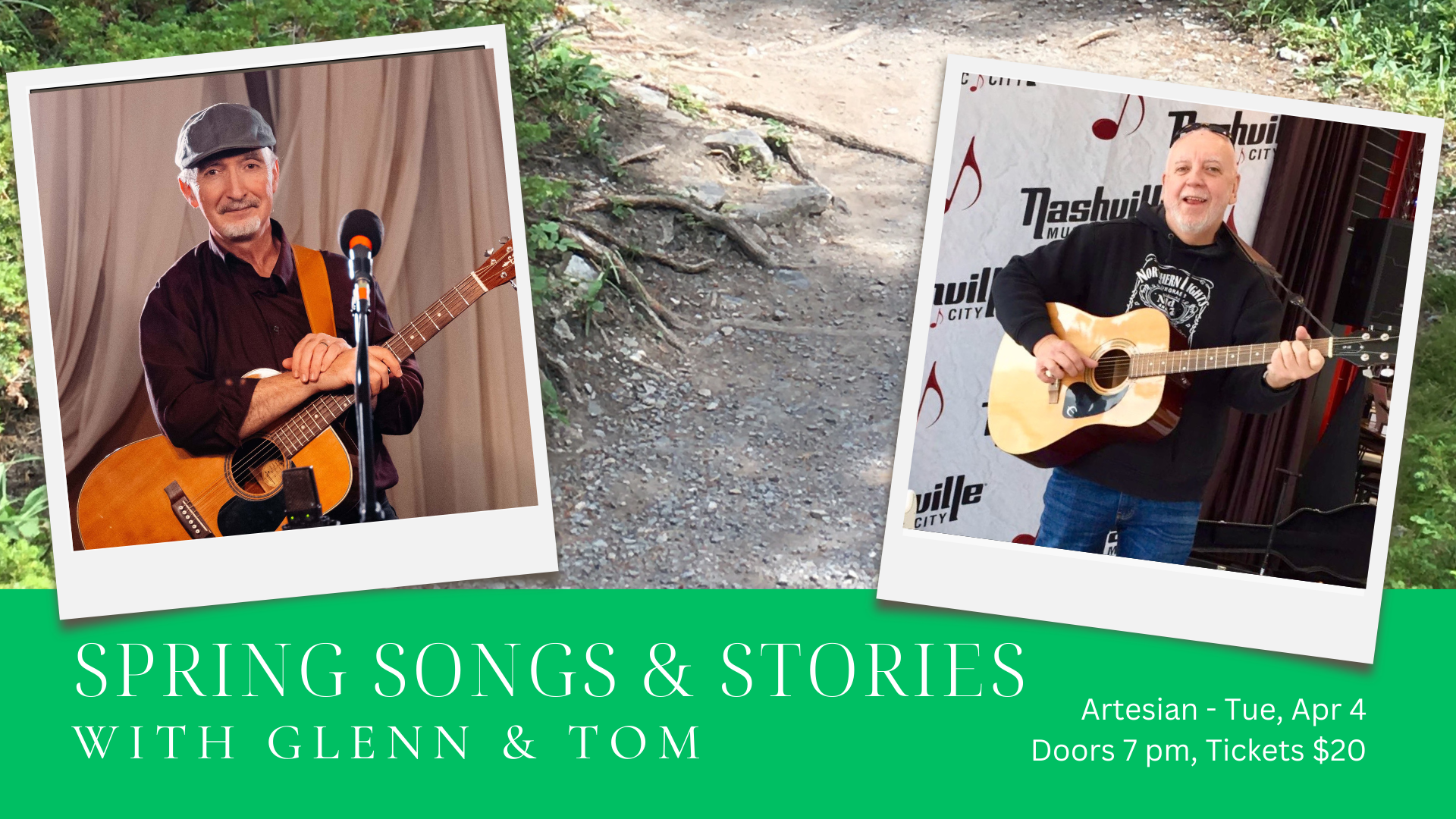 **CANCELLED** Had enough of winter? Ready for all the sights, sounds, and warmth that spring has to offer? Then come join us for an intimate Tuesday evening of spring-infused tunes and stories from these two seasoned Saskatchewan songwriters.
Show Details:
Spring Songs and Stories with Glenn & Tom
Date: Tuesday, April 4th, 2023
Doors: 7:00PM
Show: 8:00PM
Tickets: $20.00 in advance online or at Paper Umbrella - 2724 13th Avenue
*Advance tickets close at 5:00 PM day-of-show. Additional tickets will be available at the door unless it is officially labelled SOLD OUT*
The Artesian is wheelchair accessible, all-ages, and a proud supporter of positive spaces initiatives with a zero-tolerance policy towards hate, harassment, and/or discrimination. We reserve the right to remove any patron creating an unsafe environment. The accessible entrance is available via a lift, Please ask staff for help if necessary.
About the Artists:
Glenn Sutter (www.glennsutter.com) is a Regina folk-rocker whose engaging shows spark a gentle fire, inviting audiences to gather round, reflect, and enjoy the moment. Whether playing with his band or a solo house concert on guitar and piano, his good-natured performances feel intriguing and familiar, as though catching up with an old friend. Glenn has released five albums to date, including a 2019 gem called "In Rivertime," and his single "Weight of the World" is the Saskatchewan track on David Suzuki's Playlist for the Planet.

Tom Kennedy (www.facebook.com/TomKennedyMusic/) is a Saskatoon-based, multi--instrumentalist. Tom Kennedy - guitar, mandolin, bass - has been playing roots and folk music in and around Saskatchewan for many years doing house concerts, corporate events, coffee shops and playing at music festivals. With one CD under his belt called 'Eclecticism' , his musical influences go back to the roots of British rock and mix folk, swing, classic country and roots into an acoustic soup he calls home cooking. He's a storyteller and 12 new songs are on the menu for the next CD in 2023.
---