Snake River presents an original live score for The Phantom Carriage TWO NIGHTS!
Dec 29, 2021 - Dec 30, 2021
---
---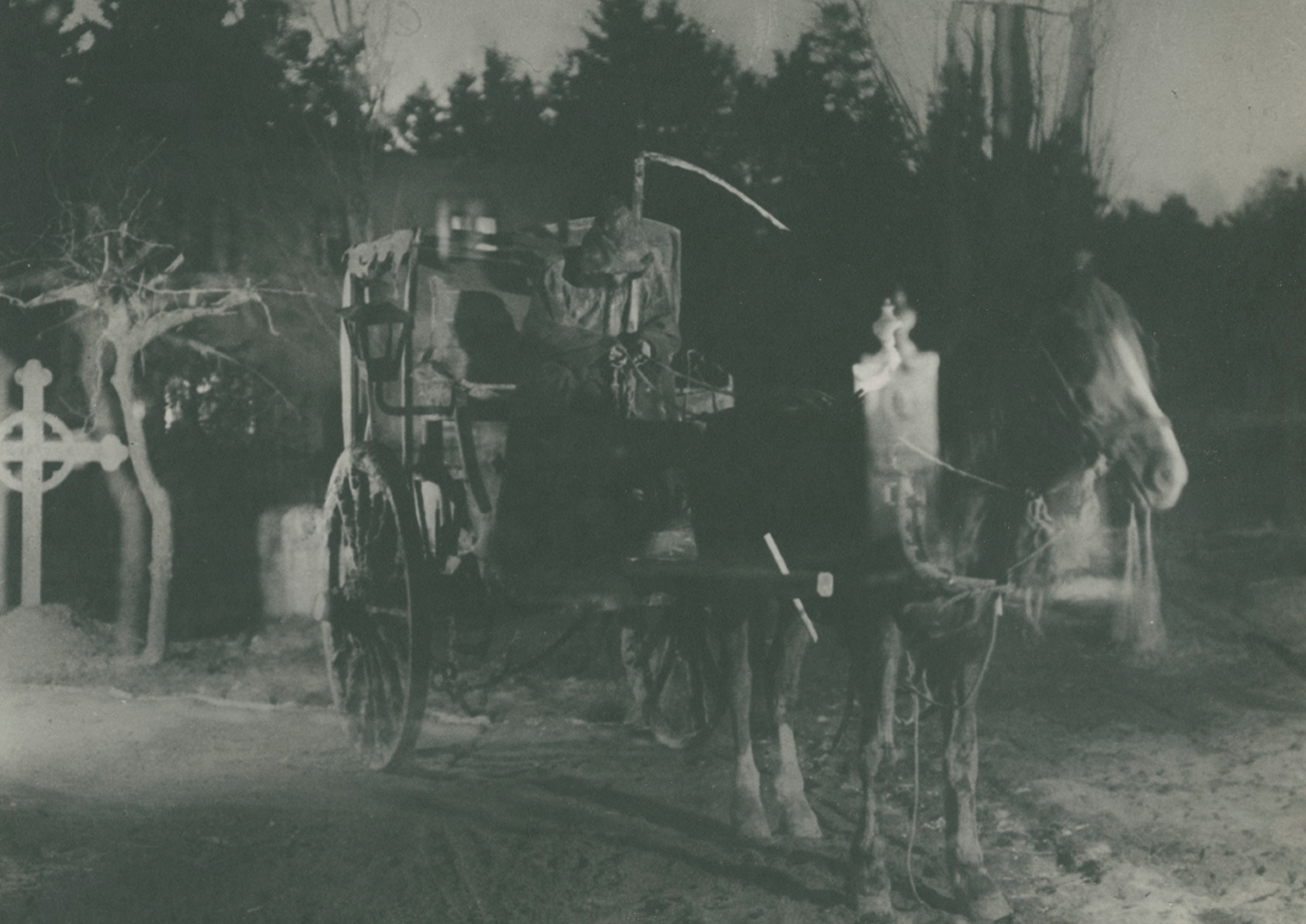 Snake River is performing their original score to the Victor Sjöström 1921 silent film, The Phantom Carriage.
The initial show on December 30th has SOLD OUT so we've opened up a second showing on December 29th! Get your tickets today!
Legend says that the last person to die before the clock strikes midnight on New Year's Eve will be the driver of Death's carriage for the following year, responsible for gathering the souls of all those who pass. The horror/fantasy film centres around David Holm, a petulant alcoholic with tuberculosis, who shows no remorse for the effects his actions have on his loved ones. As the clock draws closer and closer to midnight he is forced to look back at the pain his actions have caused others. The Phantom Carriage has endured as one of cinema's greatest achievements, whose influence can not be overstated, having inspired such legendary filmmakers as Ingmar Bergman and Stanley Kubrick. For the 100th anniversary we invite you to join us in the screening and performance of a live score to the classic film.
Please be advised that admission to this event will require proof of vaccination in accordance with our current COVID-19 policies, which are available at www.artesianon13th.ca/pages/covid-safety and are subject to change.
Additionally, we enourage all patrons to take a free rapid test (available at the Regina Public Library branches) before coming and stay home if you recieve a positive results OR are displaying symptoms. We have decreased the capacity to 50% for both these shows and we will NOT be serving drinks at the bar. Masks must remain on at all times - patrons who choose not to follow our policies will be asked to leave.
Show Details:
Snake River presents an original live score for The Phantom Carriage
Date: Wednesday, December 29th and Thursday, December 30th, 2021
Doors: 7:00 PM
Show: 8:00 PM
Tickets: $25.00 in advance
The Artesian is wheelchair accessible, all-ages, and a proud supporter of positive spaces initiatives with a zero-tolerance policy towards hate, harassment, and/or discrimination. We reserve the right to remove any patron creating an unsafe environment. The accessible entrance is available via a lift, Please ask staff for help if necessary.
This event made possible through the support of SK Arts
More about the Snake River:
Snake River began as a solo recording project of Christopher Sleightholm in 2012. In assembling a band for live performances, Sleightholm found a group of dedicated musicians including John De Gennaro (Guitar), Dustin Gamarcy (Drums), and Jeff Meldrum (Bass), who have grown and contributed to the band's sound for nearly a decade. In 2018 Amber Phelps Bondaroff joined the lineup on viola, vocals and keyboard. The band's most recent album, Lost Album (2021) is an excursion into previously uncharted sonic territory for the group. Like previous albums, Lost Album is set in the fictional town of Snake River Mountain, and features characters that listeners of the band will recognize. The album features contributions by members of Radiation Flowers, and Shooting Guns. The guitars are twangy, grinding and jangling, and the album gets darker and heavier than previous works but also is full of lightness and hope. Snake River uses minimal elements to make each song a swirling psychedelic event – the guitars are two spokes of the same wheel working together for the same end goal. Says Cups N Cakes Network: "Like other neo-psych exemplars such as The Olivia Tremor Control or Spiritualized, Snake River pay their respects to the fab four, before veering off course and charting their own magical mystery tour packed with tasteful reverb, phantasmagoric harmonies, waves of noise, and tantalizing grooves."
www.snakerivermtn.com
More about The Phantom Carriage:
The last person to die on New Year's Eve before the clock strikes twelve is doomed to take the reins of Death's chariot and work tirelessly collecting fresh souls for the next year. So says the legend that drives The Phantom Carriage (Körkarlen), directed by the father of Swedish cinema, Victor Sjöström. The story, based on a novel by Nobel Prize winner Selma Lagerlöf, concerns an alcoholic, abusive ne'er-do-well (Sjöström himself) who is shown the error of his ways, and the pure-of-heart Salvation Army sister who believes in his redemption. This extraordinarily rich and innovative silent classic (which inspired Ingmar Bergman to make movies) is a Dickensian ghost story and a deeply moving morality tale, as well as a showcase for groundbreaking special effects. - Criterion Collection
---