Scott Cook & Pamela Mae with special guest Soil & Grass
Apr 23, 2023
---
---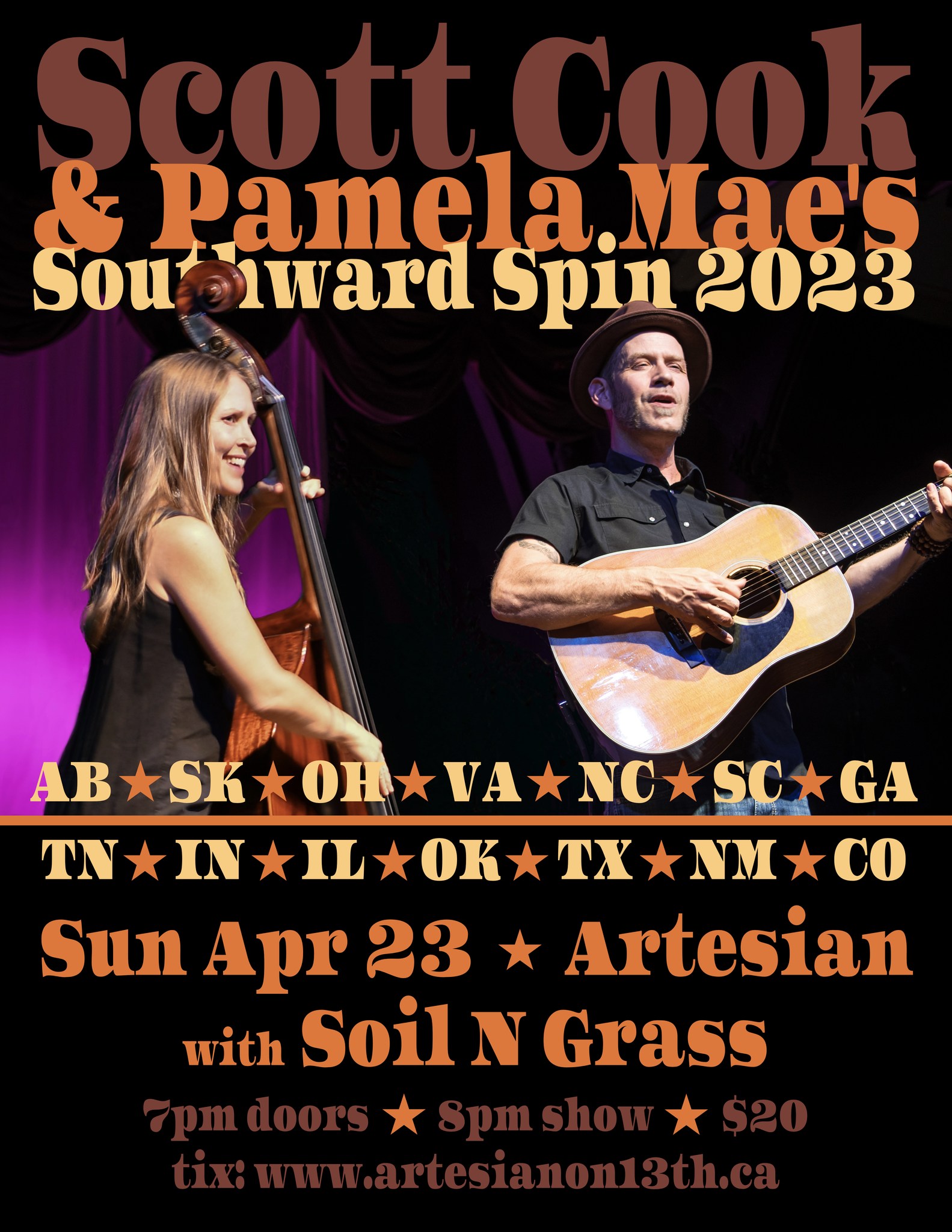 "He sings his heart and soul, and in doing so lets light flood into your own... He has a good eye for imagery, a gentle human touch, a wry sense of humour, a whole lot of integrity, a warm, rugged voice and a bunch of memorable lines... Truly one of Woody Guthrie's children." –RnR Magazine
Show Details:
Scott Cook & Pamela Mae with special guest Soil & Grass
Date: Sunday, April 23rd, 2023
Doors: 7:00PM
Show: 8:00PM
Tickets: $20.00 in advance online or at Paper Umbrella - 2724 13th Avenue, $27.00 at the door
*Advance tickets close at 5:00 PM day-of-show. Additional tickets will be available at the door unless it is officially labelled SOLD OUT*
The Artesian is wheelchair accessible, all-ages, and a proud supporter of positive spaces initiatives with a zero-tolerance policy towards hate, harassment, and/or discrimination. We reserve the right to remove any patron creating an unsafe environment. The accessible entrance is available via a lift, Please ask staff for help if necessary.
About Scott Cook:
In 2007, Albertan songwriter Scott Cook quit his job teaching kindergarten in Taiwan and moved into a minivan. He's made his living as a troubadour ever since, touring almost incessantly across Canada, the US, Europe, Asia, Australia, New Zealand and elsewhere, averaging 150 shows and a dozen summer festivals a year, and releasing seven albums of plainspoken, keenly observant verse along the way. His latest collection Tangle of Souls comes packaged in a cloth-bound, 240-page hardcover book of road stories and ruminations, equal parts introspection and insurrection. The album spent two weeks at #1 on Alberta's province-wide community radio network CKUA, and earned Scott his third Canadian Folk Music Award nomination, for English Songwriter of the Year. Its second single "Say Can You See" was the second most-played song of 2020 on Folk Alliance International's folk radio charts, and took top honours for the folk category in both the 2020 UK Songwriting Competition and the 2020 Great American Song Contest. In 2022 he's touring the album around North America with his sweetheart Pamela Mae on upright bass, banjo and vocals, believing more than ever that songs can change your life, and your life can change the world.
"Scott Cook's seventh 'love letter' to the world is all strings and beauty, a 12-song agnostic endorsement of love over fear... It doesn't condemn, it summons to one fire... Of all his records this one simply feels the best. ✭✭✭✭✭" –The Edmonton Journal
"Damn, this is a gorgeous album. Scott Cook's voice –– vocally and lyrically –– is as clear-eyed, optimistic, and straightforward as ever... Tangle of Souls is the medicine we could all use right now." –Adobe and Teardrops
About
Soil & Grass
:
Soil & Grass is a bluegrass trio from Treaty 4 territory. With various musical performance experiences including the Regina symphony, the punk clubs of downtown Toronto, and the jam circles of the Boreal forest, these three are on a Northwestern journey to dig into our roots - but only to the depth of the plow. Soil & Grass is Karley Parovsky on fiddle, Quinn Legare on banjo, and Nick Day on guitar.
---