Richard Inman w/ Ellen Froese
Nov 1, 2018
---
---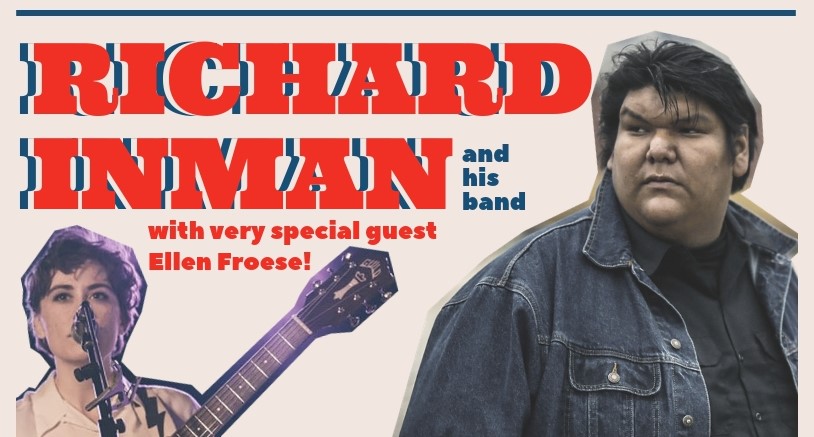 The Artesian is proud to present Richard Inman on tour with his full band. Joining them is very special guest Ellen Froese.
Doors and Lounge open at 7 PM, and the show starts at 8 PM. Tickets are $10 in advance and $15 at the door.
*This event happens at the same time as a free art reception in the lounge.*

The Artesian is wheelchair accessible, all-ages, and a proud supporter of positive spaces initiatives with a zero-tolerance policy towards hate, harassment, and/or discrimination. We reserve the right to remove any patron creating an unsafe environment. The accessible entrance is available via a lift, Please ask staff for help if necessary.
About Richard Inman:

Richard Inman is quickly becoming a staple of Winnipeg's folk and country scene. With a rich baritone voice and delicate musical touch, he crafts mature songs that feel at once deeply familiar and bracingly fresh.

Between relentless gigging and a residency at the legendary Times Change(d) High and Lonesome Club, Richard has proven himself a savvy songwriter and true prairie gem

About Ellen Froese:

'Ellen Froese's "I Wish I Had a Foot-Long Cigarette" is a song about yearning. Froese, with an enchanting warble, wishes for things that can make her life a little bit easier. At the very end of the song, Froese sings, "I wish this road it wasn't half as long, if I could cut it down in size, stop my mind from running dry…" and then the song just ends and you're left stranded in the middle of a dusty highway. It's SUCH a great ending. Now who can I bum a smoke off of?' – Laura Stanley, Greyowl Point
---