Regina Word Up Open Mic Pride Stage ft Elise Pallagi
Jun 10, 2022
---
---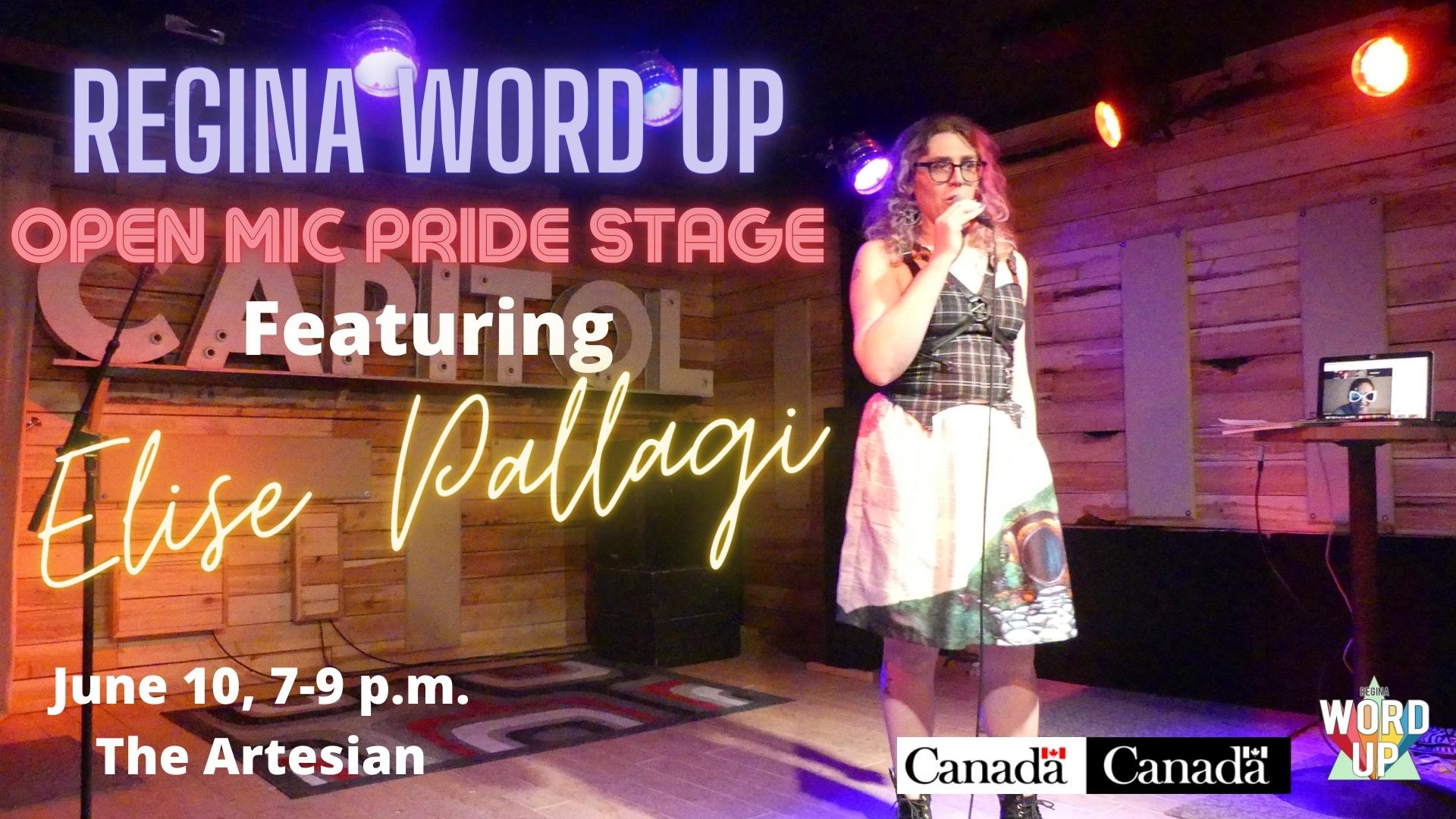 Regina Word Up Open Mic Pride Stage featuring Elise Pallagi
Date: Friday, June 10, 2022
Time: 7:00-9:00 pm (SK time), doors open at 6:30 pm
Location: The Artesian, 2627 13th Ave, Regina, SK
Price: Recommended donation of $5 or pay what you can. (Cash)
*Free if you perform!
* Sign up at the door.
* First come, first served.
*All ages
The Artesian is a fully licensed, all-ages, and wheel-chair accessible facility located in the heart of Regina's Cathedral Neighbourhood.
Please note: The Artesian requires proof of double vaccination or a negative PCR test within 48 hours, along with ID, at events. Masks are required. We encourage physical distancing. Each performer gets their own mic.
Please see The Artesian's policy here: https://artesianon13th.ca/pages/covid-safety

*****
CREATIVE CITY CENTRE PRESENTS REGINA WORD UP AT THE ARTESIAN!
The pandemic encouraged the Creative City Centre to pivot and transform the Hague Gallery, the beloved home of open mics and poetry slams for close to a decade, into a production studio when safe in-person performances weren't possible. The CCC now produces exciting digital content and professional development -- check it out at https://creativecitycentre.ca/.
We are thrilled to partner with The Artesian to use this beautiful community space as a backdrop for poetry once again.
*****
Our annual Regina Word Up Pride Stage is an opportunity to share your work with an appreciative crowd. For this event, we prioritize and centre queer expression on our Pride Stage: we encourage sharing queer content or any content for folks who identify as 2SLGBTQ+. Performers are welcome on our pressure-free stage to share in 5-minute spots.
Everyone is welcome in the audience! We encourage audience members to engage during the performances – snap, make cheesecake noises (mm's and yes'), laugh, stomp, or otherwise make your appreciation known!
***
Feature performer:
Elise Pallagi (She/her) is a spoken word poet, multi-disciplinary performance artist, and Program Coordinator of Tonight it's Poetry. She has represented Saskatoon twice at the Canadian Festival of Spoken Word as a member of the TiP Slam team in both 2017 and 2018. Her writing and performance work focuses on her personal experiences and struggles as a transgender woman growing up and living in Treaty 6 territory in the Canadian prairies.
Combining elements of Vaudeville and Burlesque with her love of literature, music, and defending human rights gives Elise's style of writing and performance a unique resonance on any stage. Elise conveys emotional authenticity and relatability in her work that moves audiences, touches hearts, and changes minds.
*****
GUIDELINES, COMMUNITY AGREEMENTS AND CONSENT STATEMENTS
At the Creative City Centre we always strive for inclusivity and respect in the community both inside and out of our facility, which is why we have compiled the following guidelines to remember both for our events and also in everyday life.
• We encourage respecting the way folks self-identify, without assuming gender, sexuality, orientation, religion, or ability.
• We understand that at times folks may need to leave or engage in other methods of self-care, and that's okay.
• We encourage language that promotes inclusivity, education, and awareness and dislike all forms of explicit ignorance including, but not limited to, hate speech, racism, homophobia, transphobia, and classism.
• We encourage the culture of consent meaning we respect people's physical, verbal, and emotional boundaries. This means respecting that some people might not want to be hugged and if you want to engage physically in any way with a person it is important to ask permission before doing so.
*****
Regina Word Up is a program of the Creative City Centre. We gratefully acknowledge the support of the Department of Canadian Heritage, SK Arts, City of Regina, Creative Saskatchewan, and the Canada Council for the Arts that make programs like this one possible. We are grateful to The Artesian, who are facility partners for these events.
For more information on programs and opportunities, please visit www.creativecitycentre.ca
For more information, please email Cat at [email protected]
---