Regina Folk Festival presents Kacy & Clayton with Ellen Froese
---
---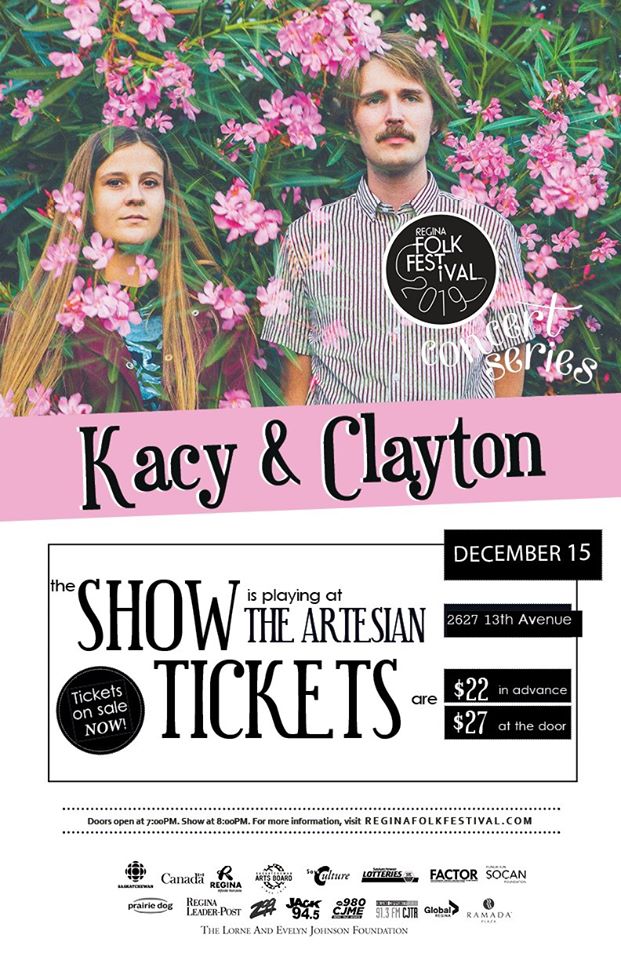 The Regina Folk Festival is pleased to present Kacy & Clayton on Dec. 15th!
"We were raised on cattle ranches where we learned how to play traditional country music because that's what everyone wanted to hear."
The music Kacy and Clayton make is inextricable from where they grew up. They sing about the kind of people you'd find in Wood Mountain, Saskatchewan (population very few). The hills, barns and remoteness of the area are in these songs, with a bittersweet acknowledgement that this music has taken them far from home.
Mojo magazine summed up as "A beautiful mix of Kacy's crystalline vocals and Clayton's inventive, deep-groove country guitar." And a greater attention to detail in their songwriting; with narrative tales of loss, regret and yearning alongside vivid portraits of the Northern Great Plains and its isolated inhabitants. The songs "The Forty-Ninth Parallel," "The South Saskatchewan River," "Providence Place" and "That Sweet Orchestra Sound" were all written with local settings in mind - with the latter a tribute to the rural dance bands of the area, who referred to themselves as 'orchestras.' One such band, the Romansky Orchestra from Fir Mountain featured Kacy's Grandpa Carl in their line-up when he was in his teens.
"Our songs for this album are inspired by rural living of the past and present, highlighting the toll that urban dwelling can take on first generation kids moving out of the country into the city."
Ellen Froese will be starting off the night.
Bar opens at 7:00PM
Doors open at 7:30 PM
Show starts at 8:00 PM
Advance tickets - 22
Tickets at the door - 27
---