Ralph Gradience Tour with special guest Alex Porat presented by the Artesian
Nov 15, 2021
---
---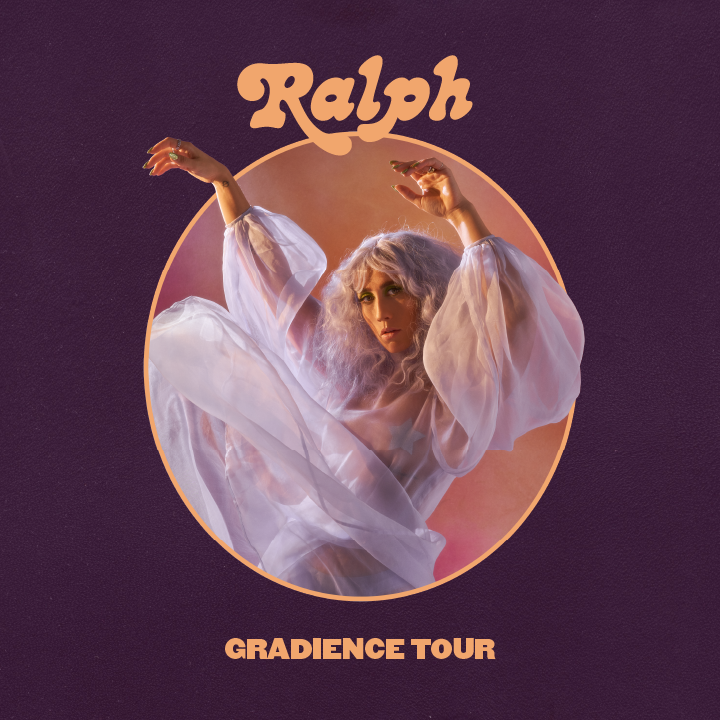 On November 15th, 2021, the Artesian is pleased to present an evening of pop perfection with the one and only Ralph and special guest Alex Porat!
Please be advised that admission to this event will require proof of vaccination or a negative test in accordance with our current COVID-19 policies, which are available at www.artesianon13th.ca/pages/covid-safety
Show Details:
Ralph Gradience Tour w/ special guest Alex Porat presented by the Artesian
Date: Monday, November 15th, 2021
Doors: 7:00 PM
Show: 8:00 PM
Tickets: $15.00 in advance, $25.00 at the door.
The Artesian is wheelchair accessible, all-ages, and a proud supporter of positive spaces initiatives with a zero-tolerance policy towards hate, harassment, and/or discrimination. We reserve the right to remove any patron creating an unsafe environment. The accessible entrance is available via a lift, Please ask staff for help if necessary.
About Ralph:
It's hard to pin down exactly what is it about the Toronto born, JUNO award nominated artist RALPH (Raffa Weyman) that has captured the devotion of fans across the country. Whether it's her high-fashion yet effortlessly cool aesthetic, her irresistible blend of vintage pop and lush contemporary beats, or the raw honesty that comes through her ​lyricism, one thing is certain - there is a rarity about an artist such as RALPH.
With an emphasis on narrative songwriting and genre-bending musical style, RALPH has created a special role for herself within the contemporary music scene​; a sound that is catchy but cool, sexy but smart, edgy but evocative. She's developed a soundscape that is uniquely her own, but what truly makes RALPH's songs special is that they are ferociously honest and relatable. This finesse sent her hit track "Gravity" up the radio charts into the Top 20, followed by a JUNO award nomination for Dance Recording of the Year.
Starting with little more than talent and a vision, over the past three years RALPH has built an incredible following in the USA, Canada and Europe. She's joined the likes of Ria Mae, Carly Rae Jepsen, and Scott Helman on three cross-Canada tours, and has drawn crowds south of the border for a North American tour with joan. Earning over 45 millions streams across platforms ​and seeing her music featured across television networks such as E!, HBO, Freeform and VICE, she has earned praised from a wealth of tastemaker press such as ​The FADER, Billboard, Paper, Paste, NYLON, V Magazine, Mother Jones, Interview Magazine, Teen Vogue, and MTV News.
The scope of RALPH's talent reaches far beyond her sonance; her aesthetic eye has served in the consistency of her photography and the artful approach to her music videos as she continues grows not only as a pop-icon, but a style purveyor. Whether it's to catch the next look she'll be serving, or the next bop she'll be dropping, all eyes are on RALPH.
About Alex Porat:
Toronto singer-songwriter Alex Porat is a magnetic force. With some of the freshest sounds of the moment, Alex is a brand new alt-pop artist with infectious and playful melodies, combined with unique, dreamy vocals. Her sound has been described as delicate and vulnerable, while relatable and youthful at the same time. Born in Malaysia with a Chinese-Polish background, the 23 year old singer-songwriter has had stints in LA, New York, Las Vegas, Vancouver, and Calgary, before finally settling in Toronto in 2012. With 150 million+ streams on YouTube and 950,000+ YouTube subscribers (and growing), her loyal following spans the globe, with fans all over North America, Europe, and Asia. To date, she's amassed 70+ Million streams across Spotify, Apple, and Amazon.
Her debut EP "Bad at Breakups" landed her on numerous playlists across all platforms and her music is garnering attention across the world, including catching the ear of international heavy-hitter Shawn Mendes. In May of 2018, she was featured in Glamour Magazine's video series, 'You Sang My Song', where Shawn was impressed and visibly moved at her cover of his Grammy-nominated track "In My Blood", commenting "Alexandra, you are incredible and your voice is awesome".

Alex was specially selected to perform the Canadian national anthem in English and in French, at the She The North rally in celebration of tennis star Bianca Andreescu, who became the first Canadian to win a grand slam singles title after winning the U.S. Open. Alex performed for a crowd of over 10,000 people, which included Prime Minister Justin Trudeau, who personally thanked and complimented her on her performance.

Growing up, Alex's parents loved music and exposed her to an eclectic mix from classical, to ABBA, and even taking her to her first concert -- Billy Joel. As she developed her own personal sound, her biggest inspirations were the emotional and powerhouse styles of Christina Aguilera, Celine Dion, and most important to her of all -- the late Whitney Houston. Today, Alex also takes inspiration from some of her contemporaries, including Lauv, Lennon Stella, Jeremy Zucker, Conan Grey, Joji, and Gracie Abrams.

Alex's earliest musical memory is also her first public performance -- at just four years old during a visit to Beijing with her family, she took the stage and sang for an audience for the first time. Even at such a young age, she loved the enthusiastic encouragement from the crowd, and it was the beginning of her love of music and performance. She continued to perform every chance she got, including in school showcases, shopping mall talent shows, and countless auditions. She attended Cawthra Park, an arts-focused high school, where she honed and further developed her singing, writing, and performance skills.

With six music videos already under her belt -- "only hanging out cause i'm lonely", "happy for you","happy for you (Remix)", "never say ily again", "forgot to forgive" and "dimension" -- Alex has chosen to collaborate on each of these pieces with Iris Kim, a Korean-Canadian Director who seamlessly creates visuals for Alex's music with honesty and sincerity, capturing the feelings from each of her songs.

The absence of diverse representation among the internationally successful charting artists she admired growing up is something she wants to change for the future. Alex is excited and proud to be a part of the growing representation of Asian artists making their mark in the mainstream western music industry -- a continuing conversation about the importance of representation, and one she feels is more important now than ever.

Alex is already garnering the attention of the music media, having been featured in Elle Canada, Paper Magazine, Complex, Flaunt, Sweety High, Next Shark, CBC, Ones to Watch, Ladygunn, and Flaunt, among many others.

Alex Porat's highly-anticipated Sophomore EP "miss sick world" drops late 2020.
---