RAI Presents: 50 Shades of Spanky CD Release
May 19, 2018
---
---
50.4453626;-104.61931720000001;2627 13th Avenue, Regina, SK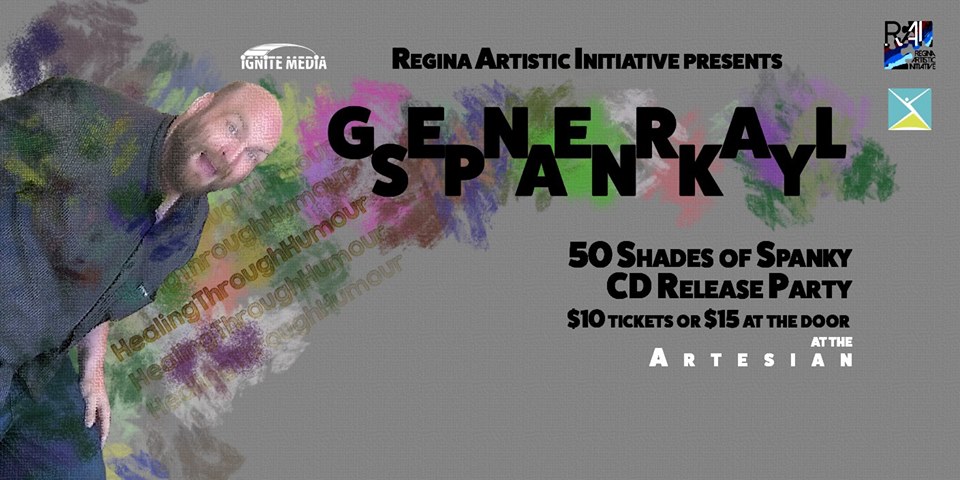 Healing Through Humour headquarters is at the Canadian Mental Health Association (CMHA) Regina branch office at 2702 12th Avenue, Regina where you can purchase tickets for the event. Advance tickets are $10 or $15 at the door
For this event, General Spanky will be releasing his '50 Shades of Spanky' hip-hop CD album and debuting 3 music videos from that album. He will be performing the songs and some stand-up comedy for the event as well. It will be a jam-packed entertaining spectacle that will leave you sore from laughter! General Spanky will be selling merchandise including 50 Shades of Spanky CDs.
Comedian Ian Andrew Morrison, aka General Spanky lives in Regina Saskatchewan Canada and has been doing comedy since the age of thirteen. He is a graduate of the Humber College School of Comedy Writing and Performance in Toronto Ontario and has performed in various venues during his time as a comedian. These venues include such famous Canadian comedy clubs as Yuk Yuk's and The Laugh Stop. Ian is also a published writer and a professional musician. He is the founder and facilitator of a non-profit organization entitled "Healing Through Humour," a group that teaches people living with mental illness or mental health issues the art of comedy writing and performance. The Healing through humor course has also been turned into a case study which is available to marketing students at Universities in Japan as well as Harvard in Boston Massachusetts.
The first feature film by Healing Through Humour called 'It's a Wonderful Afterlife' was shot in July 2016 and on a modest budget of only $4000. He has also received an award by the Canadian Mental Health Association of Saskatchewan for his work with comedy and mental illness. Ian has also been a guest lecturer at the University of Regina, as well as a speaker at the 2014 improvisation symposium concerning mental health and improvisation. He has also appeared on multiple television and radio programs on the Canadian broadcasting corporation as well as other programs within the province of Saskatchewan. Healing through humour has also done over 20 performances across the province in 2010.
---