Peyote Ugly Ft. Cupid's Heart
Mar 24, 2023
---
---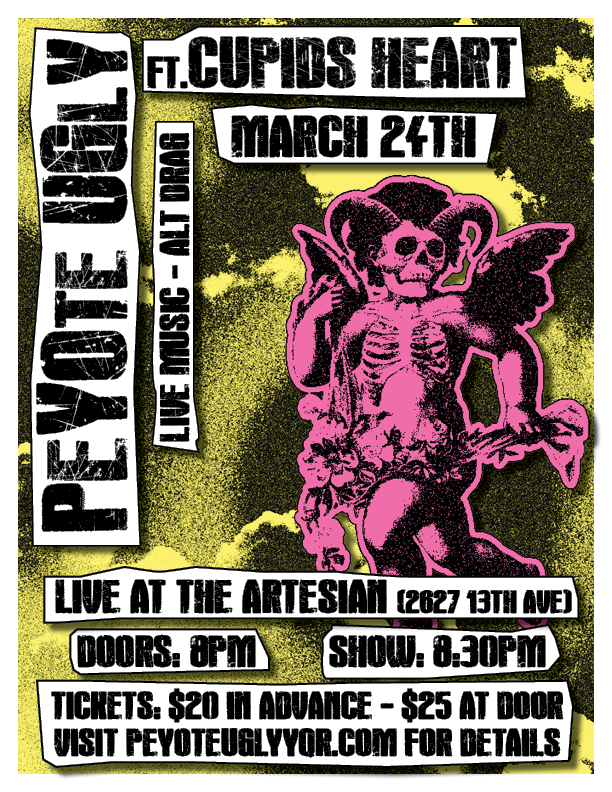 Tickets
Peyote Ugly (19+) March 24th, 2023
Doors at 8:00PM, Show at 8:30PM
$20
More Info
This ticket is no longer on sale!
---
Peyote Ugly is Regina's premier live music and alternative drag show!
Please be advised that this event is subject to our current COVID-19 policies, which are available at www.artesianon13th.ca/pages/covid-safety. The policies on that page are our most up-to-date policies and are in effect regardless of provincial restrictions.
The Artesian is wheelchair accessible, all-ages, and a proud supporter of positive spaces initiatives with a zero-tolerance policy towards hate, harassment, and/or discrimination. We reserve the right to remove any patron creating an unsafe environment. The accessible entrance is available via a lift, Please ask staff for help if necessary.
Show Details:
Peyote Ugly Ft. Cupid's Heart
Date: Friday, March 24th, 2023
Doors: 8:00PM
Show: 8:30PM
Tickets: $20.00 in advance or in person at Karavan Curios & Collectibles, $25.00 at the door
About Peyote Ugly:
Peyote Ugly consists of 3 sets:
SET ONE: 8-10 Drag Performances (30-45 Min)
SET TWO: Featured Band (45-60 Min)
SET THREE: Final Drag Set (30-45 Min)
Peyote Ugly is an event geared towards the alternative crowd. You can expect to hear rock, punk, folk, metal or any combinations of those genres. The goal of the show is to allow performers to listen to their inner monster and let them show the art they want to perform.
Opal Hoggarth is the owner and promoter for Slimy Productions, but also the hostess of Peyote Ugly.
Known as Lala Bottome (pronounced La-Lobotomy), Lala started drag in 2015 and has made a name for theirselves in Regina with their combination of alternative music and darker and alternative make up.
They started Peyote Ugly out of the need and desire to create a space for fellow drag monsters and alternative performers to expand their creativity and have a place to perform and most importantly - get paid.
---