Peyote Ugly (19+)
Jul 16, 2022
---
---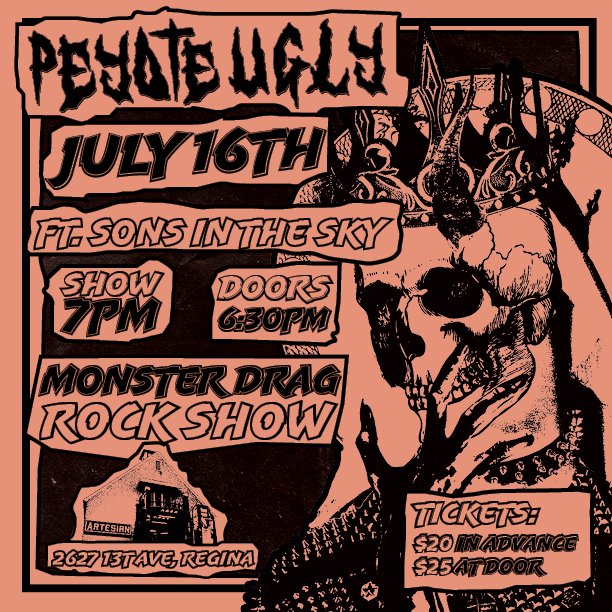 Tickets
Peyote Ugly is a monthly show that combines alternative/monster drag with live rock music!
Please be advised that admission to this event will require proof of vaccination in accordance with our current COVID-19 policies, which are available at www.artesianon13th.ca/pages/covid-safety. The policies on that page are our most up-to-date policies and are in effect regardless of provincial restrictions.
Show Details:
Peyote Ugly
Date: Saturday, July 16th, 2022
Doors: 6:30 PM
Show: 7:00 PM
Tickets: $20.00 in advance. Adults (19+) only!
The Artesian is wheelchair accessible, all-ages, and a proud supporter of positive spaces initiatives with a zero-tolerance policy towards hate, harassment, and/or discrimination. We reserve the right to remove any patron creating an unsafe environment. The accessible entrance is available via a lift, Please ask staff for help if necessary.
About this Month's Show:
This month features Sons in the Sky. Sons in the Sky is a local band from Moose Jaw, Saskatchewan who got their start together 7 years ago. To date they have recorded and released 1 album by the name of Supernova which can be found for purchase on BandCamp and can be streamed through Spotify, Apple Music and other major streaming services. They are currently in the process of recording their second album, and have performed in multiple cities across Saskatchewan including Saskatoon and Regina. Presenting a progressive rock styling you'll be sure to feel the pull.
Drag performers include: Lala Bottomé, Homer Ecker, Ivy West, Mara Pistachio, Bobbie Dysmorphia, Maxim Noize, Ivana Beer, Amber Zombian-Witch, Diamond Dynasty and Wreck'It Ralph
Karavan Curio & Collectibles will be onsite to sell some of their wares!
---