Open Floor Conversations with Eunice Mercado
May 15, 2022
---
---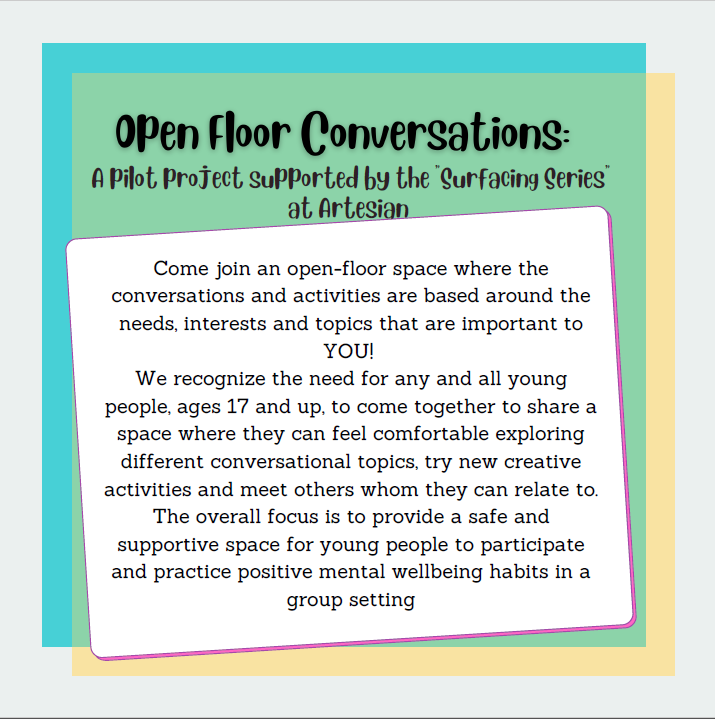 Come join an open-floor space where the conversations and activities are based around the needs, interests, and topics that are important to YOU!
We recognize the need for any and all young people, ages 17 and up, to come together to share a space where they can feel comfortable exploring different conversational topics, try new creative activities, and meet others whom they can relate to. The overall focus is to provide a safe and supportive space for young people to participate and practice positive mental well-being habits in a group setting.
Please be advised that admission to this event will require proof of vaccination in accordance with our current COVID-19 policies, which are available at www.artesianon13th.ca/pages/covid-safety. The policies on that page are our most up-to-date policies and are in effect regardless of provincial restrictions.
Event Details:
Open Floor Conversations with Eunice Mercado
Date: Sunday, May 15th, 2022
Doors: 5:30 PM
Event 6:00 PM - 9:00 PM
Tickets: Admission is free! Contact [email protected] for more information and to register! Virtual zoom option is available for those unable to join in person!
The Artesian is wheelchair accessible, all-ages, and a proud supporter of positive spaces initiatives with a zero-tolerance policy towards hate, harassment, and/or discrimination. We reserve the right to remove any patron creating an unsafe environment. The accessible entrance is available via a lift, Please ask staff for help if necessary.
Who's Putting This On and Why?
This project is part of the "Surfacing Series" created by local artist Kris Alvarez and Artesian Performing Arts. This is a socially-engaged arts initiative supporting new work of local BIPOC artists and community builders. Eunice Mercado is the project creator and facilitator. Eunice has a BA in Psychology with plenty of experience mentoring, facilitating, and working with people of all ages from different walks of life.

The hope is to grow this space to encompass different creative activities and generate conversations that challenge your perspective, expand world-views and widen your practices for mental and physical wellness. We also acknowledge that we do not know everything. Therefore, with your participation, we have programs, groups, professionals, and peers within Regina and soon to be Saskatoon who are willing to share what they do and invite you to take part in what they offer as well.
---