One Night Only
Dec 3, 2021 - Dec 4, 2021
---
---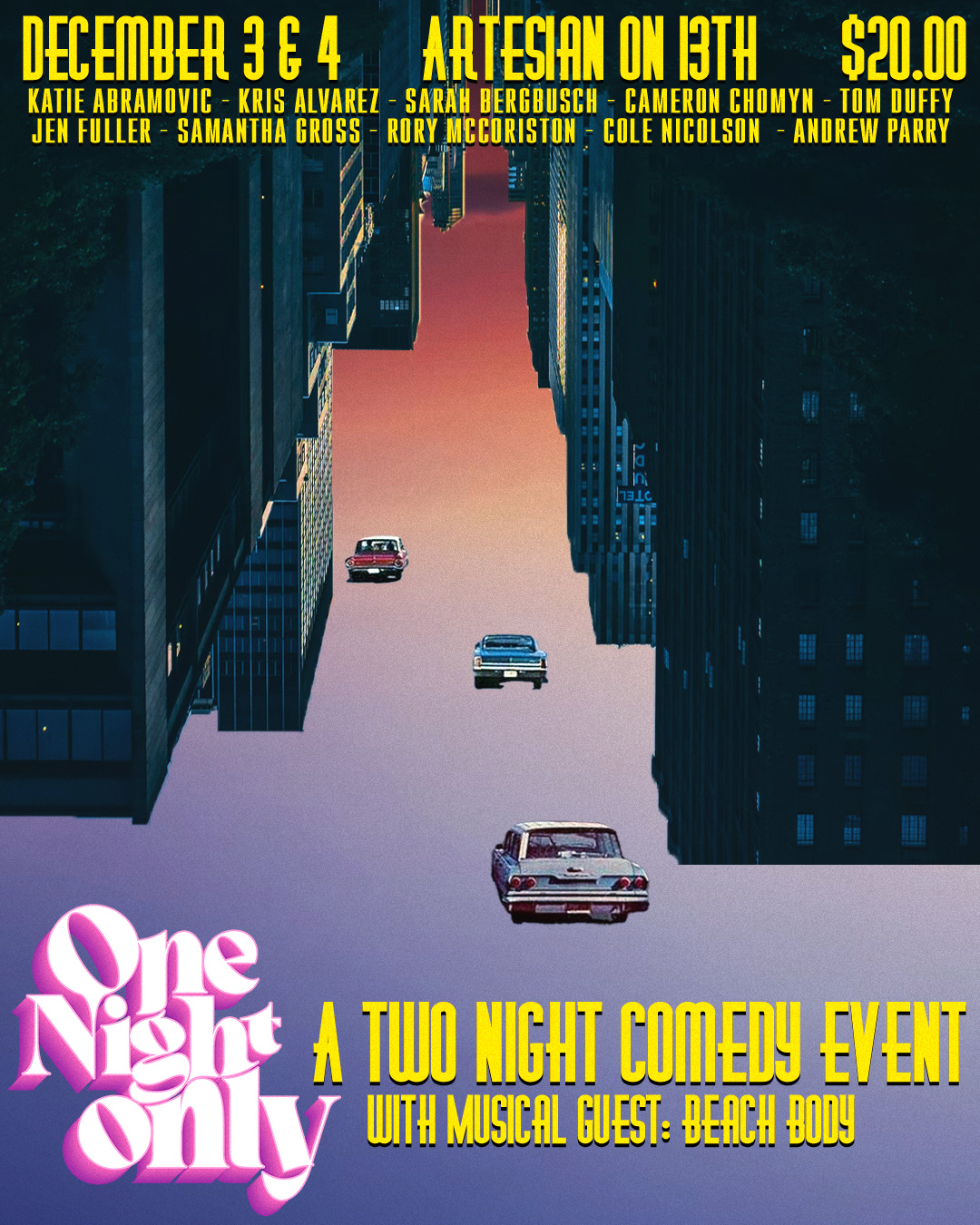 ONE NIGHT ONLY is a ridiculous myriad of performances created by Regina talent to bring you a unique night of warmth and laughter. One Night Only features a blended mix of written comedy, live music and solo performances.
Performed by the incredible cast Katie Abramovic - Kris Alvarez - Sarah Bergbusch - Cameron Chomyn - Tom Duffy - Jen Fuller - Samantha Gross - Rory Mccoriston - Cole Nicolson - Andrew Parry
Grind Central Records Presents Beach Body:
Beach Body are a band that describe themselves as a "post-death surf choir" — which is probably the only band who describes themselves as that. Their recent album release "Walking Holiday" was recorded in a cabin in the remote woods of Northern Saskatchewan - and sounds like thinking about love while slowly bleeding out from a wound, which is awesome. Join in with us and shoegaze while wearing sunglasses in an already dark bar.
Please be advised that admission to this event will require proof of vaccination or a negative test in accordance with our current COVID-19 policies, which are available at www.artesianon13th.ca/pages/covid-safety and are subject to change.
Show Details:
One Night Only - A Two Night Comedy Event with Musical Guest: Beach Body
Dates: Friday, December 3rd and Saturday, December 4th, 2021
Doors: 7:00 PM
Show: 8:00 PM
Tickets: $20.00 in advance

NOTE: We are offering two nights of shows to accommodate as many people in a safe manner over two days. BOTH nights will be the same show.
The Artesian is wheelchair accessible, all-ages, and a proud supporter of positive spaces initiatives with a zero-tolerance policy towards hate, harassment, and/or discrimination. We reserve the right to remove any patron creating an unsafe environment. The accessible entrance is available via a lift, Please ask staff for help if necessary.
---