Norine Braun and Alice Fraser with special guest Dale Mac presented in partnership with Sâkêwêwak
Jun 15, 2023
---
---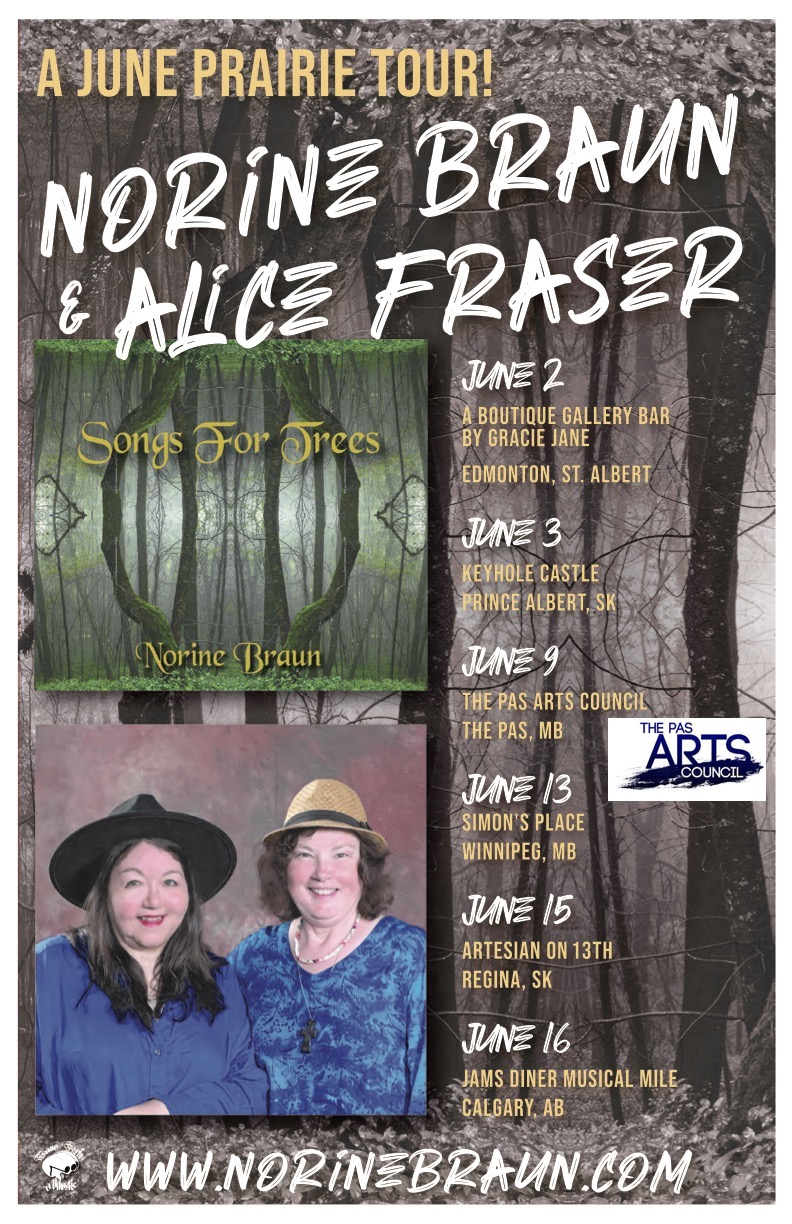 Show Details:
Norine Braun and Alice Fraser with special guest Dale Mac presented in partnership with Sâkêwêwak
Date: Thursday, June 15th, 2023
Doors: 7:00PM
Show: 8:00PM
Tickets: $16.00 in advance online or at Paper Umbrella (2724 13th Avenue), or $21 at the door
*Advance tickets close at 5:00 PM day-of-show. Additional tickets will be available at the door unless it is officially labelled SOLD OUT*
The Artesian is wheelchair accessible, all-ages, and a proud supporter of positive spaces initiatives with a zero-tolerance policy towards hate, harassment, and/or discrimination. We reserve the right to remove any patron creating an unsafe environment. The accessible entrance is available via a lift, Please ask staff for help if necessary.
About Norine Braun:
Vancouver singer-songwriter recording artist Norine Braun is touring as an acoustic duo with partner Alice Fraser on keys and harmony vocals. A June Prairie Tour will be featuring original songs from her latest album Songs For Trees and her many other bluesy roots rock favourites. Thanks to a Canada Council For the Arts Award and a First Peoples' Cultural Council Award, Norine set her musings during the ongoing pandemic to focus on climate change and the healing power of trees to write and record Songs For Trees. Norine has created a transformational musical walk through a west coast forest to help enlighten and inspire. Nominated for a 2018 Western Canadian Music Award, an LA Independent Music Award winner and a winner of SIBL International Songwriting Competition. Norine is of mixed ancestry Metis and Ukrainian and self identifies as Two Spirit. Stuart Derdeyn names Songs For Trees in The Vancouver Sun and The Province as "one of 5 albums you need to hear!" "Songs For Trees" is unlike any other album I've ever heard. It's beautiful and genius." Taylor Williams SubbaCultcha "Each song is beautifully tied together to create a music forest with a very important message." A.A. Christi NYC Broadway World Norine charted on SiriusXM Indigenous Music Countdown reaching the Top 10 and on Earshot College radio Folk/Blues/Roots. The album has also garnered play on US AAA and non-commercial stations.
About Dale Mac:
Dale Mac, singer /songwriter, is from White Bear First Nations and is based in Regina. His storytelling and roots-blues music are backed by his soulful and energetic guitars. Whether performing acoustic roots in venues or rock based stage shows, Dale's guitar is the energy behind his style. His influences include Pearl Jam, Clapton, Gord Downie, and Springsteen. Dale's songs and lyrics are based around Canadian landscapes and settings.
Dale also works tirelessly with arts organizations bridging communities. Dale works towards creating opportunities for the next generation of Indigenous artists.
His third album in production titled "Pežuda Road" aka Medicine Road is based on his positive stories and preserving his Nakota language through recording elders, storytellers and blending the impact of language preservation with his music.
---