Nick Faye, Riva Farrell-Racette, OKIMAW ᐅᑭᒪᐤ, and Aaron Karpinka
Jun 23, 2023
---
---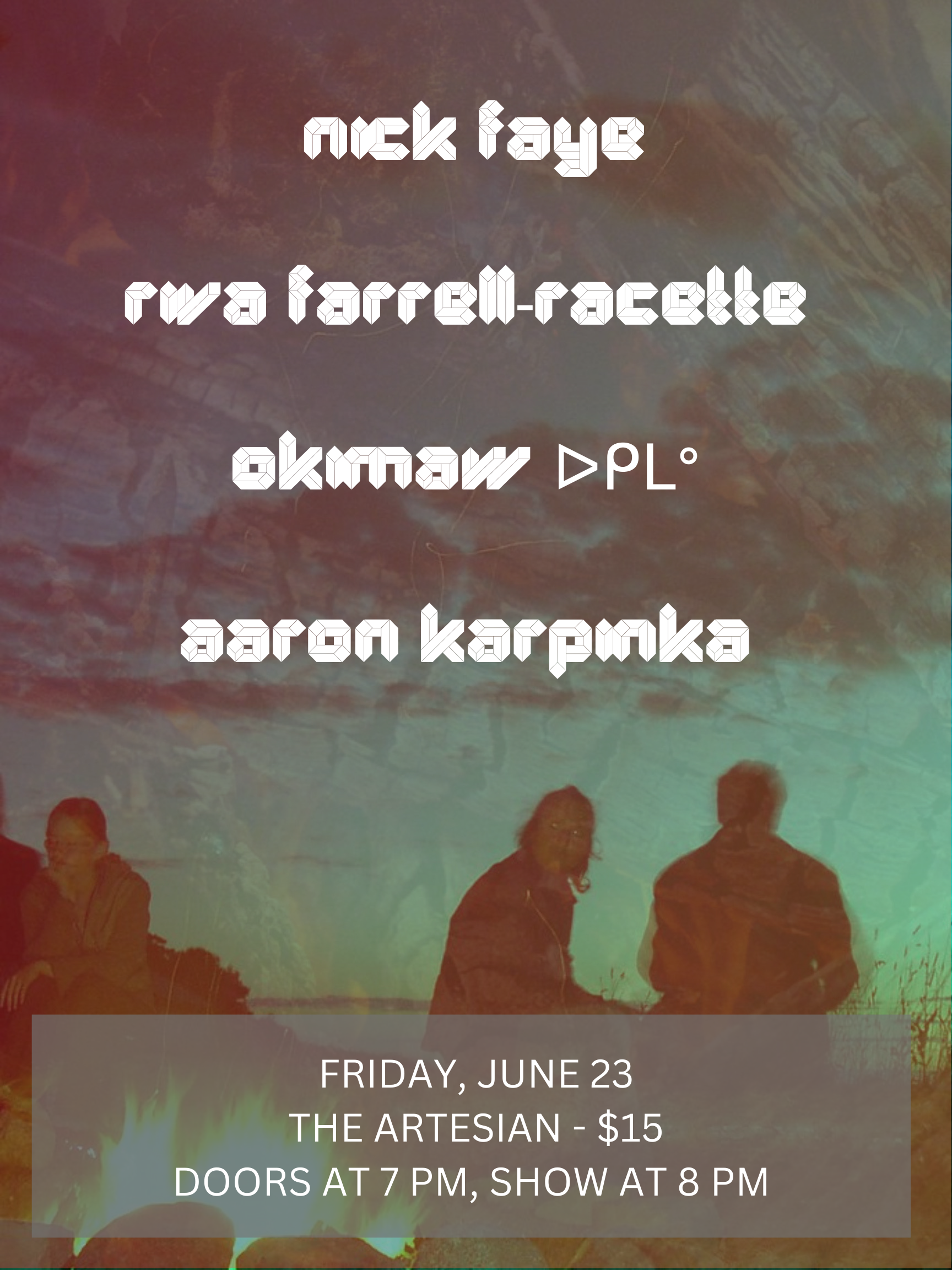 Join us on June 23rd for a show featuring four incredible local artists!
Show Details:
Nick Faye, Riva Farrell-Racette, OKIMAW ᐅᑭᒪᐤ, and Aaron Karpinka
Date: Friday, June 23rd, 2023
Doors: 7:00PM
Show: 8:00PM
Tickets: $15 in advance online or in person at Paper Umbrella (2724 13th Avenue), or at the door
*Advance tickets close at 5:00 PM day-of-show. Additional tickets will be available at the door unless it is officially labelled SOLD OUT*
The Artesian is wheelchair accessible, all-ages, and a proud supporter of positive spaces initiatives with a zero-tolerance policy towards hate, harassment, and/or discrimination. We reserve the right to remove any patron creating an unsafe environment. The accessible entrance is available via a lift, Please ask staff for help if necessary.
About the artists:
Aaron Karpinka
-
https://aaronkarpinka.bandcamp.com/album/tender-heart
Saskatoon singer-songwriter with a Tender Heart sharing his songs and energy with Regina! Always a treat to have Aaron back in The Queen City!
OKIMAW ᐅᑭᒪᐤ
-
https://okimawmusic.ca/
OKIMAW ᐅᑭᒪᐤ is the roots music project created by nêhiyaw/Plains Cree singer, songwriter, multi-instrumentalist and producer, Aren Okemaysim, who hails from the Beardy's & Okemasis Cree Nation in Treaty #6 territory.
Infusing soaring vocals, impactful lyrical statements, and a dynamic array of musical arrangements, his debut album takes listeners on a journey through what it feels like to be an Indigenous person in Canada, putting topics like race-relations, MMIW, and residential schools in the hot seat.
Riva Farrell-Racette
-
https://rivafarrellracette.bandcamp.com/track/stolen-sister
Riva Farrell Racette is an Indigenous singer-songwriter with strong ties to the prairies. Riva has been a member of Regina's local music scene for many years, playing bass in a number of Regina indie bands including, Sylvie (members of Despistado, Rah Rah, and Robot Hive), the Florals (members of the Steves and Library Voices), and a two-piece drum and bass project called Spoils.
Nick Faye
-
http://www.nickfayedeputies.com/
Nick Faye is a songwriter from Regina, Saskatchewan, Canada, living on Treaty 4 Territory. Growing out of the same Saskatchewan emo-acoustic-hardcore scene of the late 2000's that spawned the likes of Andy Shauf, Foxwarren, and Northcote, Faye crafts timeless songs that honour this past, embracing the hopes, dreams and frustrations of life lived in the Canadian Prairies. Fusing this with a clear love of mid-90s Pop Rock (think Rick Dees and The Weekly Top 40 in 1999), he creates songs that stick in the mind like a prairie snowdrift - taking their sweet time to melt away, slowly revealing the hope of new beginnings to come.
---