Marissa Burwell Album Release Show with Special Guests Ellen Froese and Aaron Karpinka
Apr 9, 2022
---
---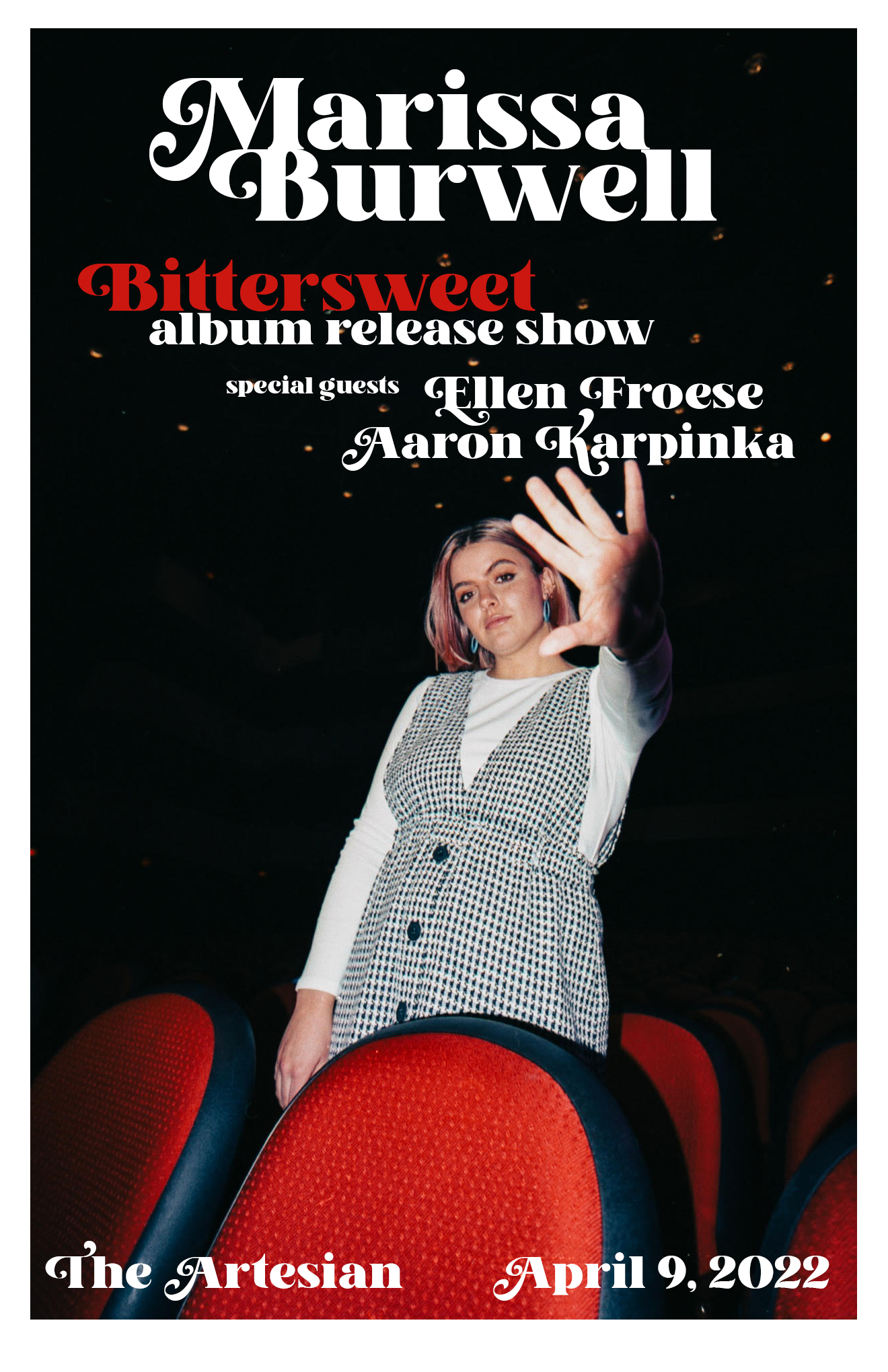 The Artesian is pleased to welcome back Marissa Burwell to celebrate the release of her brand new album "Bittersweet" on April 9th, 2022. Joining her for this show will be Ellen Froese and Aaron Karpinka!
***THIS EVENT WAS RESCHEDULED FROM FEBRUARY 5TH. IF YOU BOUGHT TICKETS TO THE FEBRUARY 5TH SHOW THEY WILL BE HONORED FOR THIS SHOW. IF YOU REQUIRE A REFUND BECAUSE THE NEW DATE DOESN'T WORK FOR YOU CONTACT US AT [email protected]***
Please be advised that admission to this event will require proof of vaccination in accordance with our current COVID-19 policies, which are available at www.artesianon13th.ca/pages/covid-safety. The policies on that page are our most up-to-date policies and are in effect regardless of provincial restrictions.
Show Details:
Marissa Burwell Album Release Show with Special Guests Ellen Froese and Aaron Karpinka
Date: Saturday, April 9th, 2022
Doors: 7:00 PM
Show: 8:00 PM
Tickets: $20.00 in advance, $27.00 at the door.
The Artesian is wheelchair accessible, all-ages, and a proud supporter of positive spaces initiatives with a zero-tolerance policy towards hate, harassment, and/or discrimination. We reserve the right to remove any patron creating an unsafe environment. The accessible entrance is available via a lift, Please ask staff for help if necessary.
About Marissa Burwell:
Marissa Burwell is an indie act from the heart of Saskatchewan, known best for her captivating yet endearing performances. Her debut self-titled EP was released in 2019 creating a buzz that allowed appearances at international festivals including Reeperbahn, Liverpool Sound City, and Breakout West. And now, on the heels of her self-titled EP, Burwell remerges as a fully realized artist.
Burwell's debut full-length album, Bittersweet is set to release January 28, 2022. Bittersweet demonstrates remarkable growth, both as a songwriter and with her sonic palette. Her warm, summery voice and wry wit remain but beneath its indie-folk exterior the album is adorned with lush keys, warm synth passages, and subtle drum programming. Lyrically it is her most personal work, full of images of dinner parties, church, gardens and that darkness that comes in waves and comes in seasons. Born and raised in Regina, Saskatchewan she writes one eye focused on childhood, the other gazing toward a hopeful future, and both feet planted firmly in the snow.
About Ellen Froese:
Folk singer-songwriter Ellen Froese's comforting and husky warble gets crowds a lil' groovy and commands presence on Canadian and international stages. When she sings that she "feels like I'm waiting for you to let loose," a line from the first track on her 2019 album Fightin' Words, listeners wonder how they could've ever kept her waiting.

Clever and slightly self-deprecating, Ellen's songs get into the places of your heart that hold both those quieter melancholic feelings and those moments of warm contentment that make you want to dance shoulder to shoulder with whoever is around.

In winter 2021, Ellen released 'In The Sun,' the first of two singles featuring collaborations with Chris Mason of The Deep Dark Woods and Clayton Linthicum of Kacy and Clayton. "'In The Sun' is about conflict and feeling helpless, unable to get your point across. It's about the feeling of not being heard, and just wanting to escape the cycle of thought - planning your next move, and thinking and thinking about what you could say to make them hear and understand you." says Froese.

The second single, also featuring Chris and Clayton, 'Did You Have a Love Before Me?,' is only getting fans more and more excited for what's coming next; Her fourth solo album, to be released in the fall of 2022, will be produced by Sam Corbett of The Sheepdogs and finds her stepping out of her comfort zone even more.
About
Aaron Karpinka
:
Aaron Karpinka is a singer songwriter from Saskatoon, Saskatchewan. As one half of the Karpinka Brother's he's released four LPs and shared that stage with everyone from John K Samson to Gordon Lightfoot. He's also built a reputation for his unwavering positivity.

With 'Tender Heart" Aaron steps out on his own with a staggeringly honest and personal debut. The record details a year that can only be described as full of soaring highs and crushing lows. He was married, bought a new home and landed a big promotion at work. He was also held up, and lost a close friend to suicide . His songwriting shines a light across it all, tackling love with charm and humour, while addressing mental health and seeking professional help with startling sincerity.

Aaron is backed up on 'Tender Heart' by a cast of Sask musicians including Marissa Burwell, Andy Beisel (Kacy & Clayton, Wolf Willow), Chris Dimas (Bleeker, Surf Dads), Jon Neher (Beach Body, Nick Faye), Ethan Anderson (Library Voices, Wolf Willow) and Gage McGuire (Surf Dads, Blue Youth). The result is a lively and careening album that is at once both hilarious and heartbreaking.

Tender Heart was released January 2020 and was voted by Sask Music Awards voters as one of the 10 best Saskatchewan Music Albums of 2020

"How can an album be charmingly disarming while exploring deeply sensitive, gravely significant concerns, at the same time?"
Douglas McLean(Great Dark Wonder)

"It's fantastic"
-Peter Mills (CBC)
---