Marissa Burwell Album Release Show with Special Guest
Feb 5, 2022
---
---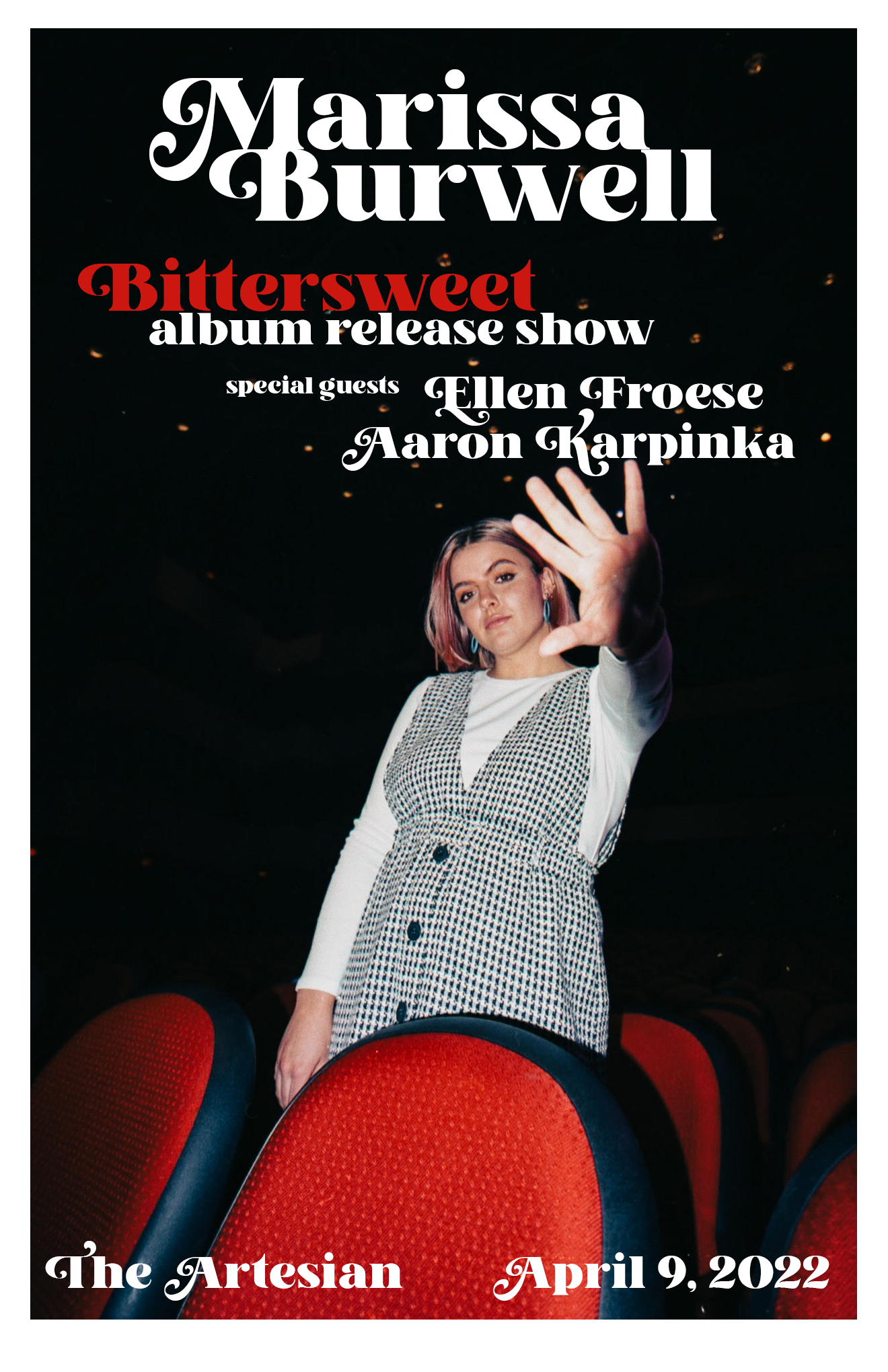 Tickets
The Artesian is pleased to welcome back Marissa Burwell to celebrate the release of her brand new album "Bittersweet" on February 5th, 2021. Special guest to be announced!
Please be advised that admission to this event will require proof of vaccination in accordance with our current COVID-19 policies, which are available at www.artesianon13th.ca/pages/covid-safety
Show Details:
Marissa Burwell Album Release Show with Special Guest
Date: Saturday, February 5th, 2021
Doors: 7:00 PM
Show: 8:00 PM
Tickets: $20.00 in advance, $27.00 at the door.
The Artesian is wheelchair accessible, all-ages, and a proud supporter of positive spaces initiatives with a zero-tolerance policy towards hate, harassment, and/or discrimination. We reserve the right to remove any patron creating an unsafe environment. The accessible entrance is available via a lift, Please ask staff for help if necessary.
About Marissa Burwell:
Marissa Burwell is an indie act from the heart of Saskatchewan, known best for her captivating yet endearing performances. Her debut self-titled EP was released in 2019 creating a buzz that allowed appearances at international festivals including Reeperbahn, Liverpool Sound City, and Breakout West. And now, on the heels of her self-titled EP, Burwell remerges as a fully realized artist.
Burwell's debut full-length album, Bittersweet is set to release January 28, 2022. Bittersweet demonstrates remarkable growth, both as a songwriter and with her sonic palette. Her warm, summery voice and wry wit remain but beneath its indie-folk exterior the album is adorned with lush keys, warm synth passages, and subtle drum programming. Lyrically it is her most personal work, full of images of dinner parties, church, gardens and that darkness that comes in waves and comes in seasons. Born and raised in Regina, Saskatchewan she writes one eye focused on childhood, the other gazing toward a hopeful future, and both feet planted firmly in the snow.
---