Lyssa & the Try-Tones "Chasing Shadows" Album Release with special guests Nini Jegz and Lexy Desjarlais
Sep 23, 2023
---
---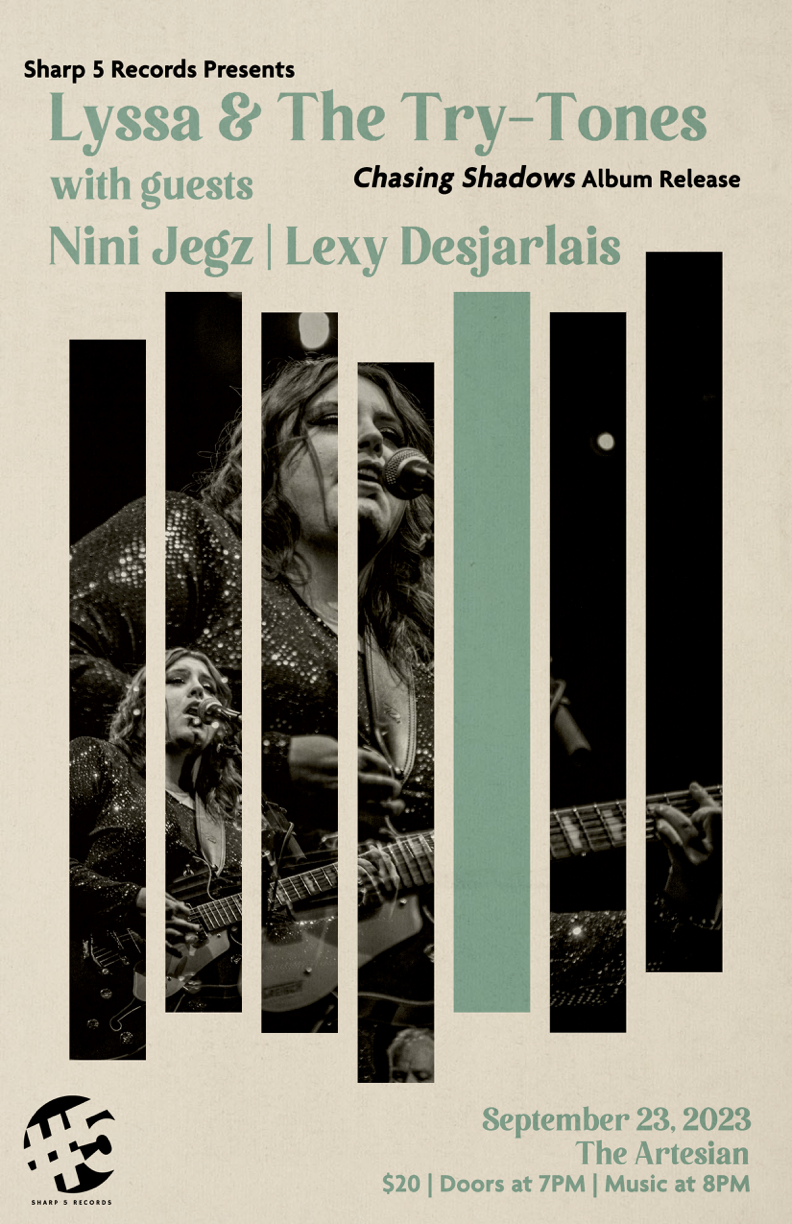 Tickets
Join Lyssa & the Try-Tones at the Artesian on September 23rd as they unveil their latest musical masterpiece, "Chasing Shadows"!
Show Details:
Lyssa & the Try-Tones - "Chasing Shadows" Album Release with special guests Nini Jegz and Lexy Desjarlais. Presented by Sharp 5 Records!
Date: Saturday, September 23rd, 2023
Doors: 7:00PM
Show: 8:00PM
Tickets: $20.00 in advance online or in person at Paper Umbrella (2724 13th Avenue), or at the door
*Advance tickets close at 5:00 PM day-of-show. Additional tickets will be available at the door unless it is officially labelled SOLD OUT*
The Artesian is wheelchair accessible, all-ages, and a proud supporter of positive spaces initiatives with a zero-tolerance policy towards hate, harassment, and/or discrimination. We reserve the right to remove any patron creating an unsafe environment. The accessible entrance is available via a lift, Please ask staff for help if necessary.
Lyssa & The Try-Tones
Born from a mutual desire to keep soul music alive and real in the modern age, Lyssa and the Try-Tones sound like something you'd hear pressed onto vinyl coming out of Detroit in the 1970s. Based out of Regina, SK, the band's groovy pulse is topped by Lyssa's powerhouse vocals which are sure to get the energy moving and good vibes rolling.
Riding the release of their first EP "Basement City View" in 2022 the band is looking forward to the release of their second EP, "Chasing Shadows" on Sept. 21, 2023. True to the spirit of the genre, the band records all their songs live off the floor. Showcasing real musicianship while keeping it real in an old school kind of way. www.lyssa.ca
Nini Jegz
Ninijegz, a spirited Nigerian singer/songwriter, has found a vibrant home in Regina, Saskatchewan, where her musical journey unfolds. With an eclectic soul, she effortlessly weaves together the rhythms of Afrobeat, Afrosoul, Afropop, R&B, acoustic melodies, and alternative sounds, infusing each note with the richness of her cultural heritage. Ninijegz is also a vital member in the eight-member ensemble known as "People of the Sun," a collective where her musical contributions shine bright.
Lexy Desjarlais

Lexy Desjarlais is a local musician from right here in the Queen City. She's been a part of the live music community for a number of years, melding a unique sound of sultry jazz, R&B and folk music with the help of her amazing band. The emotion felt during the live performances with the band is sure to create an atmosphere you don't wanna miss!
---