Lucas Chaisson w/ Tyler Gilbert in the Artesian Lounge
Aug 28, 2019
---
---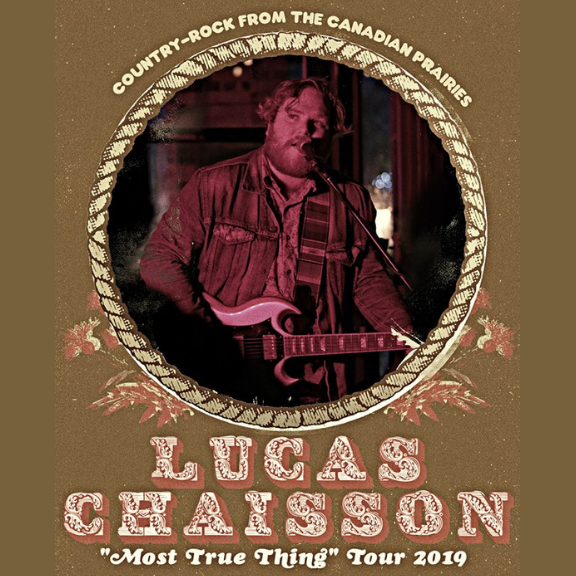 The Artesian is pleased to present Edmonton's own Lucas Chaisson with special guest, Regina-based troubadorTyler Gilbert!
Show Details:
Lucas Chaisson with Tyler Gilbert
Date: Friday, June 28th, 2019
Doors: 7:00 PM
Show: 8:00 PM
Tickets: $15.00
About Lucas Chaisson:
Lucas Chaisson's latest full-length release is a culmination of five years of life writing and playing music in Edmonton, Alberta. A brilliant follow up to the acclaimed, Colin Linden produced, "Telling Time" (2015), the aptly named "Most True Thing" dives deeper into Chaisson's journey to discover his true voice.
For the first time, Lucas takes on the role of producer - resulting in his most fully realized effort to date. Engineer Scott Franchuk and a lineup of some of Canada's finest musicians take the listener on a journey from soft, understated folk ballads to twang heavy electric guitar anthems. The band accompanies Chaisson in a way that serves his "freshly-familiar" style of songwriting.
At its core "Most True Thing" is a look inside the mind of an artist striving to find himself. Fans who have followed Chaisson since he broke onto the roots scene as a 16 year old kid will appreciate the growth and maturity displayed in his new release. New fans will appreciate the comfortable, seasoned atmosphere of the recording - a product of growing up in front of an audience. "Most True Thing" solidifies Lucas as a sincere artist who is in it for the long haul.
About Tyler Gilbert:
Saskatchewan based rock group, Tyler Gilbert has always striven to be a voice for the overlooked, the ones who never quite fit in, the lone kid, the underdog. From his 2008 debut EP "Vos" to 5 albums later, none of his work has been more intentionally pointed at them more than his upcoming release "Underdog" (2019). Over the years his sound has evolved from a more folk sound to hard rock. He's done national tours all over his native country, from Vancouver and Edmonton to Toronto and Montreal; performed at countless major festivals, including the Ohio State Fair, Burlington's Sound of Music, Canadian Country Music Award Festival, World Women's Curling Championship, May Run Music Fest, Winnipeg Fringe Festival, International Folk Alliance and the Canadian Western Agribition; done national tours of the U.S. from LA and New York and everywhere in-between; performed live on Global TV and CTV while his music hit the playlists of top stations all across Canada and Sirius XM. Endorsed by Clayton USA Picks and Shubb Capos.
---