Little Miss Higgins with Ellen Froese | Winterruption
---
---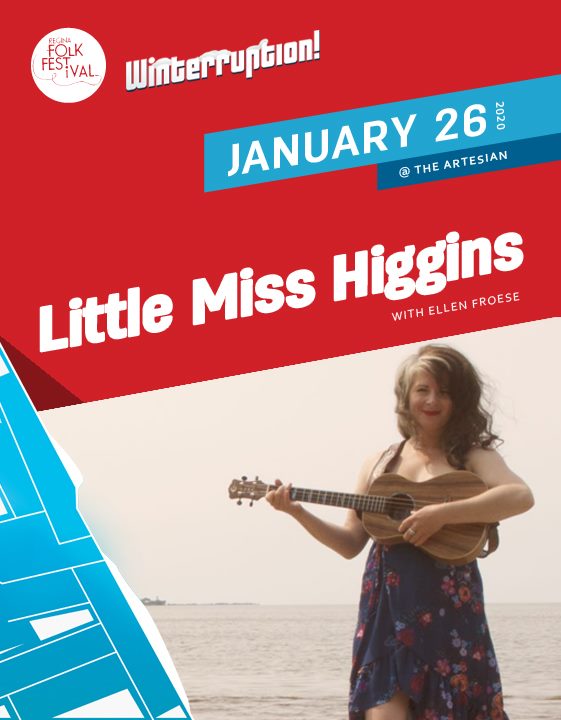 Regina Folk Festival Presents: Winterruption 2020
Little Miss Higgins with Ellen Forese
------------
LITTLE MISS HIGGINS
From the Great Northern Plains of Western Canada, Little Miss Higgins struts and serenades her way, guitar in hand, lips blazoned red, onto any stage. As if she just drove in off the back-road of another time with gravel dust and a sunset trailing behind her, this pocket-sized powerhouse plays music brewed up in old-time country blues sprinkled with a little jazz and maybe a hint of folk. Music entered her life early. "When I was about four my dad bought this old piano at a local bar," she recalls. "It was a mini grand piano. He brought it home and told me it was mine. I carved my name in the side and started taking piano lessons." Growing up playing piano, Higgins now uses guitar and voice as her main instruments. Her stage name, Little Miss Higgins suits the undeniably inflammatory mix of her blues and country music repertoire but the moniker was largely accidental. "When I moved to Saskatchewan in 2002 I started hanging out with this Greek guy," she recalls "He started calling me Little Miss Higgins so I used it on poster for a gig I was doing and it just stuck." Get ready to be charmed!
-----------
ELLEN FROESE
Hailing from a dairy farm in the heart of Saskatchewan, young folk singer Ellen Froese is swiftly making her presence known in the Canadian music scene. As a folk artist performing both solo and with her backing band, The Hot Toddies, as well as being a past member of bluegrass/folk group In With The Old, Froese has been balancing multiple projects for the last few years. Whether performing a folk traditional, a rock 'n' roll classic, or the songs she writes, Froese does it with an air of authenticity – all tempered with a healthy dose of humour and self-deprecation. Ellen Froese is the real deal.
------------
Bar @ 7:00 Doors @ 7:30, Show @ 8:00
Advance Tickets $22, Door Tickets $30
This show will offer a mix of seats and standing room.
------------
WE WILL RETURN TO YOUR REGULARLY SCHEDULED WINTER IN JUST A MOMENT
------------
Win-ter-rup-tion /ˈwin(t)ər'rəpSH(ə)n/
1. 45+ artists, 13 groups, 5 super cool days, 6 musical shows, 2 venues
2. stop the continuous progress of the coldest season of the year
3. a frosty good time
In 2020, the magical beast that is Winterruption turns 5! As part of the 2019 RFF Concert Series and with a taste of the summer Festival itself, we at the RFF along with our founding partner The Broadway Theatre in Saskatoon will present 5 wonderful days of musical warmth on some of the coldest days of the year. This year we will be expanding across the prairies partnering with Winterruption YEQ and Big Winter Classic in Calgary. On January 22nd through 26th Regina will get a whole lot cooler thanks to Winterruption. Each year varies from each other in form and content but are always unequivocally beautiful successes and we look forward to sharing great music with Regina audiences once again.
---