Little Miss Higgins
Nov 29, 2018
---
---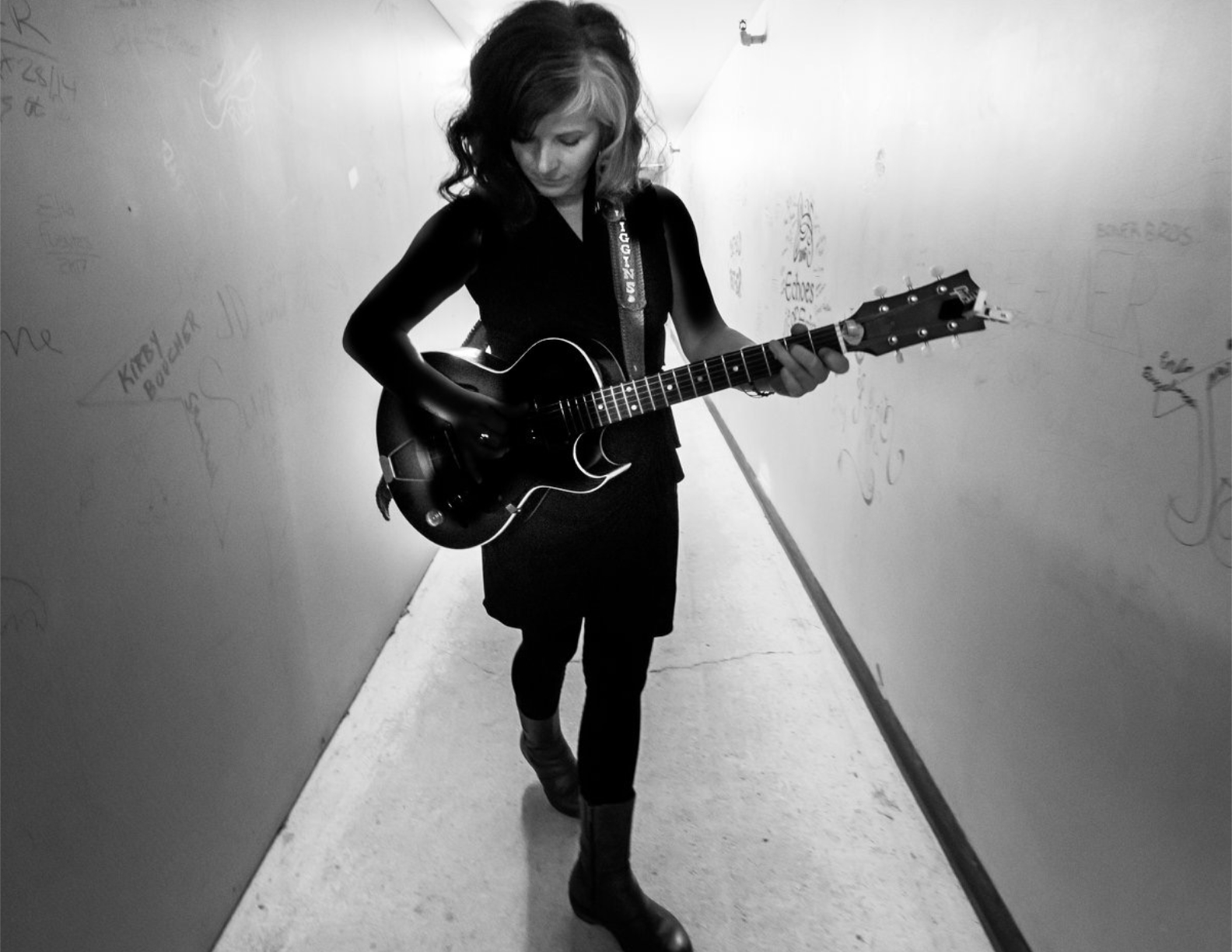 The Artesian is proud to once again present a crowd favourite, Winnipeg's own Little Miss Higgins!
Doors at 7, music at 8
Tickets are $20 in advance and $25 at the door.
*The fees incurred on advance tickets go directly to the Artesian and help us put on more great events just like this one.*

The Artesian is wheelchair accessible, all-ages, and a proud supporter of positive spaces initiatives with a zero-tolerance policy towards hate, harassment, and/or discrimination. We reserve the right to remove any patron creating an unsafe environment. The accessible entrance is available via a lift, Please ask staff for help if necessary.
About Little Miss Higgins:
From the Great Northern Plains of Western Canada, Little Miss Higgins struts and serenades her way, guitar in hand, lips blazoned red, onto any stage. As if she just drove in off the back-road of another time with gravel dust and a sunset trailing behind her, this pocket-sized powerhouse plays music brewed up in old-time country blues sprinkled with a little jazz and maybe a hint of folk. Whether it's songs about passion or songs about panties, she writes about real things in a rooted and poetic way. This is all too true on her most recent award winning album, Across The Plains (2010).
Little Miss Higgins (aka Jolene Higgins) was born in Brooks, Alberta, and raised in Independence, Kansas.
Music entered her life early.
"When I was about four my dad bought this old piano at a local bar," she recalls. "It was a mini grand piano. He brought it home and told me it was mine. I carved my name in the side and started taking piano lessons."
Growing up playing piano, Higgins now uses guitar and voice as her main instruments as well as her theatre background to bring a "refreshing sound and story to the stage." She spent a number of years after studying theatre at a college in Alberta, roaming Western Canada, acting in plays, frequenting blues clubs and playing her guitar. Higgins finally settled down in Saskatchewan and that's when music took the driver's seat.
Her stage name, Little Miss Higgins suits the undeniably inflammatory mix of her blues and country music repertoire but the moniker was largely accidental. "When I moved to Saskatchewan in 2002 I started hanging out with this Greek guy," she recalls "He started calling me Little Miss Higgins so I used it on poster for a gig I was doing and it just stuck."
Over the past five years, Little Miss Higgins has built a strong national reputation throughout Canada, appearing in clubs and on festival stages in Edmonton, Winnipeg, Montreal, Owen Sound, and Canso, Nova Scotia performing most often as a duo with partner and guitar player, Foy Taylor.
As a songwriter, she has been influenced by a range of artists from Memphis Minnie, Billie Holiday, Big Bill Broonzy to Joni Mitchell, Dolly Parton and Bob Dylan.
Her first two studio albums "Cobbler Shop Sessions" (2006) and "Junction City" (2007) superbly showcase Little Miss Higgins as a highly-developed songwriter as well as a remarkable country blues performer in a style gracefully highlighted by her partner, guitarist Foy Taylor and occasionally a handful of other roots musicians.
The release of "Junction City" resulted in a handful of honours for Little Miss Higgins including JUNO and Maple Blues Awards nominations and won as Outstanding Blues Recording at Western Canadian Music Awards and Favourite Blues Artist/Group or Duo of the Year category of the 8th Annual Indies Awards.
To her fan's delight, there was the 2009 release "Little Miss Higgins Live: Two Nights In March". The album was recorded at Amigo's Cantina in Saskatoon, and Engineered Air Theatre in Calgary. The album features such favourite performance fare as "The Dirty Ol Tractor Song," "Velvet Barley Bed," "In The Middle Of Nowhere" and "I'm Gonna Bake My Biscuits." As well as a couple of previously unreleased songs including "Snowin' Today: A Lament For Louis Riel."
For her newest release, Bison Ranch Recording Sessions, Little Miss Higgins teamed up with a very talented quintet of musicians from Manitoba. She calls them the Winnipeg Five—Jimmie James McKee on trumpet, Eric Lemoine on banjo and pedal steel, Blake Thomson on guitar, Patrick Alexandre Leclerc on upright bass, Evan Friesen on drums and all five of them sing harmonies. As they play music in a similar vein as Higgins, it was a fitting alliance both onstage and in the studio...well, not quite a typical recording studio. With new songs waiting on the sidelines, the six of them decided to record in a barn, a barn on a bison ranch in rural Manitoba.
The barn was built in 1951. It serviced farm life for many years, until it was moved in 2004 to the Renaissance Bison Ranch, during which it was restored and the loft (no longer a hay loft, but where the music would be made) was turned into what might be considered a recreational space with a Ping-Pong table, shuffleboard and a wood stove.
Before they could begin, they had to build sound baffles, load gear up the wooden steps, and stack a cord of wood to keep the wood stove going (though they imagined it would be spring and the temperature would begin to rise when they went to the barn to record, it was the coldest April on record in the Canadian prairies. There was still snow on the ground, still snow on the tin roof that slide off a few times causing the band to have to stop and restart.)
The album was engineered by Steve Loree and co-produced by Higgins and Winnipeg Five bass player, Patrick Alexandre Leclerc. Everything was captured live off the floor—fire crackles and crow cawing included. The experience of recording live brought out the authenticity of the music, the talent of the musicians and the connection of the group. This was an important part of the process for Higgins and Leclerc. What you hear is how it happened.
The album was mixed by Blake Thomson and mastered by Jamie Sitar, both in Winnipeg, Manitoba. Also, just as she has done on all her past four albums, Higgins did the artwork and design for the cover of Bison Ranch Recording Sessions. No bison were harmed during the recording, though just below the floor where Higgins stood during recording was a pile of bison skulls listening to every moment of music that was made in the barn.
---