Jake and the Kid "Baby Bro" EP Release Party with Lova Lamp and Keiffer Mclean & the Curiosity Club
Mar 25, 2023
---
---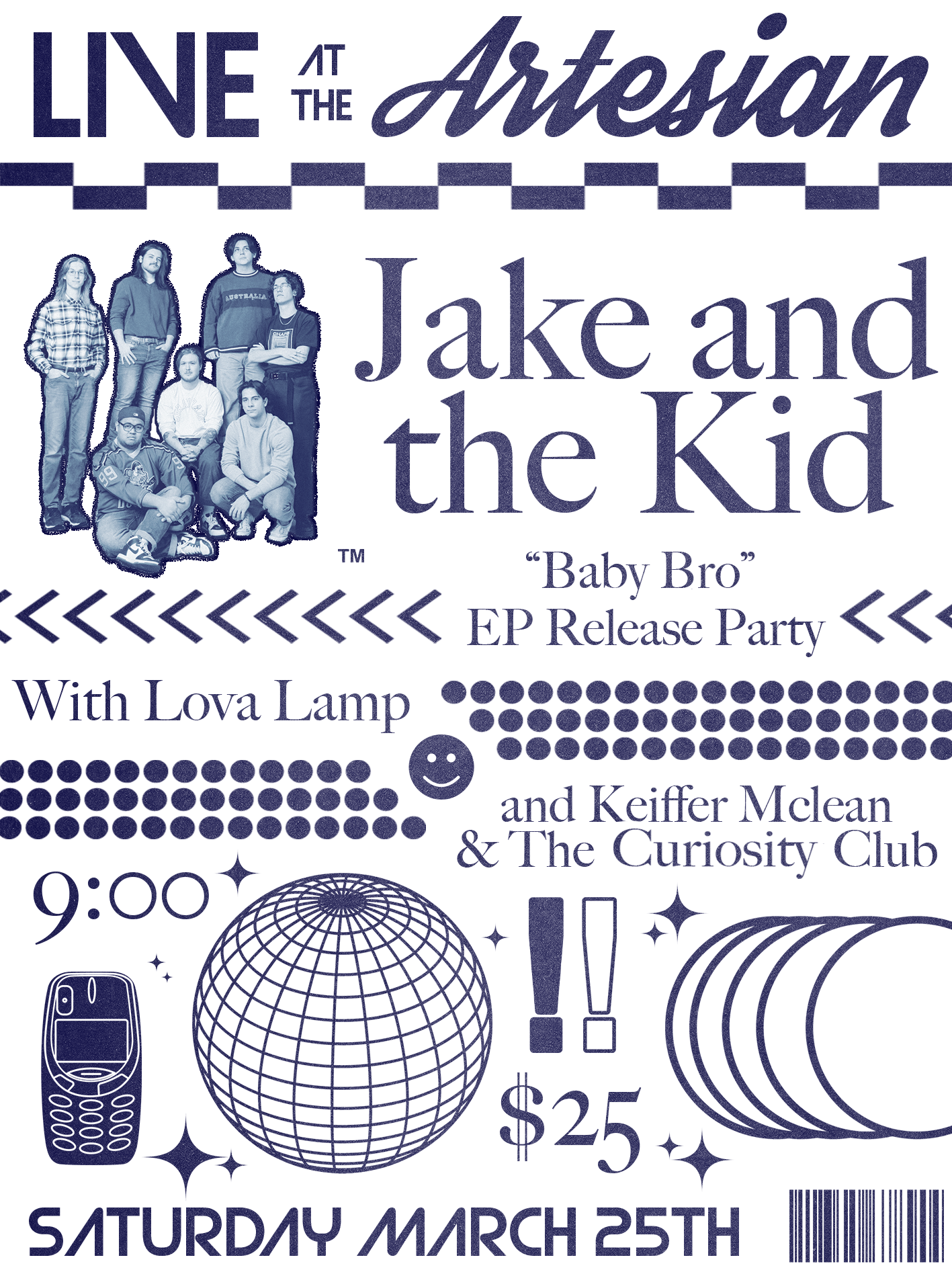 Regina's own Jake and the Kid celebrate the release of their new EP "Baby Bro" on March 25th, 2023 with guests Lova Lamp and Keiffer Mclean & The Curiosity Club
Please be advised that this event is subject to our current COVID-19 policies, which are available at www.artesianon13th.ca/pages/covid-safety. The policies on that page are our most up-to-date policies and are in effect regardless of provincial restrictions.
Show Details:
Jake and the Kid "Baby Bro" EP Release Part with Lova Lamp and Keiffer Mclean & the Curiosity Club
Date: Saturday, March 25th, 2023
Doors: 8:00PM
Show: 9:00PM
Tickets: $25.00 in advance online or at Paper Umbrella - 2724 13th Avenue
*Advance tickets close at 5:00 PM day-of-show. Additional tickets will be available at the door unless it is officially labelled SOLD OUT*
The Artesian is wheelchair accessible, all-ages, and a proud supporter of positive spaces initiatives with a zero-tolerance policy towards hate, harassment, and/or discrimination. We reserve the right to remove any patron creating an unsafe environment. The accessible entrance is available via a lift, Please ask staff for help if necessary.
About Jake and the Kid:
Jake and the Kid is an Indie Rock band from Regina, Canada. The band is comprised of trumpeter Levi Brown, bassist Jakob Bjornson, multi-instrumentalist Theo Deiana, drummer Vynz Hipolito, guitarist Joe Roussel, saxophonist and vocalist, Sam Foster, and trombonist Nathan Syrnick.
Though Jake and the Kid was formed in mid-2020, the three musicians had been playing together since as early as 2016, in garage bands with their now producer, John Glanville, when they were fourteen years old. Originally the band made experimental music inspired by the likes of Captain Beefheart, Frank Zappa, Steely Dan, and Miles Davis, to name a few. However, the group found that as they got older and discovered more artists in the indie rock genre like Alvvays, Men I Trust, and Faye Webster, they were inspired to create indie music that also incorporated their previously established ideas about experimentation and jazz improvisation. The band came up with the idea of creating an indie jam band, with many open sections for improvisation and different outlooks on songwriting. So, the group of three musicians began writing their first EP entitled Boys Lullaby. Then, the band planned to bring their friend John Glanville to Regina, and his recording equipment, so that they could record their first project. There were only three songs written that were planned to be on Boys Lullaby. Those songs were Stay, Orange Crush, and As a Friend. The rest of the songs were written during the recording process through jam sessions. Upon the completion of the project the band was satisfied but felt that the project lacked a certain amount of polish, and due to the size of the group they found that they didn't achieve the sound that they wanted on the project. They decided that their next creative endeavor should have more horn instruments in order to strike a better balance between their influences and goals. So, they added their new drummer Vynz Hipolito, trombonist Nathan Syrnick, and trumpeter Levi Brown, who they met at prairielands jazz camps when they were in high school, and most recently they added multi-instrumentalist Theo Deiana, who they met in high school music classes, and the current lineup of Jake and the Kid was fully realized.
Jake and the Kid's newest project, Baby Bro is releasing February 22, 2023. The EP tells the story of growing up and the struggles of leaving your childhood behind through a genre- bending mixture of Jazz, Indie, R&B, Folk, and Shoegaze. The recording of Baby Bro started one year prior to the release date and the band recorded it entirely themselves. In contrast to their first EP, listeners can expect a much more mature and lush sound due to the advancement of the musical skills of the band, the improved skills of their producer, and the addition of many new members to the group. It features songs that have been in the works for the past two years, and to finish it off, the group arranged a two-part grand finale during the recording sessions. The project seeks to improve upon all the ideas that were presented in their first EP Boys Lullaby. Now that the band has accomplished what they have sought out to do they are excited to start writing and experimenting to see what they can come up with for their next project.
Finally, the band wants to thank all the people in the Regina music community who continually offered them help, booked them for shows, and attended their shows in the year after the lockdown. They were welcomed with open arms by local bands, and are so appreciative of their city.
---