Gunner & Smith and The North Sound - Hear You In My Head Tour with special guest Marissa Burwell
Oct 15, 2022
---
---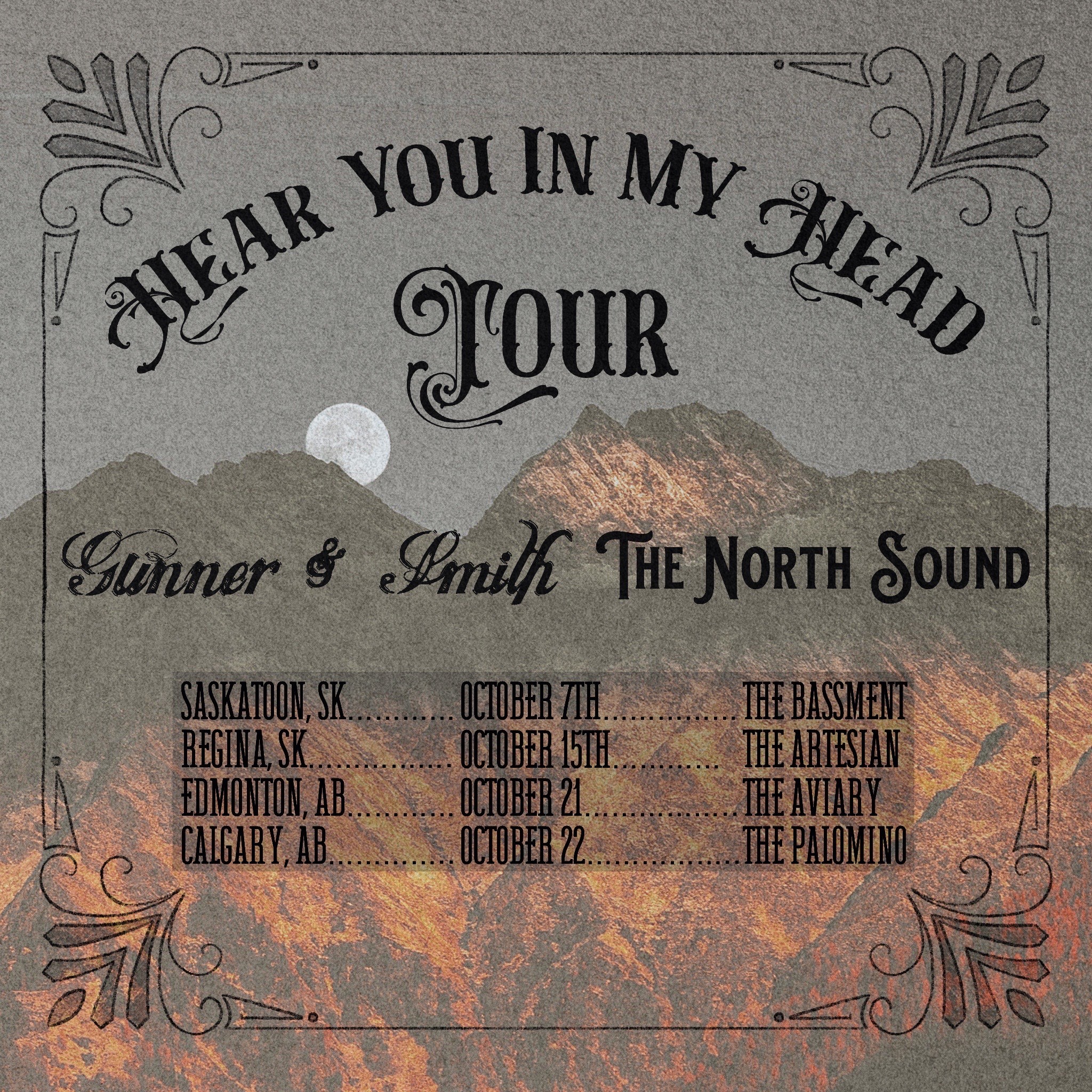 Tickets
Gunner & Smith and The North Sound - Hear You In My Head Tour with special guest Marissa Burwell
Doors at 7:00 PM, Show at 8:00 PM
$20
More Info
---
The Artesian is pleased to welcome two great Saskatoon bands on Saturday, October 15th. Join us for an evening of roots, folk, country and everything in between with Gunner & Smith and The North Sound! To open up the evening we'll have Regina's own Marissa Burwell!
Please be advised that this event is subject to our current COVID-19 policies, which are available at www.artesianon13th.ca/pages/covid-safety. The policies on that page are our most up-to-date policies and are in effect regardless of provincial restrictions.
Show Details:
Gunner & Smith and The North Sound - Hear You In My Head Tour with special guest Marissa Burwell.
Date: Saturday, October 15th, 2022
Doors: 7:00 PM
Show: 8:00 PM
Tickets: $20.00 in advance online or at Paper Umbrella - 2724 13th Avenue, $27.00 at the door.
*Advance tickets close at 5:00 PM day-of-show. Additional tickets will be available at the door*
The Artesian is wheelchair accessible, all-ages, and a proud supporter of positive spaces initiatives with a zero-tolerance policy towards hate, harassment, and/or discrimination. We reserve the right to remove any patron creating an unsafe environment. The accessible entrance is available via a lift, Please ask staff for help if necessary.
About Gunner & Smith:
When he sings, Geoff Smith unleashes a triumphantly clear voice that weds elements of his prairies upbringing. Despite the fiery effects - the intense, dusky melodies and wistful urgency - the singer/songwriter possesses something else entirely: tales that are strikingly familiar.
Combining the telltale gravel crunch of a grid road with the soaring expanse of skies, it's this voice, both lush and literate, that carries forth his stories of connection and shared experiences marked with an uncanny fluency in Americana folk and roots rock.
And now Smith, who records music as Gunner & Smith, is back with a new collection of songs that are packed with both tension and redemption. His third full-length album, Hear You In My Head, due September 16, 2022, expands his take on a tried and true genre, and continues the deeply entrenched traditions of evocative lyricism that has established Smith as a voice well worth paying attention to. His lyrics trace an increasingly intricate existence: doubt, trust, faith, reflection. Hauntingly beautiful chords each come with their own suitcase full of tension, each capable of delivering their own reckoning.
From the fingerpicked parlor guitar outlining the pitter-pattering of spectral footsteps to the smattering of spirituality throughout the lyrics, storytelling has always been front and centre in Smith's songwriting. While the sounds emitted from his guitar evoke enigmatic folk rock and swirling country narratives amidst dream-like psychedelia, it's the vocals that resonate with deep intensity.
Hailing from the golden sunrises of Saskatoon, Saskatchewan, Canada, Smith has crafted both a name and sound as expansive as the rolling fields that surrounds his hometown of Saskatoon, and as rollicking and temperamental as the stormy wind that licks your face and roils in your footsteps.
No stranger to the road, with scores of shows under his belt, having played across North America and Europe, from the intimate confines of packed hotel rooms in Kansas City to massive festival stages of Germany, Smith's return to the studio is marked by yet another fortuitous spate of travel, guitar case in hand.
The result? An extended stay in Nashville, Tennessee, and his most ambitious recording project to date.
The sojourn saw Smith once again paired with legendary producer Andrija Tokic, who leant production to Gunner & Smith's previous outing Byzantium, in addition to heavy hitters Alabama Shakes, Langhorne Slim and The Ettes to name a few. Building upon demos from a solitary guitar, largely because distance and circumstance prevented him from playing half of the songs with the band, Smith and Tokic were able to record much of the instrumentation off the floor, straight to tape, in an all analog studio. Taking a largely open-ended approach, the results are a collection of songs that are able to meander and stretch in different directions, each with a distinct personality and story to tell.
From the tightly woven ghost story of "Little Gracie", to the soul-searching of "Townes", to the densely layered choir that thunders throughout "He Once Was A Good Man", Hear You In My Head is anchored with rich textures that are instilled with grander sounds and visions. Gunner and Smith has built an admirable career upon a solid foundation of vibrant narratives anchored by faith and phantasms - a heralding soundtrack that signals it's time to let the light back in, to sit down with a semblance of normality, and ultimately a sense of hope and wonder.
About The North Sound:
The North Sound is ever-changing with lyrics spanning across haunting metaphors and a sound balanced between today's modern production and the era of Gram Parsons and Emmylou Harris blazing the highways. The group was formed in 2014 by lead singer, songwriter and multi-instrumentalist Forrest Eaglespeaker with his partner Nevada Freistadt supplying harmonies. The North Sound was created to share stories in keeping with Forrest's Blackfoot identity and traditions from Treaty 7 Territory. The North Sound has had four singles reach #1 on the Indigenous Music Countdown as well as Saskatchewan's MBC Radio, has won the Saskatchewan Music Award for Indigenous Artist of the Year, was nominated for Roots Album of the Year at the 2021 Summer Solstice Indigenous Music Awards, and has received three nominations from the Saskatchewan Country Music Awards.
Forrest and Nevada also have a working relationship with JUNO-winner Crystal Shawanda and her partner Dewayne Strobel, owners of independent record label New Sun Music. Sharing the stage with the likes of Blue Rodeo, Kathleen Edwards, Eagle and Hawk, Derek Miller, Susan Aglukark, Celeigh Cardinal, Logan Staats, and many more, The North Sound has performed at multiple venues and festivals across Canada and the United States.

Scott Roos from Exclaim! says The North Sound's latest album, As the Stars Explode, "offers a fresh take, both musically and lyrically" and "takes a different route compared to the usual country music norms that at times stifle the genre, and it really works."
About
Marissa Burwell
:
Marissa Burwell is an indie act from the heart of Saskatchewan, known best for her captivating yet endearing performances. Her debut self-titled EP was released in 2019 creating a buzz that allowed appearances at international festivals including Reeperbahn, Liverpool Sound City, and Breakout West. Burwell's debut full-length album, Bittersweet, released January 28, 2022 demonstrates remarkable growth, both as a songwriter and with her sonic palette. Her warm, summery voice and wry wit remain but beneath its indie-folk exterior the album is adorned with lush keys, warm synth passages, and subtle drum programming. Lyrically it is her most personal work, full of images of dinner parties, church, gardens and dads with wandering hands. Burwell writes one eye focused on childhood, the other gazing toward a hopeful future, and both feet planted firmly in the snow.
---