Ella Forrest & the Great Pines "Dreams" Single Release with special guests Jake & the Kid and J Apollo
Sep 22, 2023
---
---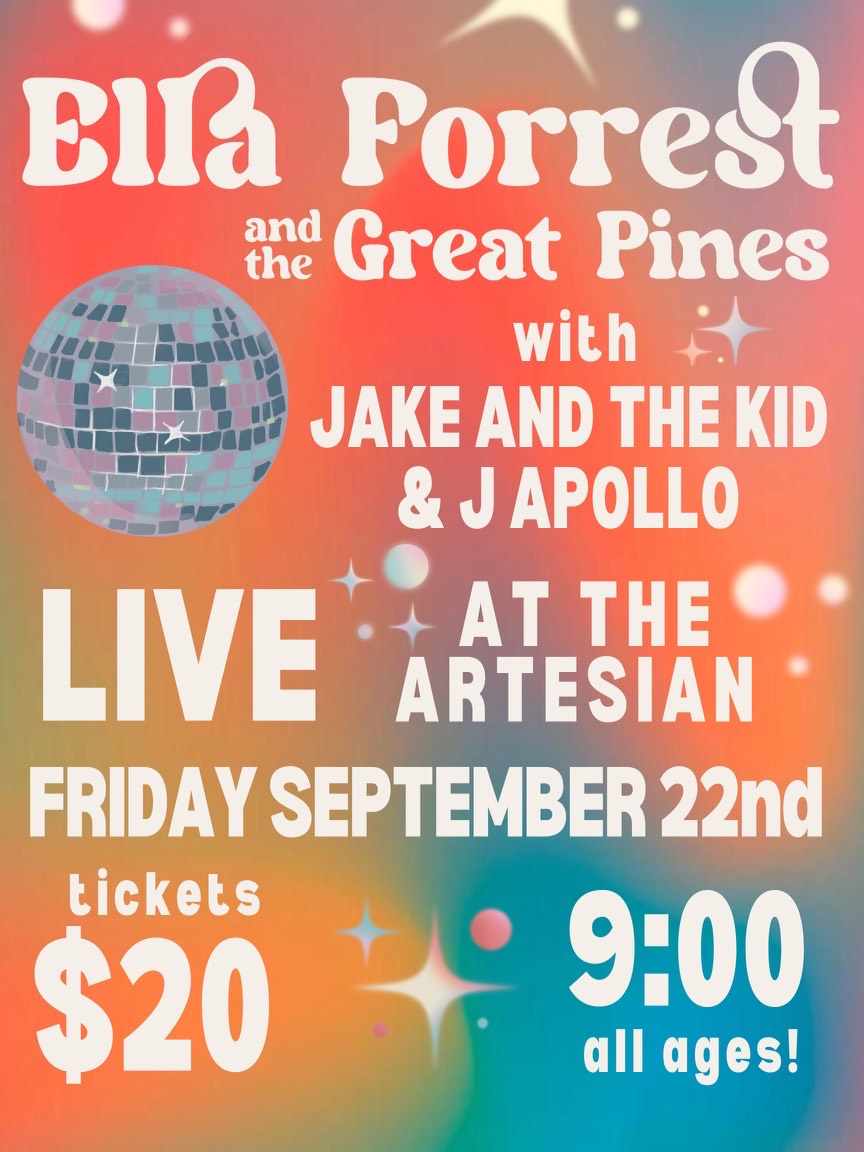 Tickets
Join Ella Forrest and the Great Pines for their single release show on September 22nd!
Show Details:
Ella Forrest & the Great Pines "Dreams" Single Release with special guests Jake & the Kid and J Apollo
Date: Friday, September 22nd, 2023
Doors: 8:00PM
Show: 9:00PM
Tickets: $20.00 in advance online or in person at Paper Umbrella (2724 13th Avenue), or at the door
*Advance tickets close at 5:00 PM day-of-show. Additional tickets will be available at the door unless it is officially labelled SOLD OUT*
The Artesian is wheelchair accessible, all-ages, and a proud supporter of positive spaces initiatives with a zero-tolerance policy towards hate, harassment, and/or discrimination. We reserve the right to remove any patron creating an unsafe environment. The accessible entrance is available via a lift, Please ask staff for help if necessary.
About Ella Forrest:
Ella Forrest is an emerging artist who has commanded attention since she burst onto the stage in 2022. Her fusion of jazz, funk and disco creates a sonic experience that transports the listener to a bygone era of grooves and melodies, breathing new life into beloved genres while simultaneously forging her own musical identity.
Hailing from the prairie city of Regina, Saskatchewan, Ella discovered her passion for music at an early age. Growing up, she experimented with a variety of instruments and musical styles. It was through jazz that Ella fell in love with music in a new way, captivated by the sounds and creative freedom of the genre.
Drawing on inspiration from the likes of Corrine Bailey Ray, Silk Sonic, and Earth Wind & Fire, she channels her own experiences and translates them into compositions that resonate with authenticity. Ella seamlessly blends genres, infusing elements of jazz, funk and disco to create her signature sound. With the smoothness of Tom Misch, the groovy basslines of Thundercat, and the timeless appeal of Stevie Wonder, she carves out a unique space in the music world, paying homage to the greats while forging her own path.
At live shows, Ella leads a dynamic 8-piece band in soulful, high energy sets. Taking the stage as "Ella Forrest and the Great Pines", the band combines the rich, melodious tones of the horn section with velvety vocals and groovy rhythms that will get you on your feet.
Ella Forrest is currently in the studio recording her highly anticipated debut EP, "Butterflies", set for release in fall of this year. Each track on the 5-song EP showcases a soulful blend of sounds and a musical style effortlessly merging genres.
For more information, please contact [email protected] or @_ellaforrest https://instagram.com/_ellaforrest?igshid=OGQ5ZDc2ODk2ZA== on instagram
---