Del Barber with Special Guest Lucette
Apr 5, 2023
---
---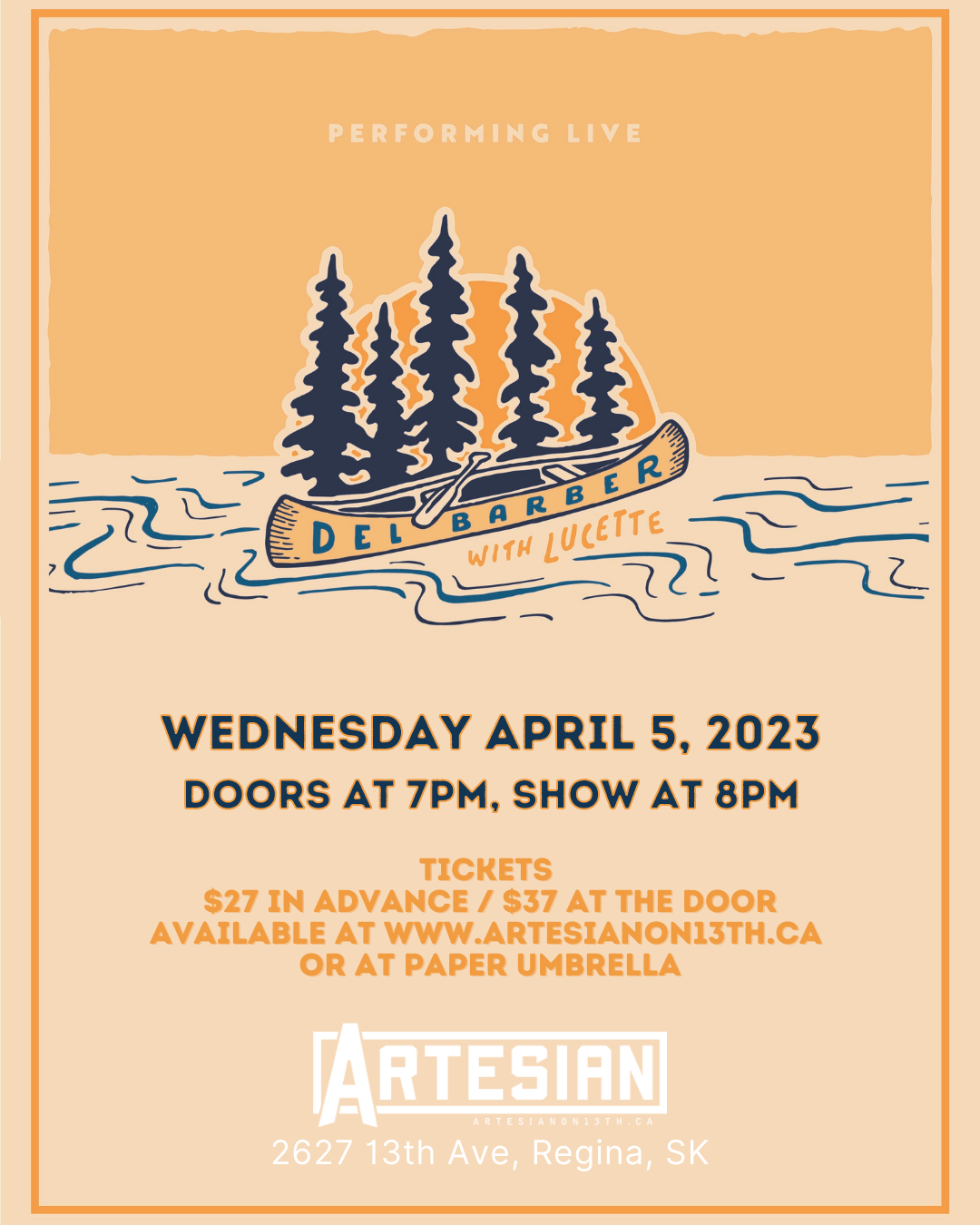 Tickets
We're pleased to welcome Del Barber back to the Artesian stage - this time, he's bringing along special guest Lucette!
Please be advised that this event is subject to our current COVID-19 policies, which are available at www.artesianon13th.ca/pages/covid-safety. The policies on that page are our most up-to-date policies and are in effect regardless of provincial restrictions.
The Artesian is wheelchair accessible, all-ages, and a proud supporter of positive spaces initiatives with a zero-tolerance policy towards hate, harassment, and/or discrimination. We reserve the right to remove any patron creating an unsafe environment. The accessible entrance is available via a lift, Please ask staff for help if necessary.
Show Details:
Del Barber with special guest Lucette
Date: Wednesday, April 5th, 2023
Doors: 7:00PM
Show: 8:00PM
Tickets: $27.00 in advance online or at Paper Umbrella - 2724 13th Avenue, $37.00 at the door.
*Advance tickets close at 5:00 PM day-of-show. Additional tickets will be available at the door unless it is officially labelled SOLD OUT*
About
Del Barber
:
As the follow up to his 2020 Juno-nominated album Easy Keeper, Stray Dogs finds Del Barber bridging his past and present. Conceived during pandemic isolation at his rural Manitoba home, the eight songs on Stray Dogs are drawn mainly from Del's large stock of previously unfinished demos, given renewed focus and polish by his longtime band and producer Scott Franchuk. Paring things down to the bone, the acoustic-based Stray Dogs captures the essence of Del's art, of which Rolling Stone wrote, "Like John Prine (one of his primary influences), Barber writes the types of songs his characters might listen to themselves." From the first single "Meantime"—a show of support to his favourite venue in Winnipeg—to the heart-swelling closer "Just A Little Heat," written with his father, Stray Dogs is a powerful reflection of the resilience we have all displayed over the past year. It also shows how Del has emerged even stronger, and how he truly deserves a place among Canada's most celebrated singer-songwriters.
About Lucette:
Lucette is the moniker of Canadian artist Lauren Gillis, a soulful and emotive singer who self-describes her music as "country infused dream-pop". Her two albums vary from dark folk and southern gothic tales to what Rolling Stone describes as "a bold expansion of Lucette's melodic sensibilities...that avoid the rootsy clichés of Americana music."

Lucette's first album, Black is the Color, was produced by Dave Cobb and led to her opening for Sturgill Simpson on his Metamodern Sounds of Country Music tour. Her song "Bobby Reid" was featured as the title track on the critically acclaimed Netflix special "Nanette" and the single "Black is the Color" was featured on "South of Hell" and "The Vampire Diaries". Her second album, Deluxe Hotel Room, was produced by Simpson, whose no-nonsense instruction to her was, "Sing it like you mean it." The two connected with the intent of making art, timeless yet fresh.

Lucette has been touring since 2012 through the United States, Canada, and the UK with artists such as Joe Ely, David Ramirez, The Secret Sisters, and Netflix documentary star Rodriguez. Following the release of Deluxe Hotel Room she performed her own headlining tour in June 2019.
---