Davy Flett - I've Got the Music In Me and I Got the Cancer Out!
Jul 26, 2019
---
---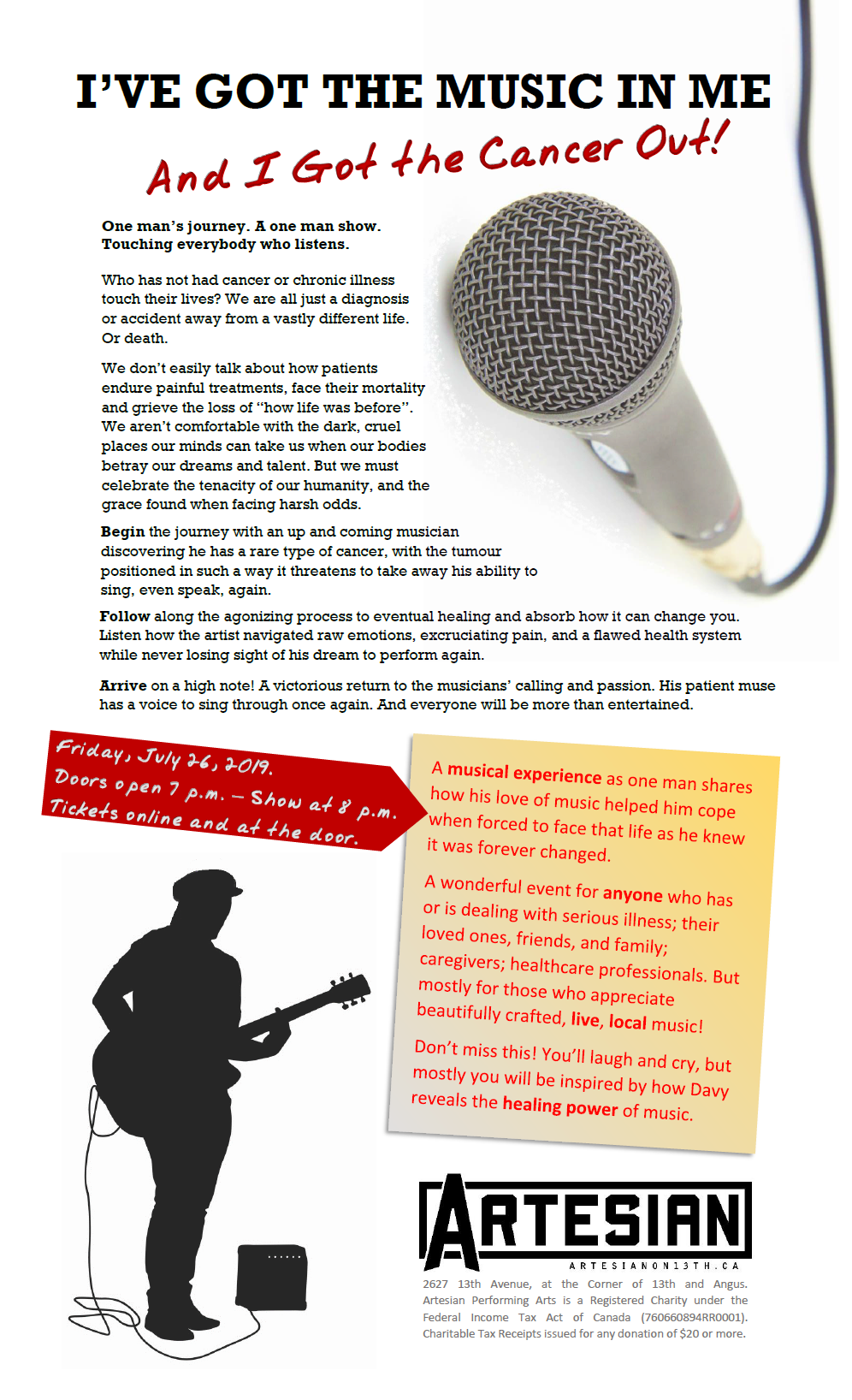 Show Details:
Davy Flett - I've Got the Music in Me and I Got the Cancer Out!
Date: Friday, July 26th, 2019
Doors: 7:00 PM
Show: 8:00
Tickets: $20.00 in Advance
The Artesian is wheelchair accessible, all-ages, and a proud supporter of positive spaces initiatives with a zero-tolerance policy towards hate, harassment, and/or discrimination. We reserve the right to remove any patron creating an unsafe environment. The accessible entrance is available via a lift, Please ask staff for help if necessary.
About the Show:
One man's Journey. A one-man show. Touching everybody who listens.
Who has not had cancer or chronic illness touch their lives? We are all just a diagnosis or accident away from a vastly different life. Or death.
We don't easily talk about how patients endure painful treatments, face their mortality and grieve the loss of "how life was before." We aren't comfortable with the dark, cruel places our minds can take us when our bodies betray our dreams and talent. But we must celebrate the tenacity of our humanity, and the grace found when facing harsh odds.
Begin the journey with an up and coming musician discovering he has a rare type of cancer, with the tumour positioned in such a way it threatens to take away his ability to sing, even speak, again.
Follow along the agonizing process to eventual healing and absorb how it can change you. Listen how the artist navigated raw emotions, excruciating pain, and a flawed health system while never losing sight of his dream to perform again.

Arrive on a high note! A victorious return to the musicians' calling and passion. His patient muse has a voice to sing through once again. And everyone will be more than entertained.
---