Daniel Champagne
Apr 26, 2024
---
---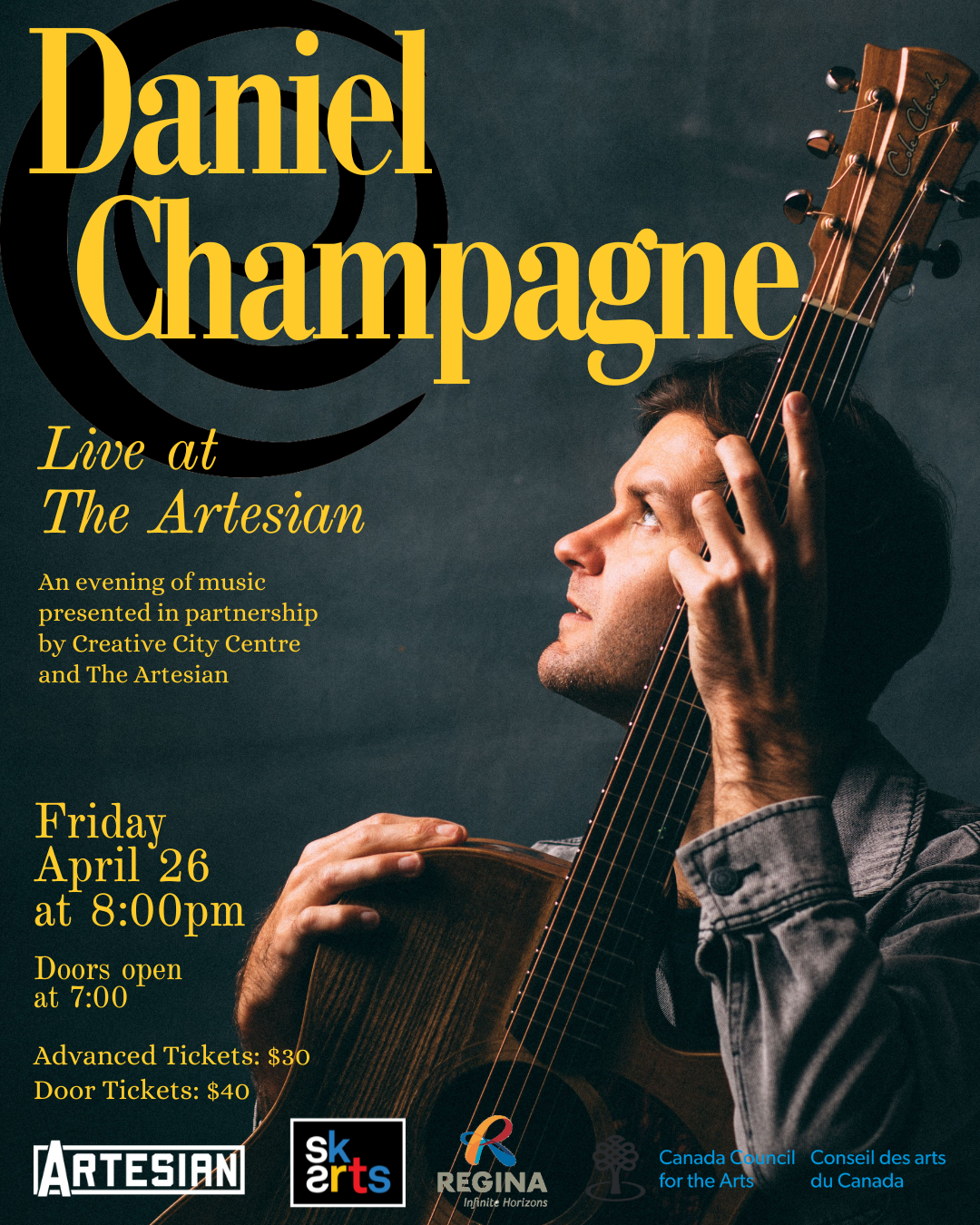 Tickets
Daniel Champagne, hailed as "the finest guitar player of this generation," returns to the Artesian for an evening of music presented by the Artesian and Creative City Centre!
Show Details:
Daniel Champagne
Date: Friday, April 26th, 2024
Doors: 7:00PM
Show: 8:00PM
Tickets: $30.00 in advance online or in person at Paper Umbrella (2724 13th Avenue), or at the door
*Advance tickets close at 5:00 PM day-of-show. Additional tickets will be available at the door unless it is officially labelled SOLD OUT*
The Artesian is wheelchair accessible, all-ages, and a proud supporter of positive spaces initiatives with a zero-tolerance policy towards hate, harassment, and/or discrimination. We reserve the right to remove any patron creating an unsafe environment. The accessible entrance is available via a lift, Please ask staff for help if necessary.
About Daniel Champagne:
Daniel Champagne lives and breathes live music. The Australian virtuoso has been described as "the finest guitar player of this generation", "a leading light in acoustic music" and "a performer that must be seen to be believed" and from March to June 2024, music lovers across Canada will be treated to an intimate live experience not to be missed!
Growing up in the Bega Valley, on the Far South Coast of New South Wales Australia, the story goes that the young singer-songwriter and one of a kind guitar virtuoso first picked up his instrument of choice as a 5-year-old following in the footsteps of a musical father. He began writing songs at 12, training classically throughout his teens and performing wherever he could, honing his craft and developing the dynamite live show that he is renowned for today. At 18 he finished school, turned professional and hit the road without looking back.
The following 15 years have seen him independently release 7 studio albums, tour relentlessly around the globe, play some of the biggest festivals under the sun and share stages with the likes of Tommy Emmanuel, INXS, John Butler, Lucinda Williams, Ani DiFranco, Judy Collins and Rodrigo y Gabriela.
Playing upwards of 250 shows a year, Daniel is passionate about spreading live music around the world and on the back of a sold out 2022 tour tour, his return trip will include 56 shows from Vancouver Island all the way out to Newfoundland!
"Watching Daniel Champagne perform is a once in a lifetime experience. He is a true prodigy that plays like no one else could possibly play unless they spent at least two lifetimes studying the art." BW Review, NEW ZEALAND
---