Burnt Sienna with Kris Alvarez
---
---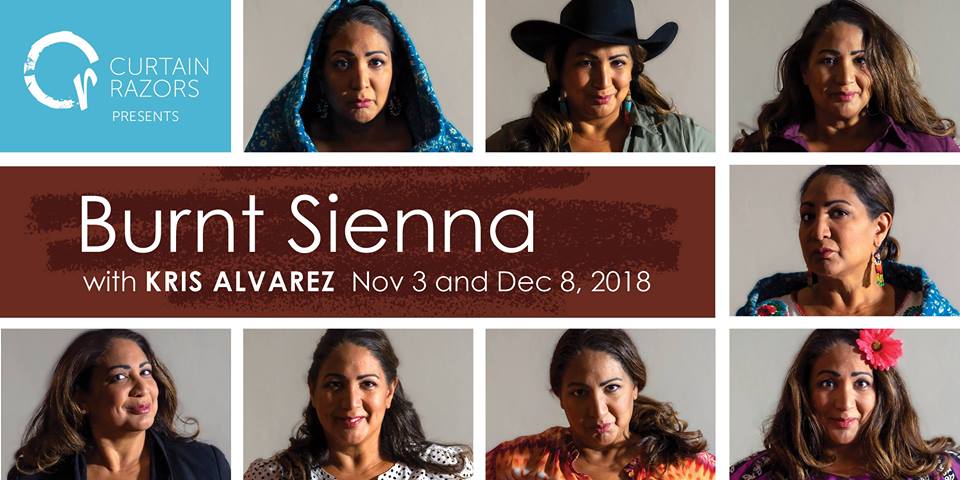 Curtain Razors invites you to tune in to a variety show with a little more colour! Kris Alvarez's 'Burnt Sienna' brings audiences together for an evening of conversation, food, humour, and heart with local artists, thinkers, and entertainers from diverse backgrounds.
Doors: 7 PM
Show: 8 PM
Tickets: $20 in advance or $25 at the door.
*Tickets on sale now*
The Artesian is wheelchair accessible, all-ages, and a proud supporter of positive spaces initiatives with a zero-tolerance policy towards hate, harassment, and/or discrimination. We reserve the right to remove any patron creating an unsafe environment. The accessible entrance is available via a lift, Please ask staff for help if necessary
About Burnt Sienna:
The idea for the show came on the heels of Alvarez's previous production, 'What Kind of Brown are You?'. "When I asked the audience why they thought more 'brown folks' didn't come out to art events, one guest commented 'Why would I pay thirty bucks to go out and see something that doesn't speak to me or share my narrative?'", Alvarez says. "This stuck with me and is one of the reasons for developing 'Burnt Sienna'. I wanted to see: If I build it, will they come?"
This month's guests are Eddy Alvaro (dancer, Strategy Lab I), Luanne Truong (restauranteur, MILU), Mariana Brito (owner, Malinche), and Keenan George (creator and founder, DIM). And as always, featuring Jim Alvarez as the one-man house band!

For more information, visit: www.curtainrazors.com
Presented in partnership with Artesian on 13th.
Supported by the City of Regina.
---