Blood Lines: Indigenous Tattoo Symposium Panel Discussion Day
Jun 25, 2022
---
---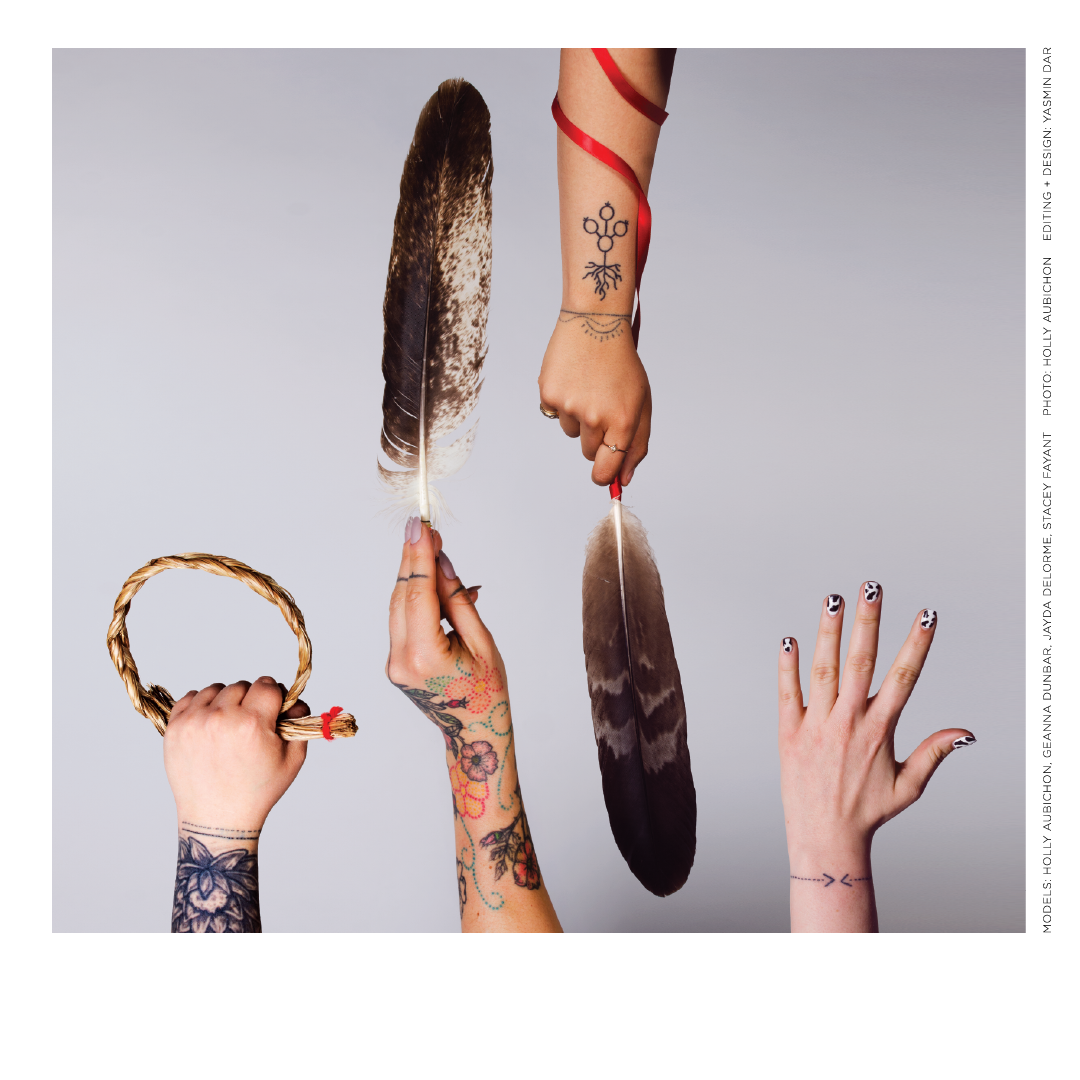 Blood Lines is focused on the acknowledgement and knowledge sharing of traditional Indigenous tattooing practices. As a part of this event, we have gathered together artists who are community centred in the revival of traditional tattooing through an informed understanding of the importance that the practice has had and continues to have on Indigenous bodies. The influence of traditional tattooing will further the teaching and passing down of knowledge in symbolism, ritual, ceremony, and technique amongst other Indigenous peoples.
We invite the public to take part in the revival by attending the panel discussions, observing traditional tattooing methods during the live tattoo flash day, and poster sale. Celebrate the resurgence of Indigenous tattooing practices with us, and get inspired!
This event will feature two sessions of panel discussions, one before lunch and one after. Admission to this event is free, but we are asking participants to register ahead of time for each session by buy "buying" a FREE a ticket via this page.
Please be advised that admission to this event will require proof of vaccination in accordance with our current COVID-19 policies, which are available at www.artesianon13th.ca/pages/covid-safety. The policies on that page are our most up-to-date policies and are in effect regardless of provincial restrictions.
Event Details:
Blood Lines: Indigenous Tattoo Symposium Panel Discussion Day
Date: Saturday, June 25th, 2022
Morning Session:
Doors: 9:30 AM
Event: 10:00 AM - 12:00 Noon
Afternoon Session:
Doors: 12:30 PM
Event: 1:00 PM - 4:00 PM
Tickets: Available FREE online.
A note from Sâkêwêwak:
"While we warmly welcome all members of the public to attend the Blood Lines panel discussions, our registration process is to ensure that self-identifying Indigenous people are offered first priority. We ask all other guests wishing to attend to please purchase tickets at the door. A number of spaces have been reserved for this purpose."
About the Artists:
Holly Aubichon is an artist and art administrator for Sâkêwêwak First Nations Artists' Collective. She identifies as Métis, Cree (Aubichon), Ukrainian, Irish and Scottish (Ogrodnick), born and raised in Regina, SK. Her Indigenous origins come from Green Lake, SK, and Lestock, SK. Aubichon's practice is laboriously reliant on retracing familial memories and connections. She uses painting as a way to foster personal healing. As an extension of her practice, she has begun a traditional Indigenous tattoo mentorship to acknowledge the memories that bodies hold, support healing and grieving, and participate in the revival of traditional tattoo practices. She graduated from the University of Regina in Spring 2021 with a Bachelor of Fine Arts, minoring in Indigenous Art History. Aubichon is the winner of the 2021 BMO 1st Art! Award, Saskatchewan.
Jayda Delorme is a Nehiyaw (Cree) from Cowessess First Nation here in Treaty 4 Territory. Born in 2002, graduated from Miller High School in Regina she is now a student at the University of Regina in the faculty of media, arts, and performance. Jayda is an artist of many traits from dancing , beading, painting, henna tattooing, body painting, and community artwork projects. Jayda is a women's traditional pow wow dancer. Jayda has had the opportunity to showcase her art on an international stage at the World Body Painting Festival in Austria, where she placed in the top half of the Amateur division. Jayda takes great pride in expressing indigenous identity through art and dance. Jayda enjoys using art of many forms to contribute to local community projects.
Geanna Dunbar is Cree – Metis mixed media, spoken word artist and entrepreneur from Regina, Saskatchewan. She works in mixed media collage, sculpture, acrylic, street art, chalkboard, window painting, body piercing, tattooing and her poetry often reflects real life issues and art. With a special interest in sustainable art and interdisciplinary community collaboration, Geanna often sets personal challenges that help her grow and deepen her relationship with her environment and with others.
Her recent projects include a Cultural Tattooing Apprenticeship education involving traditional indigenous tattooing practices, Frost Fest features with urban canvas and snow sculpting exhibit with the Creative City Centre, The City of Regina and Regina BID.
Stacey Fayant is Métis, Nehiyaw and Saulteaux on her father's side and French on her mother's side. She is a visual artist from Regina, Saskatchewan. Her art practice has always focused on concepts surrounding identity and trauma in relation to colonialism and racism, but also in relation to healing, family, and community. She sees tattooing as a means of reconnecting people and communities, providing a healing medicine for traumas inflicted by colonization and a connection to our Indigenous ancestors, a way home. The act of tattoo is an act of resistance, an act of love and an act of sharing.
Dion Kaszas is an Nlaka'pamux cultural tattoo practitioner and a leader in the revival of Indigenous tattooing in Canada. He has been tattooing professionally since 2009 and started the revival of Nlaka'pamux tattooing in 2012. Dion travels to National and International events, conferences, and tattoo festivals representing Nlaka'pamux and Indigenous tattooing in Canada. Dion specializes in Blackwork with an emphasis on traditional hand tattooing techniques. These include hand poke and skin stitch tattooing methods which arise from his Nlaka'pamux culture. He has had the honor of assisting in the revival of Indigenous tattooing across Turtle Island (North America).
Dion's passion for tattooing extends beyond his artistic work into the successful completion of his Masters degree in Indigenous Studies at the University of British Columbia Okanagan. His continued area of research is Indigenous tattooing, focusing keenly on the revival of Indigenous peoples tattooing practices, using Indigenous and Creative research methodologies. Since his graduation Dion has contributed to a variety of publications and exhibitions as author, editor, curator and consultant.
His work has been featured in Tattoo Traditions of Native North America: Ancient and Contemporary Expressions of Identity, The World Atlas of Tattoo, and highlighted in Newspaper articles from the New York Times to the CBC. In 2018, he was featured in a variety documentary films and TV series. These include Skindigenous, a 3 Season, 13-part documentary series produced in association with APTN exploring Indigenous tattooing traditions around the world and the FOX Nation series USA Ink.
Mel Lefebvre is a Two-Spirit Michif, Nehiyaw, French, Irish traditional tattoo practitioner and community worker based in Tio'tia:ke/Montreal. Michif family names include Desjardins, Delorme, Guiboche, Malaterre and Vivier. Her practice is focused on traditional tattooing as a mode of healing and reconnection for urban Indigenous 2SLGBTQ+ and Indigenous women as well as reclaiming and imagining traditional gender-fluid tattoos in contemporary and future contexts. All are welcome at Mel's tattoo table.
Nolan Malbeuf is a teacher, father, and tattoo artist. He has been tattooing for 10 years and has no plans of slowing down. Always learning, Nolan's commitment to challenging himself and growing as an artist are his greatest strengths. Nolan has been teaching for 15 years. He has spent the majority of his career in Regina working at Ranch Ehrlo Society. Nolan takes great pride in connecting youth with their culture and the outdoors. Nolan is from Beauval, Saskatchewan. His greatest inspiration comes from his family and nature.
Sheri Osden Nault is a Métis visual artist, community activist, and educator. They currently live and create on the lands of the Anishinaabek Nation, home of the 3-fires confederacy, and near the Delaware Nation; in a region known as 'Chatham-Kent, Ontario.' They are colonially displaced Michif and nêhiyaw of the Charette and Bélanger families.
They work across mediums including sculpture, video, beadwork, basket weaving, Indigenous tattoo revival, and more. Their work speaks to their experiences as Métis and queer, while focused on human and non-human relationships in a multitude of ways. They use their platform and art practice to share knowledges and medicines, to support Two-Spirit youth, and to support Land Defenders, when they are able.
Through their work, they strive to build towards and acknowledge a future rich in kinship sensibilities, Two-Spirit wisdom, traditional and contemporary Indigenous art forms, and intersectional commitments of care and responsibility that extend beyond their communities. Their practice is shaped by tactile ways of learning and sharing knowledge, while grounded in social and ecological justice. Aesthetically, they often explore chimeric ways of being, incorporating human and non-human bodily references, mold making, gathered earth materials, and traditional and contemporary creative practices.
Notable exhibitions include Kwaatanihtowwakiw - A Hard Birth, Winnipeg Art Gallery, 2022); down came the sky, YTB Gallery, 2022 (upcoming); Hononga at Hoea! Gallery in Aotearoa (New Zealand), 2021; Where the Shoreline Meets the Water, the ArQuives, Toronto, 2020; Off-Centre at the Dunlop Art Gallery, 2019; Fix Your Hearts or Die at the Art Gallery of Alberta, 2019; and Li Salay at the Art Gallery of Alberta, 2018.
---