Beach Body Album Release with special guests June Thrasher and Toria Summerfield
Oct 1, 2021
---
---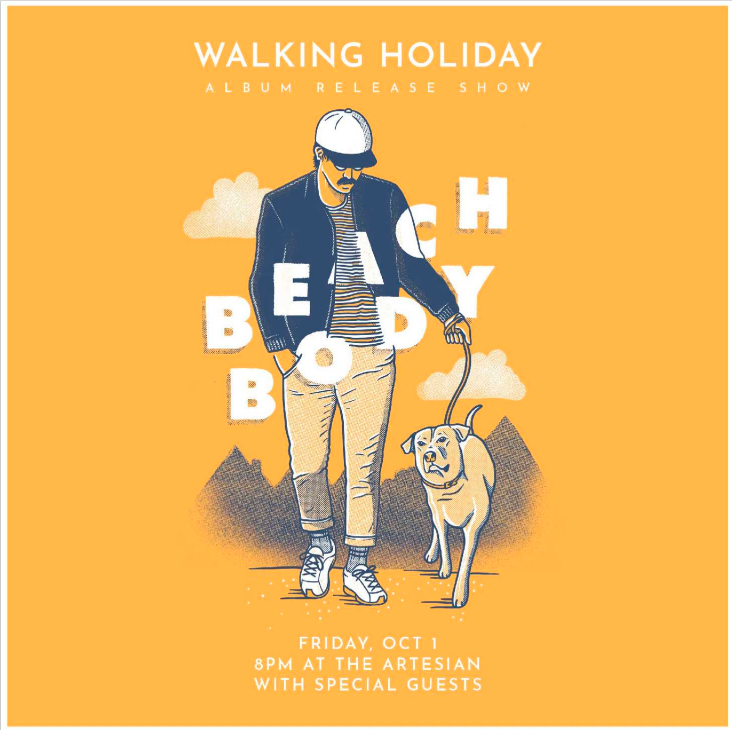 The Artesian is pleased to welcome back Regina's own Beach Body to celebrate their new record Walking Holiday with special guests June Thrasher and Toria Summerfield from Saskatoon, SK!
Please be advised that admission to this event will require proof of vaccination or a negative test in accordance with our current COVID-19 policies, which are available at www.artesianon13th.ca/pages/covid-safety
Show Details:
Beach Body Album Release Show with special guests June Thrasher and Toria Summerfield
Date: Friday, October 1st, 2021
Doors: 7:00 PM
Show: 8:00 PM
Tickets: $20.00 in advance, $25.00 at the door.
The Artesian is wheelchair accessible, all-ages, and a proud supporter of positive spaces initiatives with a zero-tolerance policy towards hate, harassment, and/or discrimination. We reserve the right to remove any patron creating an unsafe environment. The accessible entrance is available via a lift, Please ask staff for help if necessary.
About Beach Body:
Beach Body are an "undeniably chill" (Greyowl Point, Toronto) post-death surf quintet from Regina, Saskatchewan, composed of members Rory Copithorn, Ian Patterson, Gaelan Malloy, Jon Neher, and Jesse Bryksa. The band was formed late in the summer of 2017 in a sweaty garage in the south end of the city, prompting the initial name "The Southside Coyote Boys" which was thought to be "a stupid name for a band".
Rising from the ashes of The Southside Coyote Boys, Beach Body quietly released their debut EP, Plain Life, in November 2017 and unexpectedly found listeners from across the world through various features on indie music blogs and playlists such as BIRP! (Paris, Tx), Ride the Tempo (Toronto), Cereal and Sounds (New York), Obscure Sound (New York), Cups n Cakes (Edmonton), and Gothenburg Sessions (Gothenburg, Sweden). The Plain Life EP was considered "a statement of perfection in [it's] genre" (Cups n Cakes Podcast, Edmonton).
Since the release of Plain Life EP, Beach Body has released two more EPs (Curb Ciggiez in 2018, and Beach Body Presents: The Southside Coyote Boys in 2019) and are preparing to release their debut full-length LP Walking Holiday on 24 September 2021 via We Are Busy Bodies.
About June Thrasher:
June Thrasher, the new project of Saskatoon-based multi-instrumentalist and producer Kaelen Klypak is an expression of multitudes: fit for both stargazing and blade running. After cutting his teeth in the acclaimed post rock band Future Forests and the hardcore outfit The Villain Avian Symphony, June Thrasher repurposes his attention to detail as a drummer into gleaming, kaleidoscopic Synth-Pop that pays homage to the best of 80s electropop; conjuring both the experimental flair of Rival Consoles and Holy Other and the unstoppable earworms of Daft Punk and Kavinsky. His debut album "Viper Creek" is a beaming exhibition of sky-sweeping and seismic neon-hued electronica, aptly fusing the haunting melodies of gothic-influenced new wave with effervescent galactic beats that unfold with meticulous precision and climax with kinetic momentum.
About Toria Summerfield:
Toria Summerfield is a fransaskois singer-songwriter from Treaty 6, Saskatoon, SK., influenced by Amy Winehouse, Patsy Cline, and Lana Del Rey. Summerfield has gained interest as her music merges confessional lyrics and melancholic themes with a lo-fi, alternative R&B sound. Summerfield released her 3rd piece of work produced by Dex Riley entitled, From Her Rib in 2020.
---