A Night at the Artesian with Rooky, Adeoluwa, and Tova, hosted by Vibya
Apr 9, 2023
---
---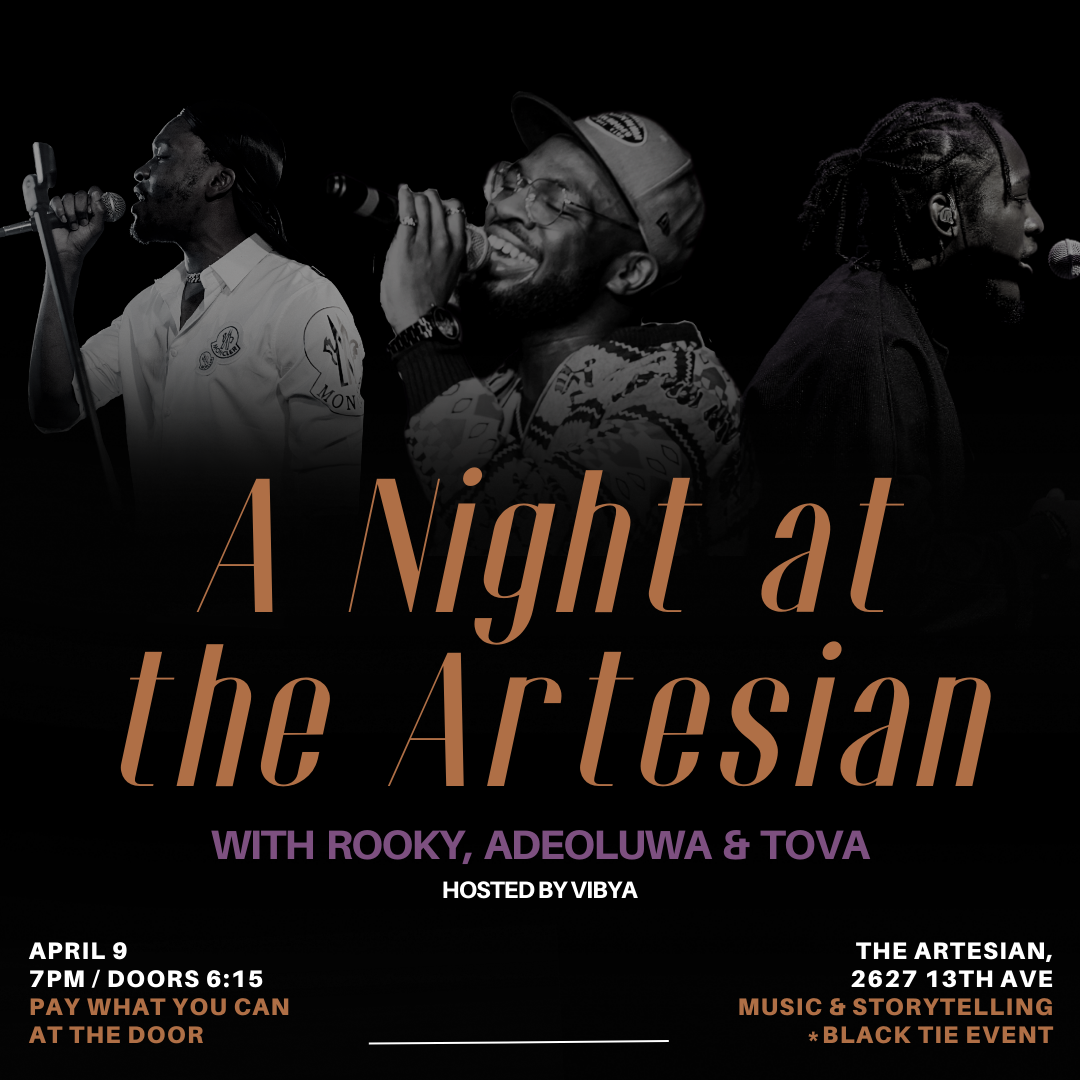 Rooky, Adeoluwa, and TOVA, three of Saskatchewan's finest artists join forces to put together an unparalleled night of music and artistry at The Artesian, one of Regina's most prestigious venues on April 9. The show is Pay What You Can at the door. Doors open at 6:15 on April 9.
Show Details:
A Night at the Artesian with Rooky, Adeoluwa, and Tova
Date: Sunday, April 9th, 2023
Doors: 6:15PM
Show: 7:00PM
Tickets: PWYC at the Door
The Artesian is wheelchair accessible, all-ages, and a proud supporter of positive spaces initiatives with a zero-tolerance policy towards hate, harassment, and/or discrimination. We reserve the right to remove any patron creating an unsafe environment. The accessible entrance is available via a lift, Please ask staff for help if necessary.
About the Artists:
Rooky
"Rooky is a Talented emerging Afrocentric Singer, Songwriter & Record Producer who expresses his emotions through rhythmic Melodies and passionate lyricism. His style of infusing Afro elements with Rhythm and blues, Hip hop and soul gives his musical expression a unique blend of melodies. He describes his sound as a "musical fruit basket". Rooky usually performs with a unique band called "The Bad Hvbits".
He has also scored multiple nominations at the prestigious Saskatchewan Music awards. Asides being in the studio, Rooky aids in various community building projects with a focus on the appreciation and promotion of musical Artistry and entertainment culture in Saskatchewan and Canada alike.
TOVA
"Beyond all the subjugation of music into genres and sonic forms that often do not capture the essence of its existence, there are, perhaps, two important frameworks for understanding music at its most elemental: there is music that belongs to the people by being, with the artist merely a conveyor of the message; and there's music that is a natural product of inner monologues and therapeutic sessions by creators that triggers intense feelings from which the audience extracts their separate meanings upon listening. TOVA's music is in the latter camp.
Since making his debut in 2020, TOVA has quickly gone on to establish himself as a prominent force in Canadian R&B music. After headlining the final day of the 2021 Regina Folk Fest, TOVA went on to have a remarkable 2022. He bagged a Western Canada Music Award nomination for R&B Artist of the year, was crowned Contemporary Artist of the year for the 2022 Saskatchewan Music Awards and played the prestigious BreakOutWest festival. "
ADEOLUWA
ADEOLUWA is a Canadian based pop star. He has two albums, five EPs, and several singles to his credit. He has played at notable Saskatchewan music venues such as The Cathedral Social House, Amigos Cantina, The Recording Arts Institute, Bushwakker Brewing Company, The Cure, The Mae Wilson Theatre, Capitol Music Club, and The Artesian. His work has been featured on established platforms such as CBC, Pulse Music Journal, The Native Mag, and 49th Street.
His songs have also received airplay on CBC's The Block, Saskatchewan Weekend, Regina's CJTR radio, and many more. He performed his single "Escape" as the opening performance at the 2020 Saskatchewan Music Awards. He was nominated four times at the Saskatchewan Music Awards for the following, "Alternative Artist Of The Year," "R&B Artist Of The Year", and "Album Of The Year."
He has also performed at the 2022 Grey cup Festival and headlined his show, "The ADEOLUWA Experience" for Sasktel Max, headlined The Cathedral Village Arts Festival, performed at the Canada World Youth Conference, as well as The Black Canadians, Africans and Caribbean Professionals Inc.'s Black History Month Celebration.
His most recent release "Stay With Me" has been streamed more than 15k times since its debut in November 2022.
---