Winterruption - Shane Koyczan w/ Zoey Roy, Veracity, and Jolissa Simon
---
---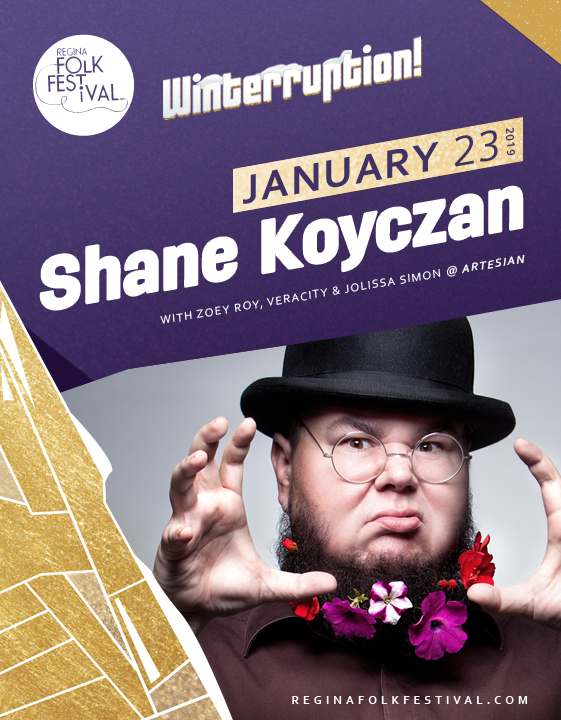 Regina Folk Festival Presents: Winterruption 2019
Shane Koyczan with Zoey Roy, Veracity & Jolissa Simon
Doors @ 7:30 // Show @ 8:00
-------------
Seated show
All Ticket holders must be prepared to show ID at the door.
Lineup and schedule subject to change.
$2 of every ticket fee goes to support Regina Folk Festival's free daytime programming at our summer festival. NO EXCHANGES OR REFUNDS.
---------------
The Artesian is wheelchair accessible, all-ages, and a proud supporter of positive spaces initiatives with a zero-tolerance policy towards hate, harassment, and/or discrimination. We reserve the right to remove any patron creating an unsafe environment. The accessible entrance is available via a lift, Please ask staff for help if necessary.
---------------
SHANE KOYCZAN
In a realm where poets rarely intersect with stardom, the Opening Ceremonies for the 2010 Winter Olympics introduced us to Shane Koyczan. With a collective "wow" across Canada and beyond, we found the poet of our generation. And we weren't even looking for one. The world took notice when Shane's influential, anti-bullying, To This Day Project video went viral in early 2013 with over 14 million views and counting. Powerfully engaging and authentic in attitude, his explorations are relevant to our times in the way that Bob Dylan, Joni Mitchell, Gordon Downie and Leonard Cohen are to theirs. But unlike the musicians that he's often compared to, poets rarely infiltrate pop culture. Koyzcan emerges in a new wave of 21st century poetry that dares to belong to the people and speak directly to them in their own voice.
Shane Koyczan is not only a writer and spoken word virtuoso, but also a multi medium spoken word artist. His first published collection, Visiting Hours, was the only work of poetry selected by both the Guardian and the Globe and Mail for their Best Books of the Year lists in 2005. Destined to become a future classic, Visiting Hours is now in its third edition, and includes We Are More. The book remains in heavy demand and was the motivation for releasing Shane's entire written catalogue in EBook formats.
Shane Koyczan is best known for his award winning spoken word performances. With his rhythmic verse in high gear, he navigates his audience through social and political territory with a furious honesty and a tender humanity that has brought audiences to their feet in New York, London, Edinburgh, Sydney, Stockholm, and Los Angeles, to name a few. He has received 5 star reviews for his performances around the globe. Winner of the US Slam Poetry Championship and the Canadian Spoken Word Olympics, Koyczan is truly an extraordinary talent that has blown the dust off of the traditional designation "poet".
------------
ZOEY ROY
Zoey Roy is a poet, community-based educator, community engagement consultant, author, filmmaker and social entrepreneur based out of Saskatoon. She holds a Bachelor of Education from the University of Saskatchewan and is currently pursuing a Master's Degree at Johnson Shoyama Graduate School of Public Policy. Zoey is passionate about enabling people to reach their potential by eliminating barriers. Her Cree-Dene-Metis roots and career as an artist give her a unique insight into working with Indigenous and Canadian youth in pursuit of relationship-building and reconciliation. Zoey has been working with the National Arts Centre's Music Alive Program in Saskatchewan since 2016, and she has collaborated with 75 classrooms to produce collective stories. Her passion, experience, and knowledge in storytelling, artistic expression, and community engagement provide children and youth with a platform to heal holistically and communicate authentically in a safe space.
------------
VERACITY
Veracity grew up in Ottawa, carries a bit of Scotland in her pockets, and has learned to love her Regina. She got into slam poetry because she likes to make friends with things that scare her, like skydiving, improv and eye contact. Veracity won the 2016 Saskatchewan Festival of Words Slam, represented Regina nationally on 2 Canadian Festival of Spoken Word (CFSW) teams, has been published in Oratorealis and was a member of the first annual Saskatoon Poetic Arts Festival ensemble (2017). When not writing odes to people, politics or pizza pops, Veracity also helps organize Regina Word Up spoken word events and performs at fundraisers for things she cares about, like mental health awareness and support for queer youth. Veracity will never have the last word because she is always trying to find a better one.
------------
JOLISSA SIMON
Jolissa Simon's background is very mixed up and she has not resided in one place for long, but currently has settled in Regina, SK. By day she works for 7 First Nations communities on a Whole Child Wellness team while simultaneously pursuing a PhD in psychology, and by night, and all hours of the night, she is a painter and a poet. Her creative work is largely inspired by psychology (obviously), the beautiful children she works with, and akin to Taylor Swift, past and current love.
Veracity and Jolissa Simon are presented in partnership with Word Up, a Creative City Centre program.
---